Best Thought Leadership Topics For Financial Services
Bethany Dameron
·
4 minute read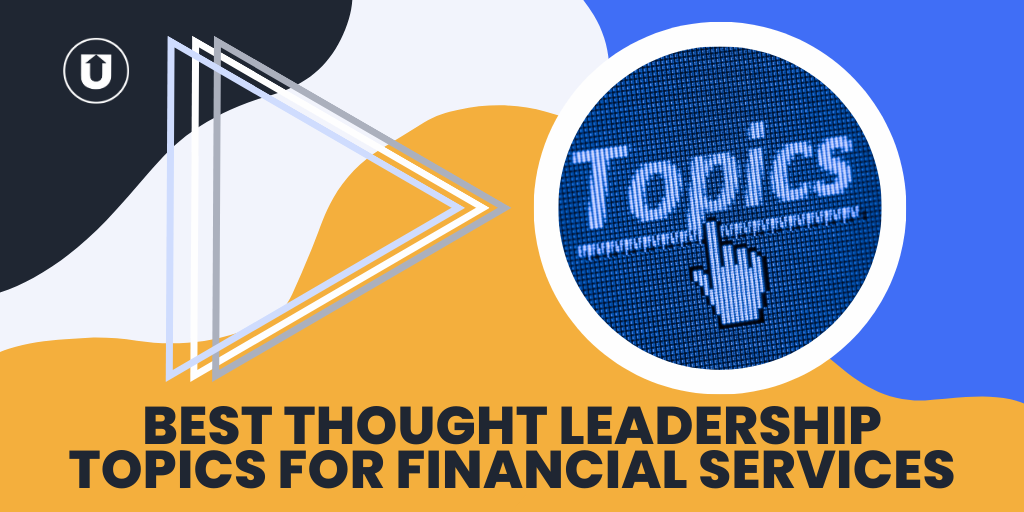 Let's face it. Unless you're in finance, you probably don't want to talk about finance all the time.
But as the finserv professional you are, getting your clients and prospects to become comfortable thinking about their financial futures and sharing these objectives with you is a critical pillar for mutual success.
In today's rapidly changing business environment, thought leadership has become essential for financial services professionals looking to differentiate themselves from their competitors.
By providing valuable insights and innovative solutions to today's challenges, thought leaders can position themselves as trusted advisors and influencers within the financial services community.
But what topics exactly should you be providing insights around?
At UpContent, we specialize in helping you think outside the box so you can cover topics directly and indirectly related to your services.
Sharing third-party articles on topics that are valuable but not something you would be excited to create on your own will help naturally build your thought leadership and make the content you create that much more powerful.
In this article, we'll explore when you should create content, curate third-party content, and the best thought leadership topics for financial services.
To Create or Curate Your Thought Leadership Content
When establishing yourself as a leader in your industry, you have to actually share your thoughts, opinions, and insights with your audience.
But what exactly is the best way to do that?
Sharing high-value content via social media, email, and your website is an easy way to stay in front of your prospects without cluttering their minds.
But where are you supposed to get all of that content from?
Creating content can be overwhelming, even more so in the financial services industry, due to compliance, ever-changing trends, and the complexity of topics.
But this doesn't mean that you should never create content.
Here's a single question that can help you determine if a topic or idea is worth investing in original content creation: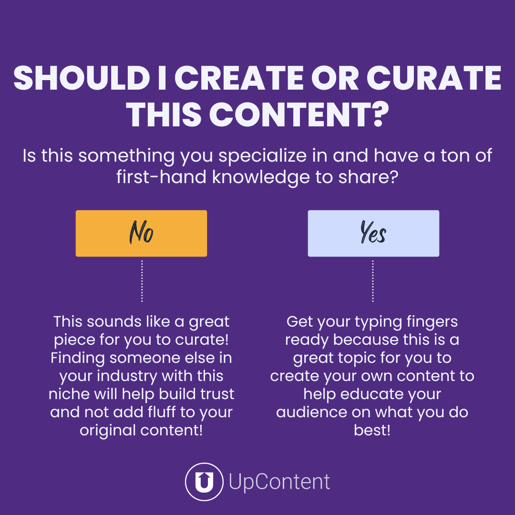 Is this something you specialize in and have a ton of first-hand knowledge to share?
The answer can help you determine if you should create or curate content.
If you have a ton of unique knowledge in that area, take the time to create that content! It will build you up as an expert - and differentiate you from others.
But if it's an area where you don't have much to add to the conversation, curating credible work by people who do specialize in that area will help build your credibility. Otherwise, you are merely adding to the deafening noise your clients and prospects are already having to sift through.
Now that you have a better idea of when to create and curate content, let's check out some of the best thought leadership topics you can share in the finserv industry.
Technological Innovation in Financial Services
Technological innovation is transforming the financial services industry at an unprecedented pace.
Emerging technologies like blockchain, artificial intelligence (AI), and machine learning are changing the way financial services firms operate and the services they offer.
Blockchain technology, for example, is being used to create secure, transparent, and decentralized financial transactions, reducing the need for intermediaries and increasing efficiency.
AI and machine learning are also used to create sophisticated algorithms to predict market trends and optimize investment portfolios.
These technologies are also used to improve customer experience, creating personalized recommendations and improving customer service through chatbots and voice assistants.
While these technologies offer immense opportunities for growth and innovation, they also pose challenges in terms of security, privacy, and regulatory compliance.
These are all great topics to create and curate content around, explaining the different technologies, why they should matter to your clients, and how you recommend those you wish to work with approach these innovations.
Sustainable Finance
Sustainable finance is becoming an increasingly important topic for financial services firms.
With growing concerns about climate change and social responsibility, sustainable finance allows financial institutions to align their operations with environmental and social objectives.
Sustainable finance involves integrating environmental, social, and governance (ESG) considerations into investment decisions, which can help drive positive social and environmental outcomes while generating financial returns.
Sustainable finance is also becoming a regulatory priority, with regulators in many countries beginning to mandate ESG disclosure and reporting for financial institutions.
Create and share content about how you're implementing some of the sustainability efforts, why people should care, and how it can positively or negatively impact your prospects.
Digital Transformation in Financial Services
Digital transformation is another key trend in financial services, driven by changing consumer preferences and technological innovation.
Digital transformation involves using technology to streamline and automate financial services processes, making them faster, more efficient, and more customer-focused.
It's enabling financial institutions to create more personalized customer experiences and develop new products and services that meet their evolving needs.
While digital transformation offers many benefits, it also poses significant challenges, including regulatory compliance, cybersecurity, and data privacy.
Thought leaders in financial services must be able to help their firms navigate these challenges and identify opportunities for digital transformation that will enable them to remain competitive in a rapidly changing market.
Sharing your expertise in ways your audience can easily understand will help set you apart from competitors while building trust that you know what's going on and the best course of action to take.
Financial Literacy
Financial advisors play a crucial role in guiding individuals and families toward financial well-being.
While your primary responsibility is to provide personalized advice and strategies to help clients achieve their financial goals, it is equally important for financial advisors to share content about financial literacy.
Sharing financial literacy content empowers clients to make informed decisions about their finances.
By providing valuable information and education, advisors can equip individuals with the knowledge and skills necessary to manage their money wisely, navigate complex financial concepts, and understand the implications of different financial choices.
Bonus Topic: Lifestyle Content
While we call this section a bonus section, this topic is extremely valuable, and this will be the topic that sets you apart from your competition!
You shouldn't be talking about finance all the time, so another great topic that you can curate content around is what you're passionate about!
This could be anything that you could potentially be discussing with your clients in a natural conversation.
Travel, food, culture, and sports are some common topics we see many financial advisors share curated content around.
Sharing lifestyle content helps you to connect with your clients on a personal level while also supporting their financial goals, and helps ensure your digital presence reflects the real you!
Next Steps To Curating On These Topics For Financial Services
Thought leadership is essential for those in financial service looking to stay ahead of the curve in a rapidly changing market.
Thought leaders can position themselves as trusted advisors and influencers in the financial services community by providing valuable insights and innovative solutions.
By staying informed about emerging trends and issues, thought leaders can provide valuable insights and innovative solutions that will help their firms thrive in a complex and dynamic environment.
UpContent can help you easily and effectively curate credible content for you to share, automating the searching and sharing process, so you can focus on choosing the best content for your audience.
Schedule a call with one of our Content Curation Experts today to see how you can use curated content to build your thought leadership in financial services.
If you're interested in learning how to use curated content in the financial services industry, check out some of our other articles and success stories!
Summit Financial uses curated content to develop their financial advisors' thought leadership on LinkedIn
Pros and Cons of Curated Content in Financial Services
How Financial Services Can Scale Their Business Using Social Selling