Using Curated Content To Build Credibility When Everyone Is Using AI
Bethany Dameron
·
4 minute read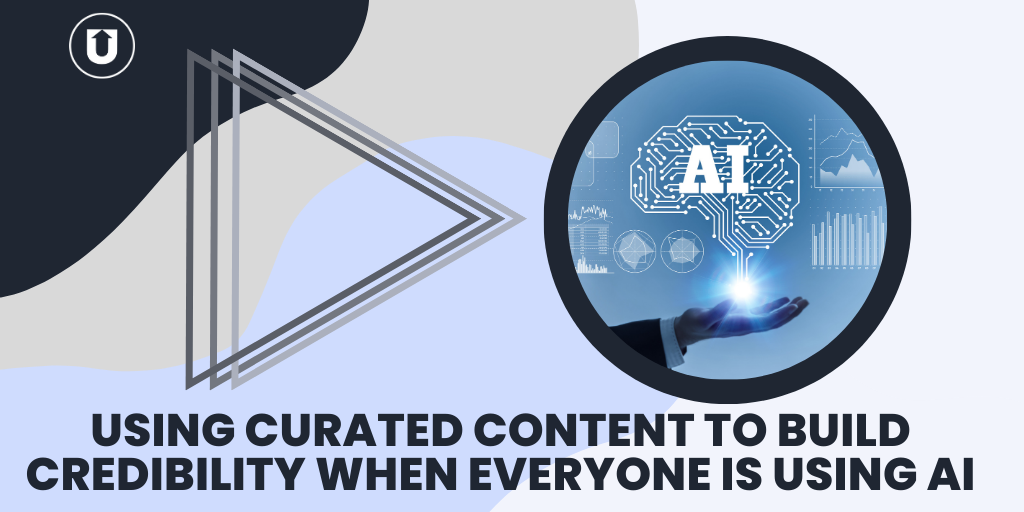 In today's world, where artificial intelligence (AI) is revolutionizing how we create and consume content, building credibility has become more challenging.
With so much information available, cutting through the noise and establishing yourself as a trusted authority in your industry is becoming increasingly difficult.
So in the days of ChatGPT and Jasper AI, how do you ensure your audience knows what you say comes from a point of authority rather than a copy-and-paste exercise from a robot whose response is based upon a myriad of (sometimes false) assumptions?
We sat down with Jenna Bloomgarden, Director of Marketing and Advisor Development at Summit Financial, to talk about how one can still convey thought leadership as a trusted resource, even in the age of heightened skepticism around how thought leadership is generated.
Here at UpContent, we believe in the power of using credible third-party content to contextualize the content you're creating and demonstrate your thought leadership, which is why we created software to discover the best article to stimulate your audience into action.
In this article, we will talk about the advantages of using curated content, its role in building credibility, and real-life examples of the tips and pitfalls you can experience when including curated content in your strategy.
3 Advantages of Using Curated Content
Curated content often includes articles that have been carefully selected from a variety of third-party sources and shared in a strategic way to deepen trust with your audience not only in the subject matter you are sharing but in the value of forming a relationship with you.
There are several advantages to using curated content in your content marketing strategy to help build your credibility, especially when competing against AI-generated content that comes out faster than I can say "AI-generated content."
Here are three of the best advantages of using curated content.
Authority building
Curated content allows you to showcase your industry knowledge by selecting and presenting the best content on a particular topic.
When you share other people's content, you demonstrate that you care what other experts and leaders say and aren't stuck in a "my way or the highway" mindset.
When sharing someone else's work, make sure you add your own thoughts or insights you believe it's important for your audience to know.
By doing so, you establish yourself as a trusted authority in your field.
"This is increasingly important now that one can simply ask the computer questions and, in seconds, generate answers. Rather than creating such pieces, you are more authentic if you add your own thoughts on a third-party piece," Jenna says.
Value-added
Curated content provides value to your audience by presenting them with a collection of the best and most relevant content on a particular topic.
Instead of spending hours researching and sifting through countless articles, videos, and other resources, your audience can access all of the best content in one place: from you.
This can save them time and effort, allowing them to focus on other important tasks. In addition to saving time, curated content can also provide value by presenting the content in a new and meaningful way.
You can add your own commentary, context, and perspective to help your audience make sense of the information.
By providing value to your audience through curated content, you establish yourself as a thought leader in your industry.
You show that you are knowledgeable and care about providing your audience with the best information available.
Time-saving
Creating original content can be time-consuming and resource-intensive. Even with generative text tools, you still have to spend time reviewing, rewriting for tone, editing, ensuring compliance, and publishing.
While this process is EXTREMELY valuable to your content marketing strategy, exclusively relying upon original content is difficult to sustain and leaves your messaging feeling a lot like those TV channels that only play the same three shows.
We love Law & Order: SVU, but I know to skip that channel unless that's what I am looking for.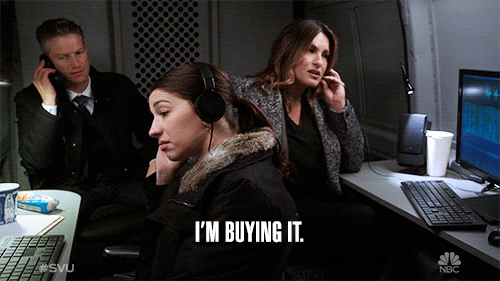 Provide variety so you don't get skipped!
This is where content curation comes in.
Curated content allows you to leverage existing content without starting from scratch while also providing the opportunity to share your expertise and perspective.
The Role of Curated Content in Building Credibility
Credibility is essential in content marketing because it is what separates you from the competition.
Building trust with your audience is crucial in a world where anyone can create content.
"I think credibility is created by being more than well educated on the subject, but also cognizant of various viewpoints and thought leaders."
"Use of curated content demonstrates that you have done your homework and are actually researching the subject matter," Jenna says.
If you want people to trust you as a solution to their problems, then being transparent is key.
"You're saying here's an authority, somebody trusted by experts in my field. Here's somebody that I am turning to, not some unknown computer which could be pulling it out of any source from the internet, true or not," Jenna says.
Case Studies of Companies Successfully Using Curated Content to Build Credibility
Here at UpContent, we have helped hundreds of customers establish and build their credibility using curated content as a part of their content mix.
Here are a few examples!
What is your business doing to provide a digital marketing strategy for your sales team?
One of Canada's largest insurance companies increased sales productivity by adding curated content to its social selling strategy.
Given the availability of curated content from UpContent, their advisors started sharing more branded content, and they and the company began to see more impressions and traffic, not just for their advisors but also for the Canada Life brand.
They had two million impressions on content in December 2022, most of which was on articles provided by UpContent.
Discover how ACSA, the largest umbrella association for school leaders, easily curates and shares third-party content with UpContent.
They have made their Resource Hub a go-to resource for California educators, with the engagement numbers to prove it.
Their marketing team said zero people commented on their old content platform.
Now they will get two dozen comments on a piece, so they've been able to present content in a way where people obviously feel comfortable commenting and rating it.
Sharing localized content can be a critical requirement for engaging with your audience.
But how can an organization that supports hundreds of locations ensure that each credibly reflects the company's presence in that community in a scalable way?
BrandMuscle does just that with hundreds of localized Topics, each tailored for local stores in communities across North America, and has seen double the engagement for their clients since implementing UpContent while investing 75% less time.
BrandMuscle says that each business has built deeper customer relationships by sharing curated content tailored to each community.
Start Using Curated Content To Build Credibility Today
Building credibility is more important than ever in the age of AI.
"It will be very interesting to see what regulation comes about as to disclosing the use of AI-generated content. Until then, readers are apt to be quite suspect of people suddenly generating their own content," Jenna says.
You can share effective curated content that helps you build credibility and stand out from the competition.
If you're interested in using curated content to help establish your credibility, start your free 14-day trial of UpContent, or schedule a call with one of our Content Curation Experts today.
If you want to learn more about content curation and thought leadership, check out some of our other articles!
Become a Better Thought Leader with Curated Content