More Curated Content = More Leads
Bethany Dameron
·
4 minute read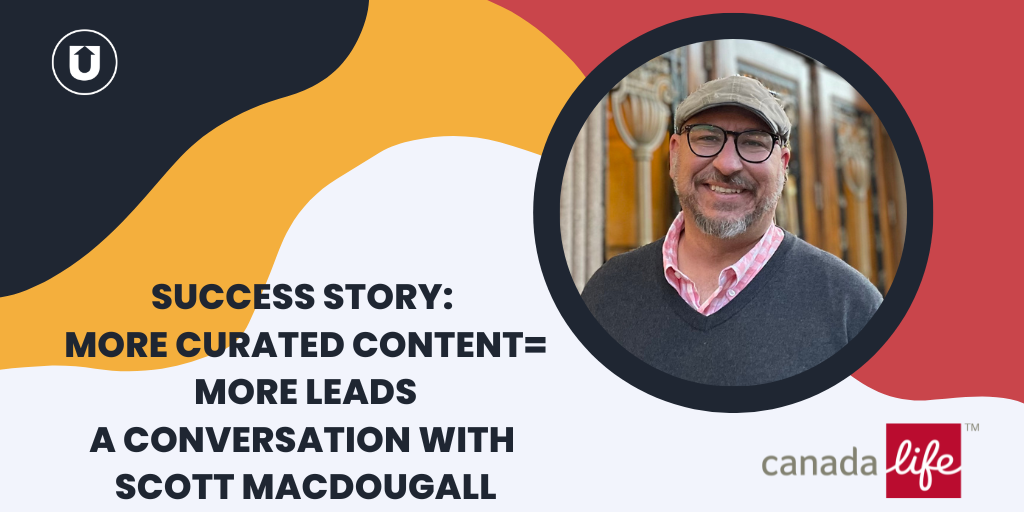 Sales prospecting isn't performed the same way it has been. Long gone are the days of relying on face-to-face meetings to build your reputation with clients.
Did you know that 76% of consumers would rather have a sales conversation on social media rather than a call?
And that sales leads acquired through social selling are 7x more likely to close?
We don't have to say it, but you gotta hang out where the people are, and the people are online.
Social selling has been proven to be the most effective way to reach potential customers, and 78% of sales reps utilizing a social selling strategy are outperforming their peers who aren't.
Scott MacDougall is an Associate Manager at Canada Life, a life insurance and wealth management company with a long, rich history in helping its customers find financial security, and he has been at the forefront of Canada Life's digital marketing and prospecting support for financial advisors program.
With all of the changes in the industry, Scott and the team realized they would have to change the selling strategy their advisors had been using for nearly 20 years.
Meeting Prospects Where They Are: Online
Scott says that in the early days of switching to a more digital selling approach, Canada Life had just a small group of advisors.
"We gave them some assets, they built some templates, and we were just sort of route advisors to them, but we weren't doing much with it," Scott says.
"One of the first things I noticed was we were writing a lot of content for these templated websites and providing a lot of material, but we were not really seeing any benefit from it other than some advisors had a website."
Scott says the life insurance industry in Canada has never been positioned for direct-to-consumer marketing.
Instead, its growth has been a result of supporting advisors in their own marketing to prospective clients.
"We believe that enabling advisors' sales and digital marketing strategies that support social selling is key to customer acquisition and business growth," he says.
He says this led him to ask, "How are we helping the advisors prospect? How do we help them get people in the door so they can start having conversations?"
Developing Thought Leadership Through Social Selling
Because buyers are more willing to engage with a thought leader in their industry, Scott says he set out to position their advisors as the experts their clients are looking for.
"These advisors were looking to grow their businesses. So we were looking for content for the platforms that will help them prospect," he reflects.
He says they were looking for a way to provide valuable content their advisors could share with their audience without creating a lot of extra work so advisors could focus on engaging with these prospective clients.
"We had a lot of advisors doing their own thing with social media and had their own website. So our first step for a more successful social selling strategy was getting our advisors back in-house and using our tools and our content," Scott says.
Scott says they started this by using Digital Agent by Veriday to provide a unified experience that allowed advisors to easily customize their website and manage their email marketing efforts within a single system.
They had a lot of agents go to their field marketing office and express they knew they needed to be online, but they were nervous about sharing content due to compliance or not fully understanding best practices for writing, etc.
"Making this content easily available through tools like Digital Agent and Hootsuite was what started to drive our strategy," Scott says.
Mixing Up the Content Mix
Once their advisors started sharing more branded content, they and the company began to see more impressions and traffic, not just for their advisors but also for the Canada Life brand.
"Sharing our campaigns is great, but the primary goal with our strategies was to help advisors prospect," Scott says.
That's where the idea to add third-party content to the content mix came in.
Scott says they started making curated content automatically sourced from UpContent available to their advisors, and engagement started climbing higher.
"Advisors don't want to see a wall of branded stuff in the library. And when I go and look at who's having success, the ones that are just sharing the branded stuff are not getting a lot of likes, and they're not getting a lot of reshares. Whereas the advisors sharing the third-party content are," Scott says.
After their initial testing of adding curated content, Scott says they decided to scale back on the amount of curated content available in the library to determine what would be best for the company overall.
He says they found that slowing down the flow of relevant third-party content also significantly slowed down impressions and engagement.
"What we see is more material [for advisors to choose from] seems to be better, and we have to let go internally of the idea that it has to be Canada Life branded stuff.
We had two million impressions on content in December 2022, and most of that was on articles provided by UpContent," he says.
Impressions Turning Into Leads
Scott says the team has established that a content mix of 70% third-party and 30% original content has resonated best with their advisors and their advisors' prospects.
But these impressions don't just stay impressions; they become leads.
"On average, our advisors using resources from Hootsuite, UpContent, and Digital Agent are seeing nine leads a month, usually sharing around 25 pieces of content a month," Scott says.
Those advisors also organically reach around 10,000 people a month while building their credibility online.
"Our top performers, where we hope everyone will get to, share around 30 articles of curated and Canada Life content while also interspersing a few personal posts, are seeing 20 new leads and 205,000 impressions per month," Scott says.
The Volume Does Matter
Before using UpContent to source their third-party content, Scott says they had a full-time content curator on staff.
"He was just scouring the internet and only getting two or three articles in a day, whereas with UpContent, we can provide hundreds of articles a month to our advisors, and we have seen that with more content available, the more likely they are to share," Scott says.
"Business growth is the key metric that we want to focus on because we are seeing actual business growth, and early indications suggest that advisors using the platforms are seeing increases in their sales productivity," Scott says.
Social Selling Is A Win-Win
If your prospects see an ad for a life insurance company at a sporting event, they're much farther away from a sale than when they see an article shared by their local agent. That's just the reality we live in.
Social selling allows you to tap into that platform by keeping you top of mind for your prospects, and if you want to start a social selling program for your company, you have to keep your advisors in mind.
"I would say that the first thing you must remember is that your primary goal has to be understanding that this is a network of sales professionals you're providing content for, and their primary goal is prospecting," Scott says.
Keeping the priorities in order has helped Scott's teamtransition into social selling efforts more efficiently and productively.
Scott's advice? Listen to what your advisors want, not what marketing wants.
"Don't think about it as just websites, or don't think about it as just social media, or don't think about it as just replacing all the print material you do. Think about it as an all-inclusive digital marketing strategy that will support advisors and prospects," Scott says.