How To Build A Social Selling Strategy For Your Sales Team
Bethany Dameron
·
7 minute read
Your sales team just told you they don't have enough content to consistently share on their social media profiles, so you, as the marketing department, have been charged with the task of supplying them with even MORE content.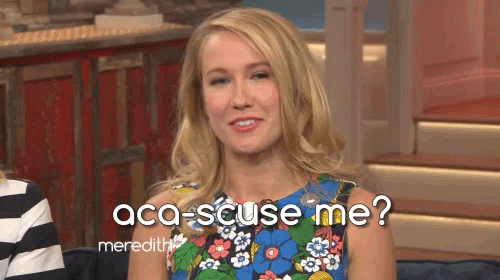 Maybe your sales team (or you) is looking for a way to demonstrate more thought leadership instead of just a sales pitch after sales pitch every time you share a piece of content.
Or maybe your team isn't as active as you'd like on social media because of the lack of different topics and content.
According to a Forrester Study, 98% of B2B businesses see the value in social selling, but only 49% of them have any kind of actual strategy to help guide their efforts.
Social selling isn't just about randomly sharing content; it's an actual sales strategy that needs to be structured and implemented.
Whatever has led you here, we're going to help you build a social selling strategy that is effective - and that starts by getting (and keeping) your team engaged.
And the best part? It's three easy steps.
Here at UpContent, we have helped hundreds of companies develop a content strategy that works for their teams by mixing the content your team already creates with relevant, high-value third-party content that aligns with each team member's interests and expertise - helping bolster their credibility.
Our content curation software uses the power of AI to recommend the best-curated content from our constantly updating index and organizing it into one place to make it seamless for your team to share.
In this article, we will talk about why you need a social selling strategy, how it benefits your company, the three steps to build it, and how you can use UpContent to get up and running.
Why You Need A Social Selling Strategy
Having a successful social selling strategy isn't as simple as just taking every piece of content you're already creating and putting it into the hands of your sales team.
Today's buyers are more educated than ever and want to ensure those they are doing business with are also knowledgeable and personable.
Your organization has already invested a lot of resources in making sure that your solution is well articulated and that your company is putting its best foot forward.
But many organizations are forgetting this third leg of the stool, which is becoming more and more critical, and that's having your sales team present themselves as an authentic, credible thought leader in their space.
But building thought leadership isn't something that can be done only using content created from within the organization.
Note that I didn't say you should never share company content. On the contrary, created content is still the most important part of a content marketing strategy!
But the word part is what is key.
A successful social selling strategy comprises a unique content mix of original, third-party, and employee-created content strategically curated to tell your company's or salesperson's message.
So you have to find a way to allow the sales team to create a content mix that is effective and is still within the requirements of the organization that they work for - without asking them to spend the time hunting for and submitting for approval on their own (we get it, it would never happen)
How Encouraging Thought Leadership Benefits Your Company
A social selling strategy isn't just to try and trick people into sharing more company content on their personal profiles.
It's supposed to be, when done correctly, a win-win-win for everyone involved.
Did you know that investing in your team's thought leadership can increase employee retention by 20%?
If you create a social selling program that is easy and user-friendly, they'll be 57% more likely to convert those leads they generate on social media to closes.
So by investing in a social selling program your employees are excited about, you'll make them feel valued to stick around AND help them become better at converting leads, which means more exposure of your created content, more revenue for your company - and career advancement for them
See, win-win-win.
3 Steps To Build A Social Selling Strategy
Here are three easy steps (plus a bonus step if compliance is a requirement) to get you started on building and implementing a social selling strategy your team is gonna be excited to adopt.
Step #1: Determine Your Content Mix
You have to create a content mix.
As we have stated, people want to hear (and your employees want to share) more than articles from your company blog.
Giving people a variety of high-quality content (not just talking about throwing a few RSS feeds at your team here) from a variety of sources, not just your company, will help establish your credibility.
Your content is still important, and you still need to get it in front of your sales team, but it needs to be mixed with third-party content around industry topics, lifestyle content, and conversion-oriented content.
We have found that a good mix to start with is 60% curated and 40% original content.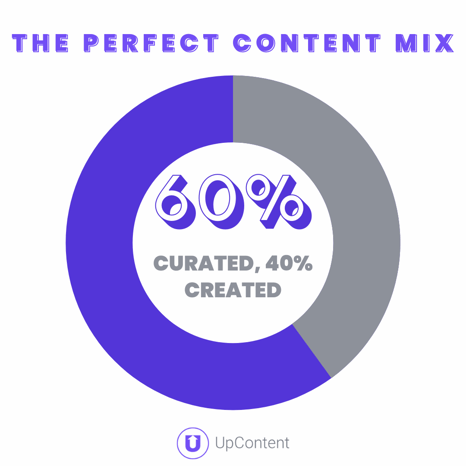 However, the sweet spot for your company could be 70-30, 50-50, or something else.
How do you know? By doing.
As the administrator of a social selling program, your role is to ensure the team has access to everything they would want to share, have some initial guidelines on mix, and have the understanding that you will be analyzing the metrics to provide guidance as the program matures.
We're all in this together!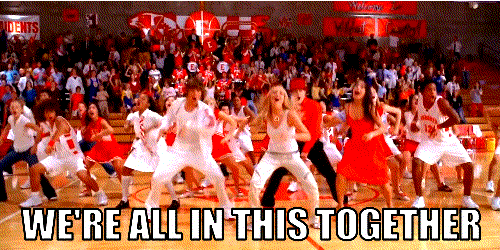 Step #2: What Topics Should Go Into Content Mix
Step two is determining what should go into each of those portion sizes.
Once you know the amount of content, you can determine what the content is going to be!
We recommend talking to your sales team and seeing what types of content they're interested in sharing.
For your salespeople who are already active on social media sharing content, check out their social profiles and see what they're sharing, see what they're getting engagement on, and then ask your sales team what they would be interested in having at their fingertips.
Are there certain publishers they love?
Be sure to not get locked into topics around your industry or the industries you serve.
Lifestyle content that focuses on the communities you operate within or the personal passions or hobbies of your team can be just as valuable a part of the mix.
What great topics weren't valuable enough to invest in creating your own content around? Keep the doors open for new content ideas.
A key to a successful social selling strategy is not telling your salespeople what to share, but asking what they want to share, then this whole process becomes one of supporting them, which goes a long way in getting people on board.
Step #3: Determine Where That Content Need To Go
In what applications does your sales team spend their time?
Because we know that sales teams (all teams for that matter) are less likely to use a new tool, but if you can get the content into the tools that they're already using, they'll be more likely to use it!
Let's just get real: salespeople (like all people) will always take the path of least resistance, so why should you, as a marketing team, work really hard to create and build a whole new tool that will barely be used?
So is your sales team already using a tool like Hootsuite or Salesforce Marketing Hub? Is Slack a commonly referenced application? Microsoft Teams? HubSpot?
Or, if there isn't already an easy way for your team to access the content you are providing, is there an easy spot where they would tend to find articles they want to send out to a client or a prospect in an email or on social media (eg. Sharepoint)
Are you interested in allowing them to send an email newsletter to their assigned leads or current clients through your current email system?
Would they prefer to receive a daily or weekly roundup of the top content recommended for sharing?
Find the path of least resistance, and start filling it up with a healthy mix of curated and created content on topics your sales team wants to use, and watch your social selling strategy take off!
Bonus Step: Setting Up Compliance Measures
If you are in an industry where you have to think about compliance to ensure that the articles aren't opening the organization or those team members to additional risk in what they're sharing, this step is for you.
Maybe the thought of third-party content freaks you out because of all the manual time of reviewing each piece to make sure it follows compliance guidelines, but fear not!
There are applications like Proofpoint that can help you set up compliance measures that will automatically review the content you have curated to determine whether it is safe for your team to share.
Once you have your previous three steps determined and the content is ready to be reviewed, you can set up your compliance flow!
Using UpContent To Build Your Social Selling Strategy
So you know the steps, but what tools will you use to get curated content mixed in with your company content?
That requires making it easy for them to get the content you've recommended to foster adoption and engagement and limit risk (especially if you have compliance regulations).
UpContent's AI-powered crawler finds thousands of articles a day matching our customers' specific queries, further filtered based upon how similar the new articles are to what's worked for that customer in the past, and then fed directly to their platform of choice to make sharing friction-free.
Here are some of the top ways UpContent can help you create your own "path of least resistance."
Setting Up A Content Hub
Although UpContent doesn't offer direct integration with social media accounts, it allows seamless connectivity with social sharing platforms, enabling a more streamlined approach to share curated content.
UpContent works in conjunction with popular tools like Hootsuite, HubSpot, Lately, and Buffer, acting as the "Share Provider."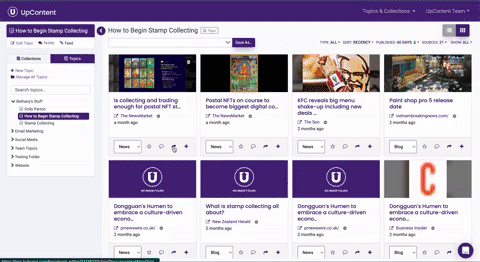 When you click the "Share" button in UpContent, it will automatically open one of these tools you have connected, allowing you to schedule and share your post effortlessly.
For an even more streamlined social media process, you can use tools like Amplify by Hootsuite and Denim Social, allowing your employees to share curated and original content directly from one library to their social media accounts.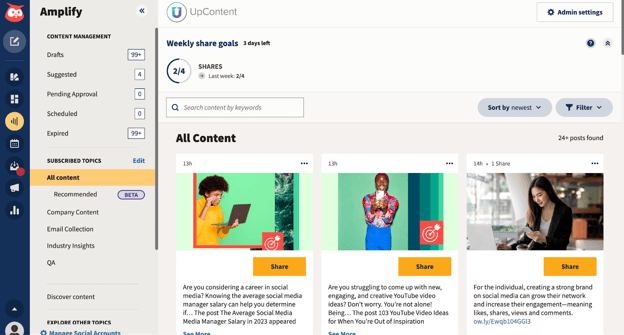 Using Intranet
If your company is already using an intranet or something similar to share your company content, you can add UpContent Collections to your intranet for easy access to curated content!
This process is similar to organizing an RSS feed for your website, ensuring easy access and seamless navigation for your team members.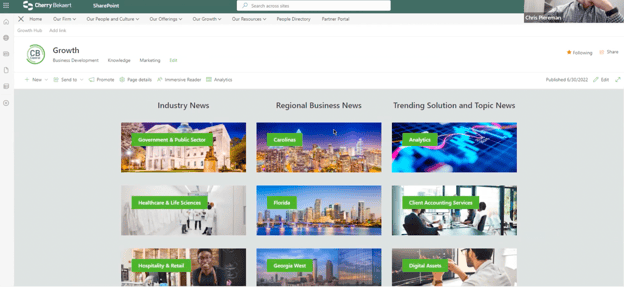 One of our customers, Cherry Bekaert, uses its intranet to allow for an entire library of curated content with multiple topics and categories.
Create Automated Curated Newsletters
Within UpContent, you have multiple options to design your curated newsletter.
You can utilize our HTML email builder, seamlessly integrate with our partner platforms, or manually copy and paste articles into a pre-built template within your preferred email platform.
Our integrations work smoothly with popular platforms like MailChimp, HubSpot, and Constant Contact.
The HTML email builder generates a code that you can set to be automatically sent out weekly or monthly. It pulls from the freshly curated content available in your UpContent dashboard, ensuring your newsletter is always up to date.
We also have established a valuable partnership with rasa.io.
Their innovative technology enables you to incorporate your UpContent Collection's RSS feeds, which consist of your approved articles from your preferred sources.
Rasa.io automatically customizes the set of articles for each subscriber based on their past interactions.
With solid design controls, the ability to insert visual conversion prompts, and the option to prioritize your original content, you can ensure maximum exposure and engagement within your newsletter.
Let's Get Started Building Your Social Selling Strategy
Here at UpContent, we've taken a unique strategy of not focusing on distribution because we believe that finding the best way for your team to share content is key to success for everybody.
If you'd like to talk about your content strategy, it's something that we're always excited to discuss whether or not you have an interest in utilizing UpContent.
We're happy to share insights, opinions, and ideas on how to make the content strategy you're providing to your sales team effective.
If you'd like to learn more about what a social selling strategy is and how content curation can help, check out some of the other articles!
What's the Difference Between Social Selling and Employee Advocacy? - A Conversation with Denim Social's Nola Morris
Social Selling and Employee Advocacy Platforms That Integrate with UpContent
Why Your Social Selling Strategy Isn't Working, and How You Can Fix It