Why Your Social Selling Strategy Isn't Working, and How You Can Fix It
Bethany Dameron
·
5 minute read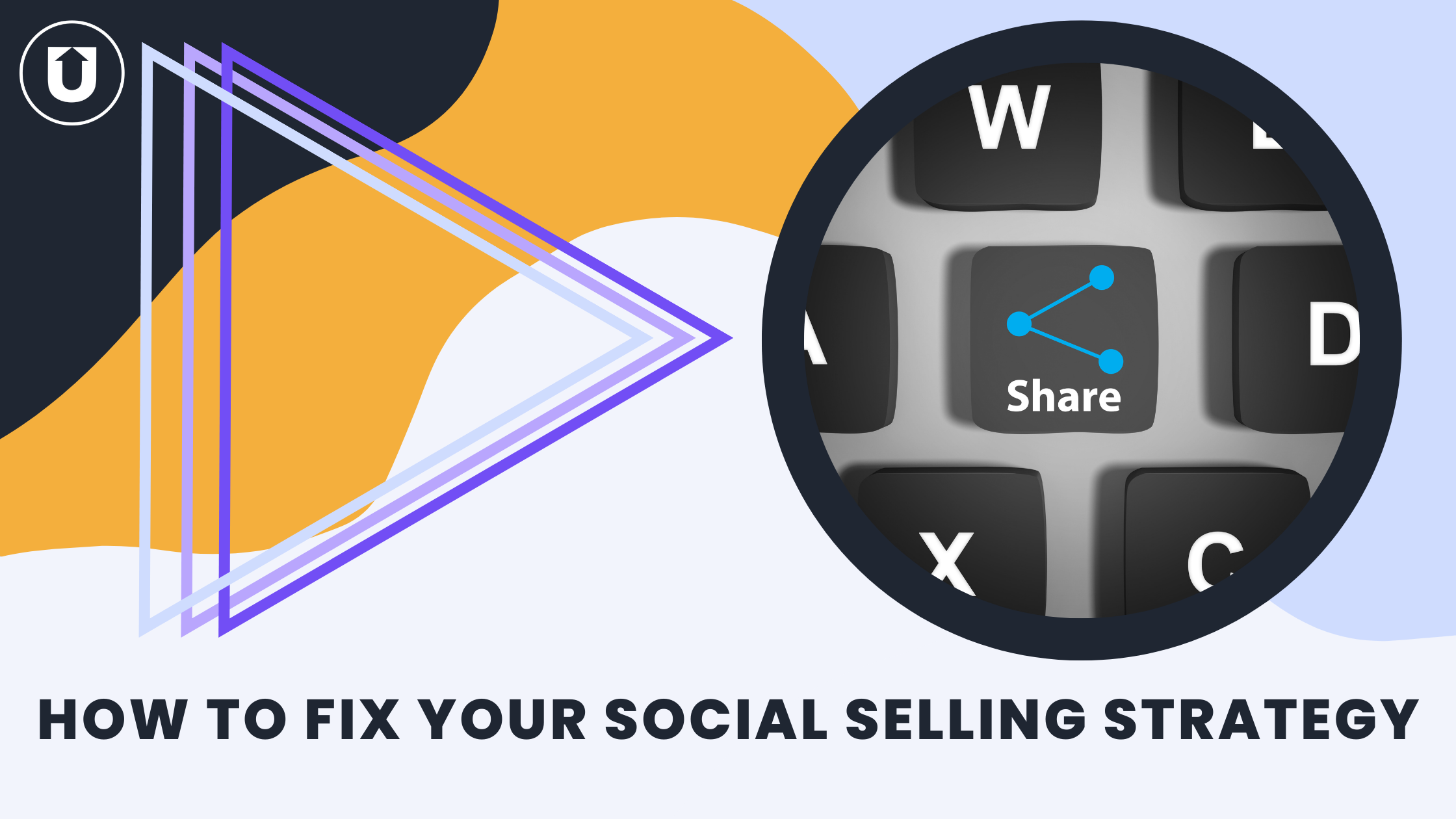 You finally got your employees on board with sharing company content on their LinkedIn profiles…but nothing changed.
Leads still aren't converting, lead generation is stalling, and engagement rates from your team within the program are dropping. No one really sees the point of social selling.
Sound familiar?
It's the story of many companies interested in or just beginning their social selling strategy.
The problem may not be with your content or the people sharing it, but it could be the quality, diversity, and consistency of the content you share.
Many companies approach social selling as a way to have their sales teams only share content created by their company,
And while that may seem logical, it's actually hurting you in a couple of different ways:
Your prospects don't have enough well-rounded information to make a decision.
Your team doesn't have a sustainable reason to remain engaged with the program in order to realize the benefits of consistent, valuable, communication with their audience on social media.
UpContent has helped hundreds of companies across a multitude of industries launch and grows their social selling strategies using carefully curated third-party content that turns leads into customers.
Before you stop reading, this doesn't have to mean a huge investment of time but does require a thoughtful strategy and a well-enabled team.
You can do it. We'll discuss how below.
Let's talk about social selling, why it's important, why your current social selling strategy may not be working, and how you can fix it.
What is social selling?
Social selling is a relationship-building strategy utilizing social media to connect with prospects by gaining trust and deepening relationships by sharing valuable information.
Many say that social selling is replacing the "cold call" in sales, allowing you to extend your reach more organically, provide value before asking for value in return, and become more familiar with your prospects before that first "sales conversation".
By consistently sharing valuable information with their prospects through social media, sales reps can show their expertise while personally building relationships with their future buyers.
This is done by sharing blogs, infographics, and videos related to their industry, community, and personal interests.
Social selling isn't about advertising your company. It's about advertising your people and building relationships with your prospects to keep your company at the forefront of their minds.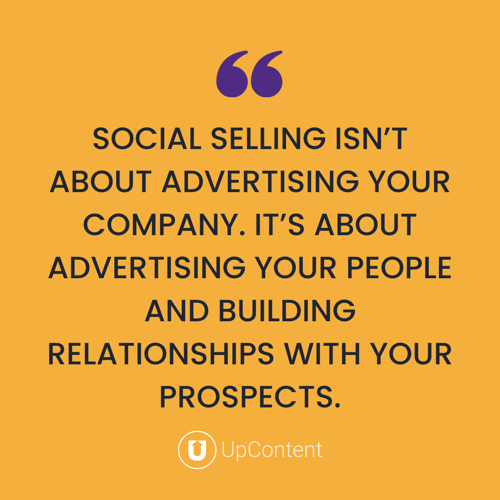 ‍
Why is social selling important?
According to LinkedIn, 78% of sales reps who use social selling effectively outsell their peers who aren't using social media.
UHM WHAT?!
Branded social profiles don't get as much engagement as your employees will.
Unless you're like Wendy's with a fantastic trolling Twitter, chances are your company's social media account engagement is pretty small.
Even if these branded accounts successfully stimulate a prospect to act, they will still need to determine who to talk to.
If you strategically use your team's social media audiences, you can give them valuable content to support them in building their personal brand, increase their relationship with customers, and increase your company's reputation and relationship with customers.
Social selling gives your company a person for people to interact with and learn from, not a behind-the-scenes social media team.
Why is my social selling strategy not working?
Usually, this is because of one or two things, usually a combination of both.
Many companies launch a social selling strategy only using their content
Their salespeople don't share the content or are active at program launch but quickly become disillusioned and trail off.
This results in zero (or close to it) engagement - both internally and externally,
It's essential to give your employees content they believe is relevant to their audience and what your audience wants to connect with.
Just because YOU believe it's important doesn't mean that's what their audience cares about or is looking for online - and just because it is relevant for one team member doesn't mean it's relevant for another to share.
This is where communicating with your sales and customer service departments becomes critical.
Understanding what your audience is asking will help you know what kind of content you can support your team in sharing- should be sharing in addition to the types of content these team members would be excited to share, organically.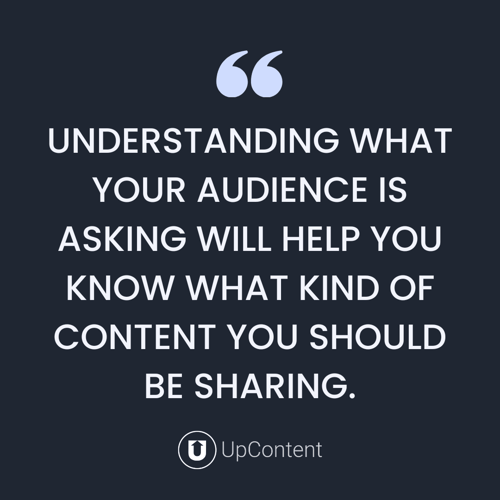 But if you're only creating content, your team will only have so much bandwidth to keep up with the demand.
And this corners you into looking one-sided when it comes to trends, news, and opinions - causing your audience to need to go elsewhere to verify your claims.
Exclusively providing your own content limits what your staff can share, and their profiles will eventually start looking the same, or worse, they will stop sharing entirely.
This isn't much better than only using your company's social media accounts.
So how do you keep up with the demand for good, valuable content your employees will want to share without everyone looking the same?
Fix Your Social Selling Strategy with Curated Content
Using curated content is a highly effective way to up your social selling strategy.
In fact, companies that effectively use content curation see twice the engagement and twice the conversions than only sharing your created content!
Creating a content mix usually isn't the first thing that comes to mind when defining a social selling strategy. Many people think they just need to create more content.
But only creating content is actually hurting both your internal and external engagement!
Focus your created content on what you specialize in and have a unique opinion on it.
But anything else that you don't have a lot of experience in or is slightly outside your niche but still relevant is perfect for curating.
Including third-party content in your social selling strategy will help supplement the amount of content you need while also giving your reps a diverse set of topics to choose from, differentiating themselves and building your brand as well as theirs.
But how do you get those third-party articles to your staff?
That's the problem we were facing here as members of a marketing agency prior to starting UpContent when we started implementing a content mix into our content marketing strategy.
We found it was taking just as long to find credible articles, get them approved, and share them in their appropriate places as it was to create the content.
But we knew the content mix would provide better results.
So we built software that discovers the articles for you and compiles them into one easy place to preview, approve, and share to your favorite platforms.
You can build Collections based on Topics you set with keywords relevant to the kinds of articles you and your team want to share.
You can easily approve articles and organize only those you want to be available to your team, so you don't have to worry about misalignment with your brand standards!
When it comes to social selling, we have partnered with Hootsuite Amplify so your team can access approved content and share it with just a couple of clicks!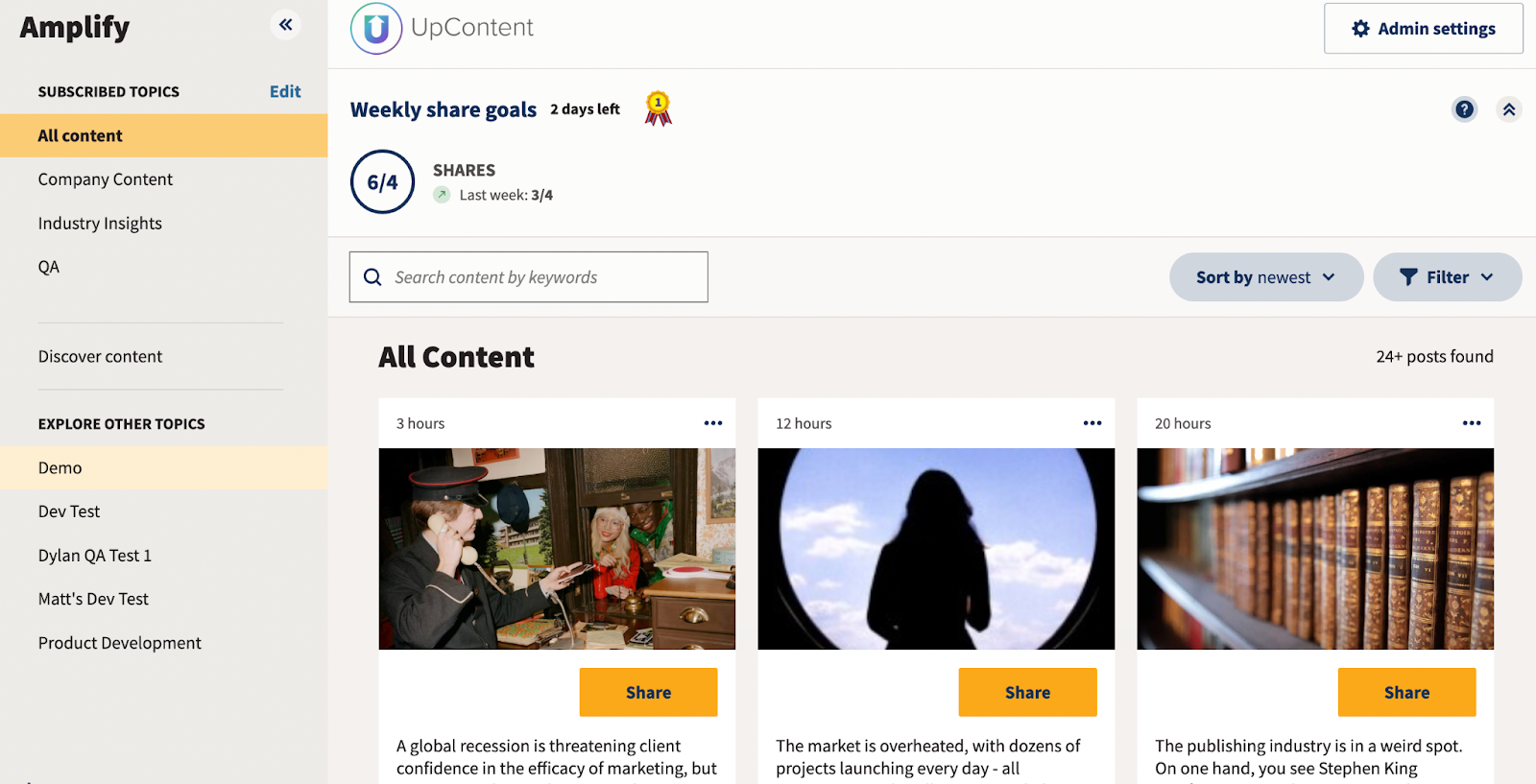 You can even include your company's original content, so your team only has to come here to share content!
Next Steps to Fix Your Social Selling Strategy
Using social selling in your content marketing strategy will help you nurture healthy sales relationships, but it's not a quick fix.
Social selling is a strategy that builds trust over time, and the more consistent and authentic your team is, the more likely you will become a trusted resource and solution for your ideal customer.
If consistency and diversity of content are issues you see in your current social selling strategy, using content curation software like UpContent, can help you discover and share curated content for your entire team - without the time commitment.
To see how you can use UpContent and Amplify to up your social selling game, schedule a demo with one of our Content Curation Experts!
Or, if you're curious about how curated content can help your business, check out these articles:
Back to blog