The Sales Secret To Stay In Front Of Your Prospects
Bethany Dameron
·
6 minute read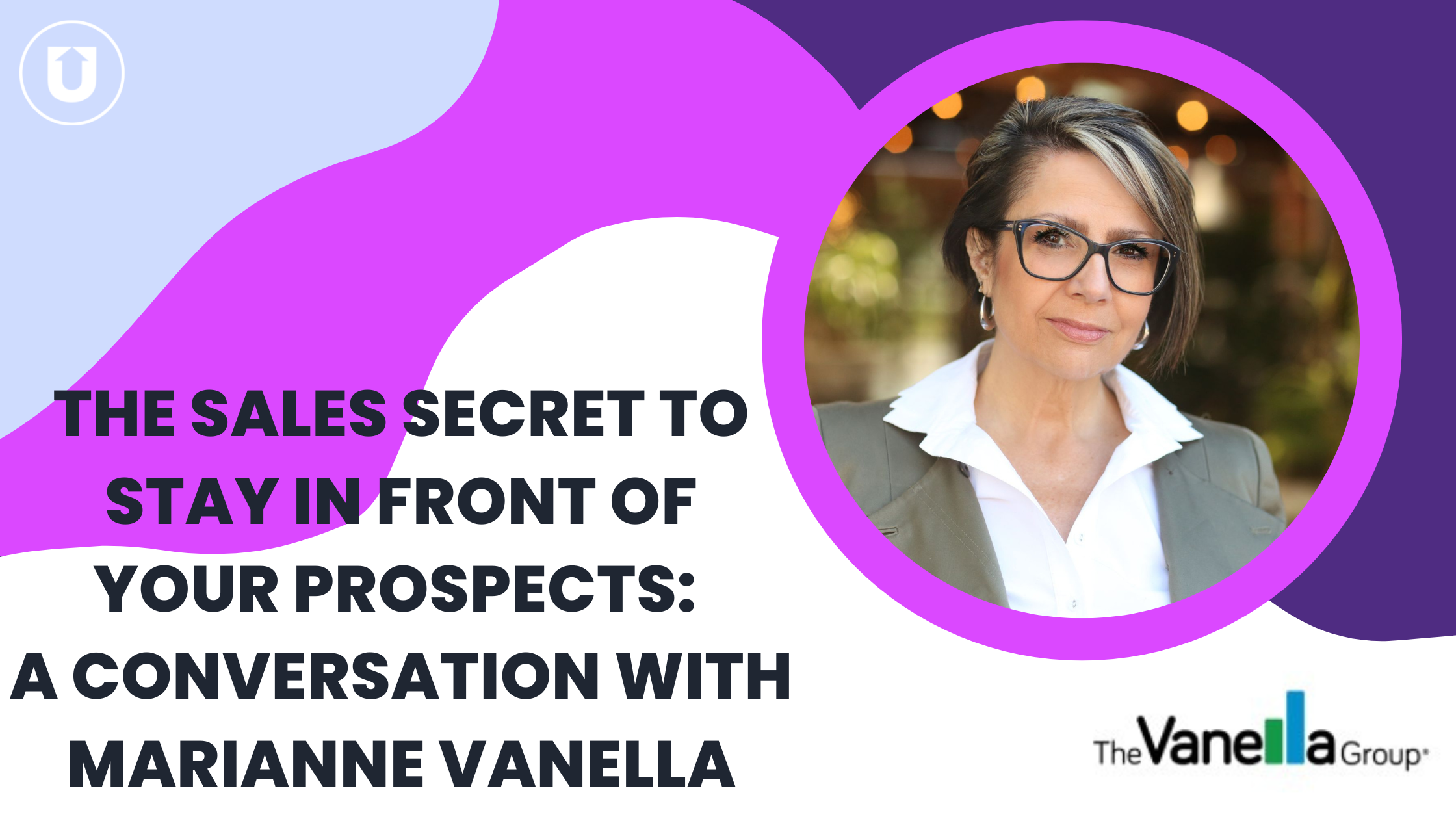 "Book now!" "Here's the link to my calendar!" "Schedule your demo today!" "Just checking in…"
You know you have a great solution. You gotta get in front of your prospects long enough for them to see the value.
But how well do they really know YOU?
While that may seem like an odd question, that's the reality of sales.
Prior to getting any prospect to be open to considering what you have to offer, they need to know that:
You understand the business challenges they and others like them are facing and how your solution will solve them.
That you, personally, are someone they want to have a long-term relationship with and bring value to the process.
That's right. No matter what you are selling, the ability for your prospect to know you, like you, and trust you is critical, and now, more than ever, that decision is often made prior to even speaking with you.
So how exactly do you do that without having that opportunity to speak with them directly?
We know that there are a myriad of ways to "get in front" of the right people in today's digital world, but with that expansion comes more competition.
We sat down with sales development specialist MariAnne Vanella, Founder and CEO of The Vanella Group, Inc. to talk about the modern sales landscape and why it's critical to have a strong presence in digital channels to reach customers.
One of her trade secrets? Using curated content.
In this article, we'll talk about how the best practices for today's sellers mirror what has always been true but occur in the digital domain, how curated content can help you keep the conversation going naturally, and some of MariAnne's tips for using curated content for sales.
Sales Is Still The Same, Just On A Digital Landscape
The days of door-to-door salesman are all but in the past, but that doesn't mean that sales aren't happening in people's homes.
"I don't see social selling as anything new, and I see it as applying long-standing skills to a new environment," MariAnne says.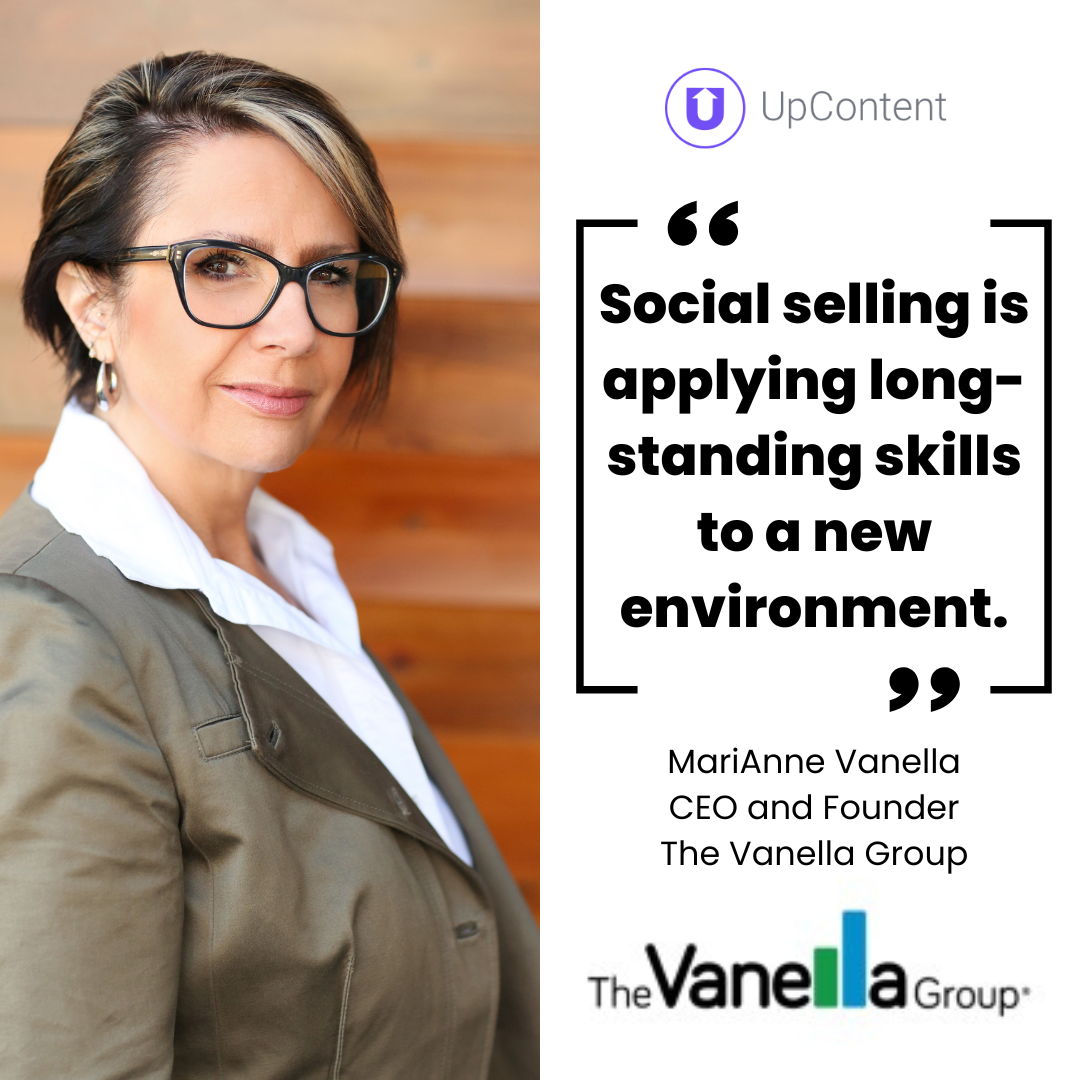 When there was a lot of in-person selling, you would go to people's offices or somewhere that describes something about them.
You had the opportunity to organically learn more about them beyond what they told you during the meeting.
A picture of a dog on the desk, degrees on the wall, personal items in their space, or lack of. You can get a glimpse into who they are so you can relate to them.
But now, much of that happens online, and in some cases, the whole deal happens remotely.
How can you collect these same signals in a digital landscape?
"How do you take those longer conversations that were once in-person meetings, taking them out to dinner, or an event, etc., and turn that digital communication that is meaningful? By sharing high-value content so that they can do their job better because that's valuable to them," MariAnne says.
Keep The Dialogue With Your Prospects Going Naturally
Using high-value content is a great way to engage your audience, especially when you're working with people over a months-long sales process.
"One of the challenges I have is I have a lot of content that I've created in the past, but I can't create content every day because I'm working on a lot of different things," MariAnne says.
Trying to stay top of mind by only creating valuable content by yourself is unreasonable because of the fast pace of platforms like Twitter and LinkedIn.
"That's when I started curating content as a way to keep a dialogue going with prospects from a nurturing standpoint," she says. "It keeps prospects engaged with high-value content and also keeps your presence active with them and your audience.
By sharing relevant third-party content, MariAnne says sales reps can show that they care about more than just closing the next deal but building credibility and trust with future customers.
"If I saw a rep that is trying to sell me something, and if I'm connected with them on LinkedIn or Twitter, and I see them sharing a lot of third-party content with some insight, I'm going to have a different view of them than somebody that's just like, 'Schedule a demo with me,'"
Stop Wasting People's Space With Fluff, Share Valuable Content Instead
MariAnne shared a fantastic example of a better way to make a touch with a prospect without wasting their time, energy, or inbox space: holiday emails.
We've all experienced it. At the end of the year, you get a waterfall of "Happy Holiday" emails from anyone and everyone you've ever given your email address.
"Like this [email] is just clogging my email box. It's an automated message, and you're not personally thanking me, and it's just a stupid email. Right? So if you wanted me to engage with that email, put something interesting in it," MariAnne says.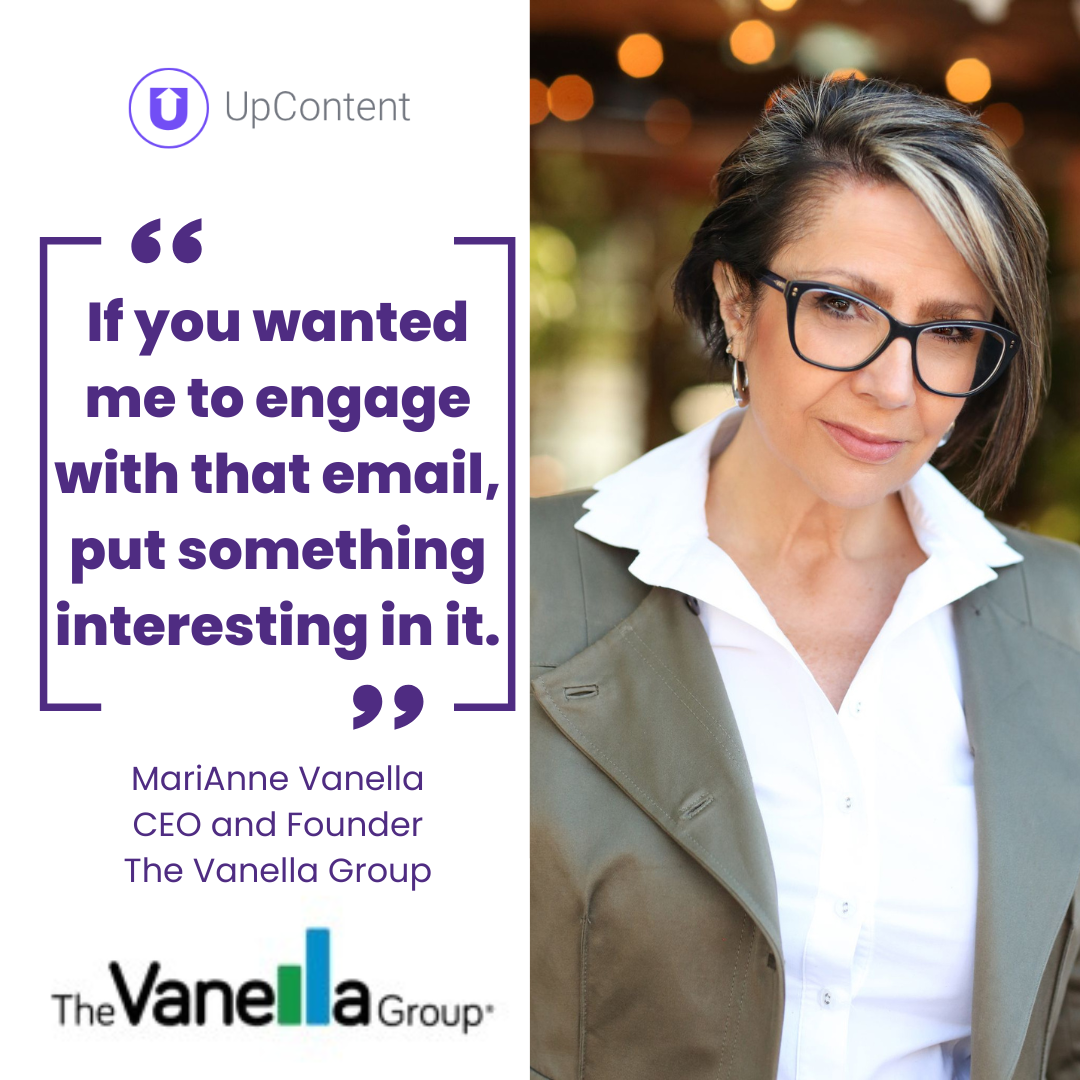 It's a touch we have all wasted at some point in our careers, but why not take advantage of a normal time to contact someone and give them a reason to engage with your communication?
Sending an email saying, "Hey, this article made me think of you, and I think it would be helpful for this time of year if you are in some planning cycles…" is a much more effective way of building that sales relationship than a holiday blurb about gratitude.
Tips For Using Curated Content As A Sales Rep
Here are a few content curation tips that MariAnne uses in her sales process.
1. Be Consistent
MariAnne works with B2B tech companies in enterprise sales, so she works really long sales cycles.
"Keeping content in front of them is important so that every time they see you in their feed, even if they don't click on your article, there that's another imprint," she says.
To do that? Share content consistently.
You can't just share a few times for a few weeks and stop and expect to have the same results. Find a cadence that works for you and your network.
2. Share A Mix Of Curated And Created Content
This is important. In fact, it's key!
MariAnne says she uses a mix of 75% curated and 25% created content because she isn't a content creator. She's in sales.
"So if you've got a 12-plus month sales cycle, how do you fill in that whitespace? Or if it is a longer-term deal developing, how do you keep a low-touch conversation during that 30 or 60 days that you are radio silent with them?" she says.
She doesn't have time to create valuable content at the cadence necessary, so sharing third-party content has helped her build trust, credibility, and thought leadership while providing valuable and helpful content.
And her name is constantly in people's feeds, so she's not easily forgettable!
People will associate the content with the person that shared the content more than those who created the content, and using curated content as a sales rep can help you build that connection in a valuable way.
3. Don't Share Anything Older Than 90 Days
"Things age really quickly now. So I look at dates, and you want to keep stuff in front of your prospects that is less than 90 days old, or if it is a more infrequent topic, like a study, at least the same year," MariAnne advises.
And depending on your industry, that timetable could be shorter, especially as conversations and technology change.
This will also help you stay on top of what's happening in your industry, making you more knowledgeable and helpful to your prospects both through your digital presence and when you speak to them directly.
For example, sharing pre-Covid marketing and sales content likely has a lot of dated information. So if you are pushing out old stuff, then it makes people less inclined to eagerly check out your shares.
4. Talk About Current Topics And Trends In Your Industry
It's easy to talk about the stuff everyone already agrees with, right?
That echo chamber can be hard to resist, but sometimes talking about something new and groundbreaking can be scary. But that's the beauty of social media, and you can change and grow with the times.
"I think it's important to share things that are valuable to your prospects. So not things that they already know," MariAnne says.
Share something they can learn from, not echoing what they already know.
5. You Don't Have To Ask People To Buy Your Stuff
You can share your content, curated or created, and not have a traditional "call to action."
"Everybody knows you want to you want them to buy your stuff. Like, you don't even need to say that. Everybody knows that you will gladly sell to them," says MariAnne.
If you're trying to offer something valuable without expectations, stop asking people to book a demo every time you share something on LinkedIn.
It devalues what you share and makes people feel like you only want to sell to them instead of genuinely helping them in their business.
Final Thoughts On Using Curated Content for Sales
Just because sales is happening more in the digital world than in the in-person world doesn't make considering the person any less critical.
It just means that you have to find digital ways to connect with people.
Using curated content to help provide insight, ideas, and resources for your prospects helps them realize you aren't just another sales rep. but someone who wants to come alongside their efforts to improve their business.
If you'd like to learn more about how curated trust can help you build trust and credibility as a sales rep, check out a few of our other articles.
‍
Created Content vs. Curated Content: Which One Is Right For You?
What's the Difference Between Social Selling and Employee Advocacy? - A Conversation with Denim Social's Nola Morris
Back to blog