Integrating UpContent With Email Marketing Platforms
Bethany Dameron
·
3 minute read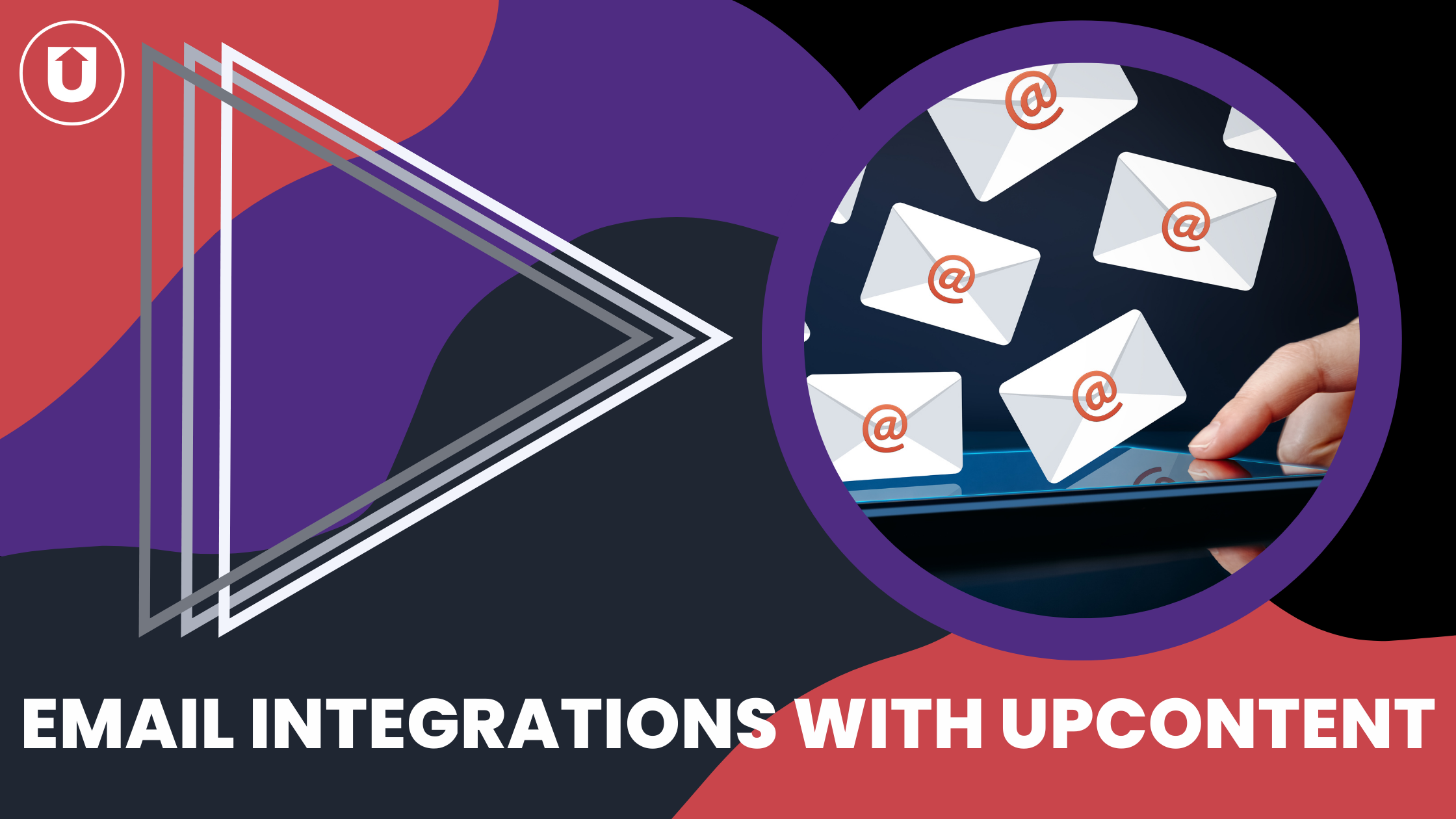 When creating the marketing emails you send to your current customers and prospects, you probably have Googled more than once, "What to put in my email newsletter?"
Curating third-party content for your email newsletters is a great way to round out your thought leadership and build trust. With 85% of executives likely to share a good piece of content when they see it, becoming the brand to consistently bring the best content worth sharing is crucial.
Here at UpContent, we believe in the power of content, specifically curated content.
We developed a technology that helps you find the best third-party content you can share with your audience, and we have automated how to get it to your readers efficiently.
We make it easy for you to create emails with curated content that you can send via your favorite distribution platform!
This article will cover our different email marketing integrations and how you can still use UpContent even if you're using a platform that isn't yet an official partner!
Email Integrations
You can have a curated email newsletter without having to manage multiple email marketing platforms with our integrations!
In the UpContent platform, we have an email template builder that you can copy and paste into your email provider, but we are not an email manager where you send emails from.
For that, we've partnered with the best in the business to get your message to your audience - and keep your analytics and subscription list all in one place.
You can easily build a Collection for your curated email newsletters and finish the campaign in your email platform of choice with the curated content you've chosen.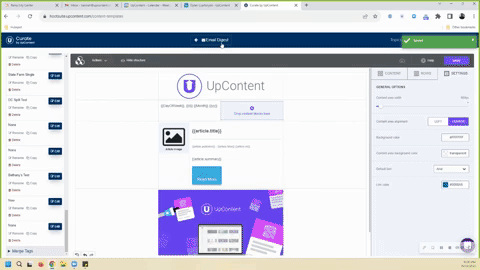 Once you build your desired email template in UpContent, you can easily apply your newly created or existing email design to the email power-up of your choice within your Collection.
We have direct connections with HubSpot, MailChimp, and Constant Contact.
HubSpot
You can easily manage curated email digest campaigns with our HubSpot integration.
Develop the Filter you'll use for the content you wish to add to your emails, then "Finish in HubSpot" so you can use the process you already know and love!
MailChimp
UpContent's partnership with Mailchimp allows you to easily and efficiently position your brand as a trusted resource for your subscribers through consistently delivering curated third-party articles.
You can create curated email newsletters from any device, computer, tablet, or phone and connect the UpContent Collection customized on topics you want to share with your audience.
Constant Contact
You can create and schedule emails utilizing a custom-designed template created within UpContent with our Constant Contact integration.
Salesforce Marketing Cloud
If you're using the Content Builder in Salesforce Marketing Cloud, you can now integrate with UpContent to start utilizing the UpContent Content Block!
This allows you to drag and drop the element in the builder and select what layout and content you want to use that's been approved in UpContent and organized into Collections.
This integration is great for larger companies that have many different people sending emails out to individual lists, like sales reps, as well as branded email campaigns.
Don't See Your Platform?
What if you're using a platform like ActiveCampaign or an internally built marketing email system?
No worries, we have you covered!
We integrate with Zapier, so you can automatically trigger the sending of HTML email campaigns from UpContent through any email provider that has an integration with Zapier to send an HTML email.
Or, we have custom options we can help you build!
Zapier
You can use Zapier to schedule your curated newsletters with any software currently integrated with Zapier.
For example, you can automatically schedule the emails you built using the HTML email editor in UpContent, so you don't have to copy and paste the code into your email builder.
API
Staying true to our "partnership and integrations" mindset, the UpContent Public API provides access to UpContent's proprietary content curation platform, allowing developers to build powerful content discovery and curation features directly into their applications.
If you're interested in building a tool using our API, we'd love to work with you!
RSS Feed
You can turn each custom Collection created within UpContent into an RSS feed for integration with your favorite social media management, email marketing, or other technology to automate the distribution of your curated content to your audience.
Next Steps to Using UpContent Integrations
Adding third-party content to your newsletters can diversify your brand's communications, but it doesn't have to be a difficult, manual process.
UpContent can help you automatically source curated content for your email newsletters.
If you remain unsure how to achieve this for your organization or how this can achieve your content goals, schedule a call with one of our Content Curation Experts today, and they can help you narrow down the best way to use UpContent.
Or, if you'd like to learn more about content curation and UpContent, check out these articles!
‍
The Power of Curated Newsletters
Use Curated Content In Your Newsletter
Back to blog