Increase Email Performance in Salesforce with UpContent
Bethany Dameron
·
4 minute read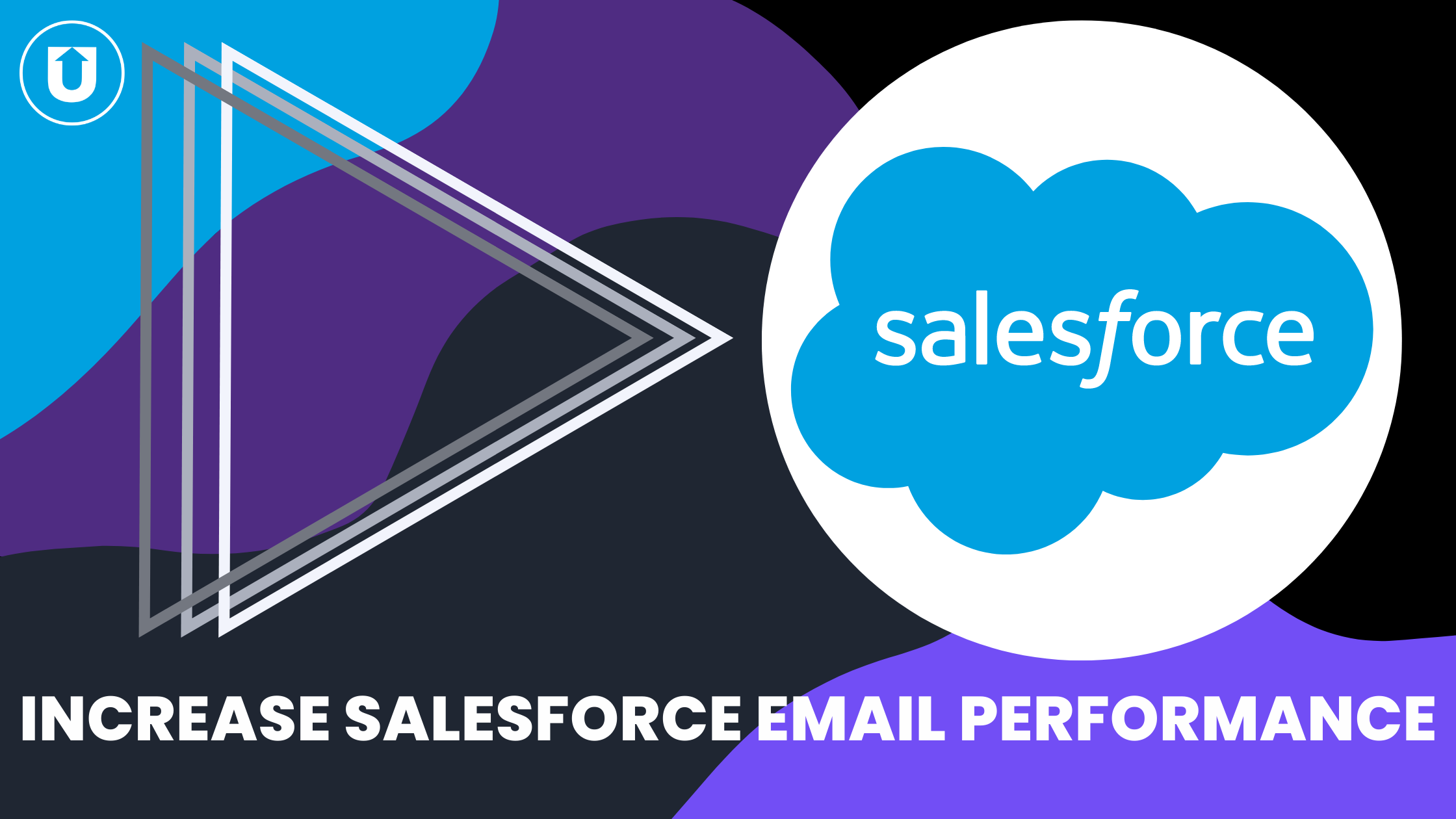 Need help filling your emails?
If you're in any position where you are trying to nurture and sell anything to prospects, you know how important email marketing can be.
It's one of the easiest and most cost-effective ways to consistently land yourself in front of your soon-to-be clients. I mean, the average ROI is 3,800%!
There's just one big problem….what exactly are you supposed to put in those emails?
Like, you can only talk about your business, service, or yourself so many times, and you can't run a sale every day.
Besides, I bet you unsubscribe or spam flag emails from any company that hits you too hard with promotional content.
I mean, I unsubscribe almost daily, but I also consistently open campaigns from senders I trust are providing something I value
Here at UpContent, we believe in the power of content, specifically curated content.
We developed a technology that helps you find the best third-party content you can share with your audience, and we have automated how to get it to your readers as efficiently as possible.
We prioritize integrating with systems you're already using like HubSpot, Mailchimp, and Constant Contact and are now excited to bring a unique curation experience to Salesforce Marketing Cloud!
Using UpContent right within Marketing Cloud will allow you to leverage your curation efforts in email with a simple drag and drop.
Let's talk about what should go into your marketing emails, why we partnered with Salesforce, the cost, and how you can use the UpContent Content Block!
Curated Content Increases Email Performance Rates
Forty-nine percent of customers said they would like to hear from their favorite brands weekly. That's a lot of writing if you're trying to fill a quality email that your readers will want to open when they see it in their inbox!
It's critical that the information you're sending is relevant content your customers want to receive from you.
In many cases, that's not just your own blogs, your views of the industry, or a discussion of the problems you can solve for them.
How can you provide value without asking anything in return? By helping them cut through the noise of everything else coming at them.
Your email marketing should be providing your customers with the articles that are best for them to read.
We know that providing third-party content achieves that goal and drives about twice the engagement rate of providing only your thoughts or opinions.
We also know that by mixing curated content with your original thought leadership, the conversion rate of your original pieces will increase by more than twofold - but providing third-party content is a challenge in and of itself.
A content curation strategy makes it easy for anyone in your organization to provide thought leadership while maintaining control of the final, coordinated, message being delivered to your audience.
For those with compliance requirements, you can make it easy for compliance reviews to occur in an automated and customized way - ensuring you can utilize that content across various internal and external channels.
Why We Partnered With Salesforce
Salesforce is the #1 CRM platform in the world, with more than 150,000 customers across the globe, 90% of Fortune 500 companies use Salesforce, and Salesforce Marketing Cloud holds 14.1% of the market share.
To sum it up, a lot of people are using Salesforce Marketing Cloud for email marketing, but there isn't an easy way to fill those emails - especially when the individual creating the email may be different than those surfacing the content or managing the approval process.
This problem is further magnified as the importance of sending email campaigns from an individual's inbox rather than a corporate noreply address.
How can we possibly ensure that each individual is sharing what is not only engaging to their audience but authentic to who they are - while still adhering to compliance or brand standards?
Take insurance agents, for example.
Each agent has their own subscription list.
And we all know that people would much rather open an email from Darla, their local agent, rather than ABC insurance company.
But Darla, just like a salesperson in any industry, has a lot of other things going on.
She needs to have approved content, a fast way to put her spin on it, drag and drop it into a tool she's familiar with, and then hit send to her subscribers.
Darla doesn't care where the content came from; she wants it all in one spot - and for it to hit the spot with her clients.
This is where UpContent Content Block for Salesforce comes in.
Create Better Salesforce Emails Using The UpContent Content Block
Let's take a look and see how UpContent seamlessly integrates within your marketing cloud environment, bringing the previously approved curated articles from your field marketing team directly into your current Salesforce marketing cloud email template.
(Field marketing team, you can learn more about UpContent and how it works by reading this article!)
So next time you create an email in Salesforce Marketing Cloud and have the UpContent app installed, you'll see a new content block available.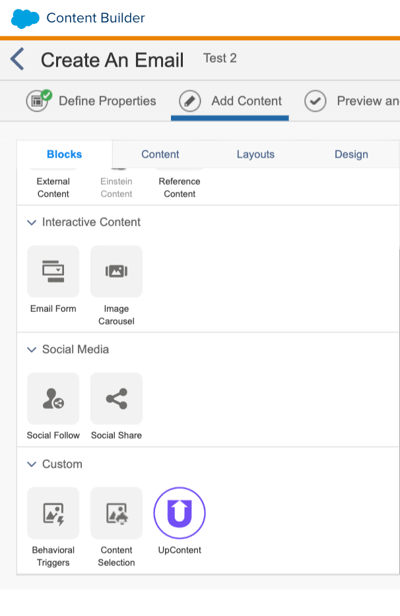 And all you need to do to add curated articles to your email campaign is drag and drop.
Once you've placed the block where you want to display an article, click on the collection that you want to pull an article from.
You can see the article headline, review the information associated with it, or read the full article before selecting it.
Select the custom layout that you want.
These layouts can be custom created for yourself to match not only your brand styles but the styles of your template and make it that much easier to drag and drop and ensures that articles are presented in alignment with brand standards.
You can go back to an earlier article you've included and click on it, and it will bring you right into that relevant set of content right into that collection.
There is also a way to select a new article and either utilize the same layout or select a different layout from your list.
How Much Does Content for Salesforce Cost?
Pricing starts at $2,500 per company per year to integrate with Salesforce for the year, but this is largely dependent on how many Salesforce users you have using the content curation feature.
You will also need to have an UpContent plan activated as this integration is available with any of our paid plans (starting at $162/year).
Not sure what plan is right for you, schedule a call with us today to discuss your needs!
Next Steps to Increasing Email Performance with Great Content
Creating quality emails for your marketing strategy is easier than ever with the UpContent Content Block and Salesforce Marketing Cloud.
You don't have to only create content or spend hours looking for the right kind of content to share, play the copy/paste game for hours, only to struggle to understand why the headlines aren't lining up in your template.
Easily access strategically curated articles pre-approved by your organization to deliver consistent email campaigns.
Position your brand and team as a trusted resource for your customers by building relationships and driving revenue with this new integration!
UpContent for Salesforce will help support the email marketing needs of your organization and the individuals within by showcasing their perspective and thought leadership to their individual audiences.
Schedule your free demo today with one of our Content Curation Experts to see how you can utilize the UpContent Content Block and take your email marketing to the next level.
If you're interested in learning more about how content curation can help your business, check out these articles!
Back to blog