Boost Your Content Creation Efforts with UpContent
Bethany Dameron
·
6 minute read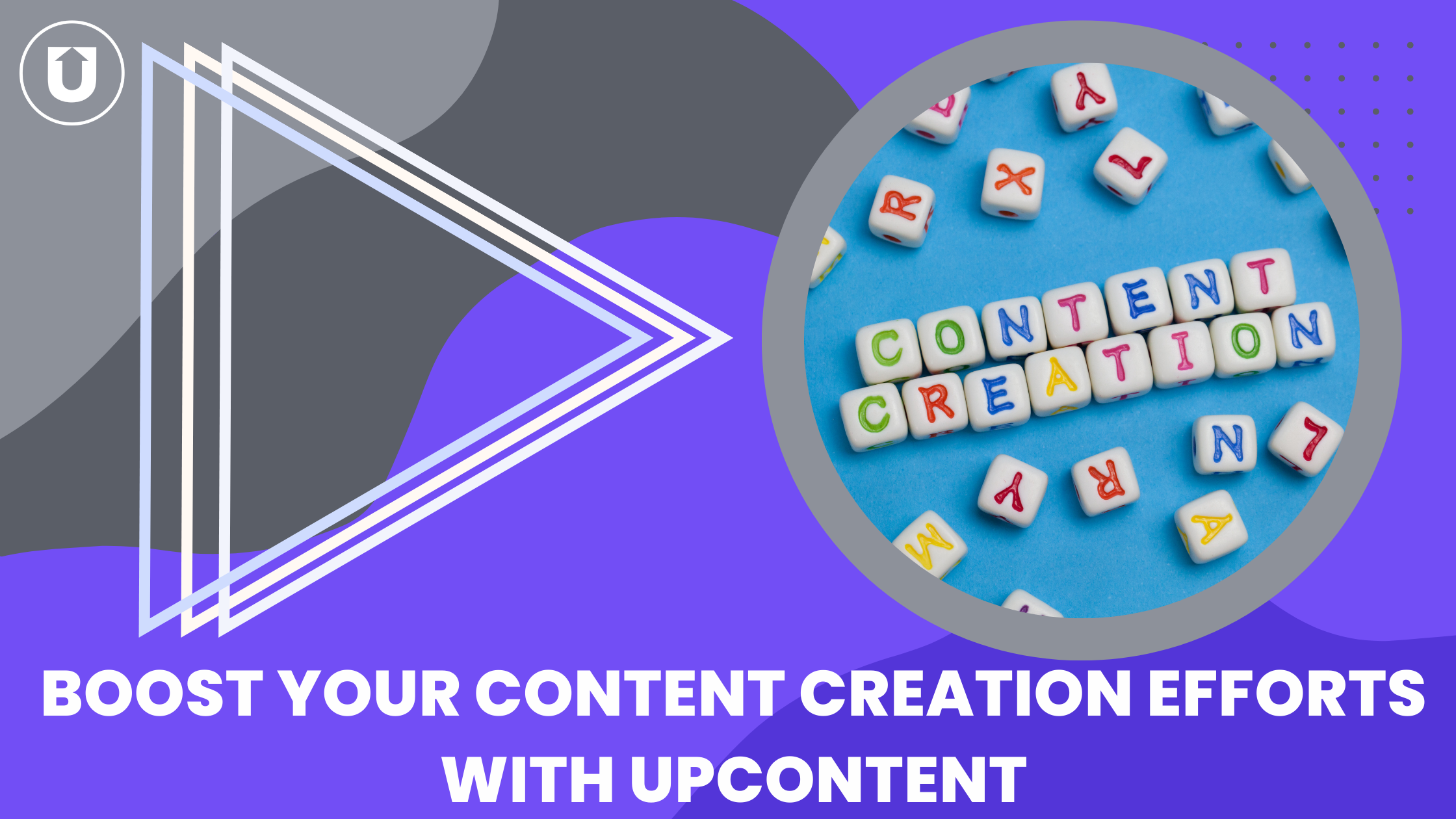 Hey, you fabulous marketing machine.
Yeah, the marketing genius who is a one-person department with limited resources yet still always pulls off the impossible.
You run your company's social media, email marketing, digital ads, SEO, website management, and other marketing initiatives that get dreamed up in meetings.
You make it happen, and you're proud of it.
You should be. We see you, you unicorn.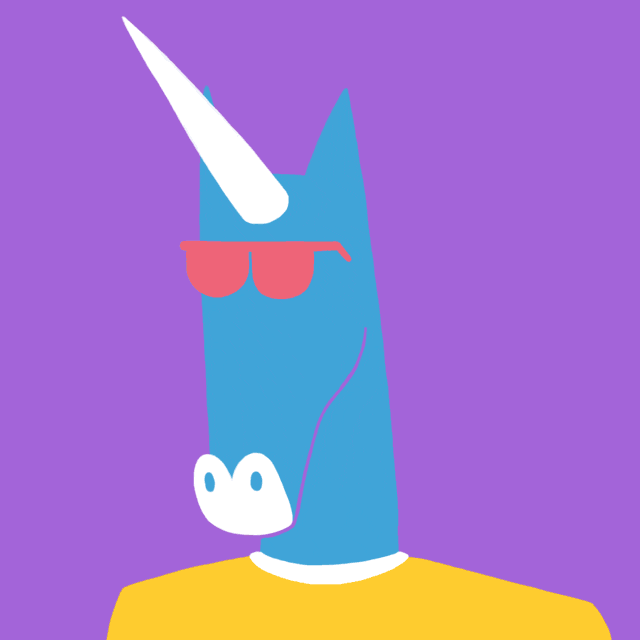 ‍So when your sales manager came into your office (or your Zoom meeting room) and asked you to look at this content curation tool called UpContent, you probably had several questions rolling through your mind.
Why do they need MORE content? Fine. I'll just make more content for them. I don't need another tool to manage.
Are they trying to downsize? Great, now I won't be up for that promotion.
Are they trying to replace me with a robot?
Look, I get it.
As someone who has worked in incredibly tiny marketing departments consisting of one, two, or maybe three people, the last thing you want to feel is like you're being phased out.
For too long, many organizations have looked at marketing as an overhead expense, meaning your job is overhead, and if the money isn't coming in, chances are your budget is the first to be cut - no matter how small it already is.
So the recommendation to use content technology can be scary at first.
But UpContent isn't a content tool in the way many initially assume.
It will not (and should not) be viewed as a means to replace the critical content creation efforts you are already pulling off consistently.
It's actually more of a sales tool and a tool that will allow you as a marketing department to thrive by worrying less about the volume of content that needs to be produced and focusing even more on only creating content when it's valuable.
How do I know this?
Because we are a marketing firm turned content curation connoisseurs.
Five years ago, we were running into the same problems most marketing teams face today: we couldn't get enough content out there fast enough to propel our cause.
But we knew that trying to create the amount of content needed to stay relevant was impossible and, even if we did, many of the pieces would have turned out reading just like the myriad of others already out there.
I mean, who really needs another article on the importance of inbound marketing?
So if we shouldn't be creating everything, how do we find the best articles on these topics written by others that are worthy of sharing with our audience?
Here's a tip: searching for those articles manually ends up taking just as long as writing them.
UGH!
So we created a tool that helped us find and share the best third-party content quickly while letting us do the human part, curating, efficiently.
So what exactly is content curation? Does it take away from your content? How does UpContent curate content, and how in the world will you sell with curated content? Read on to find out.
Content Curation Adds Spice To Your Mix
Most marketing departments are stretched so thin you're doing everything possible to stay afloat.
And your creation gears never stop.
You're creating blogs, landing pages, social media posts, white pages, strategies, and emails…the amount of content you create is neverending and really too much for one person to handle (again, we see you!).
Even hearing about an additional content strategy to add to my marketing plan would have catapulted me over the edge when I was that team of one.
But content curation doesn't take away from your amazing original content, and it's actually there to support and boost it.
You know, add a little bit of spice.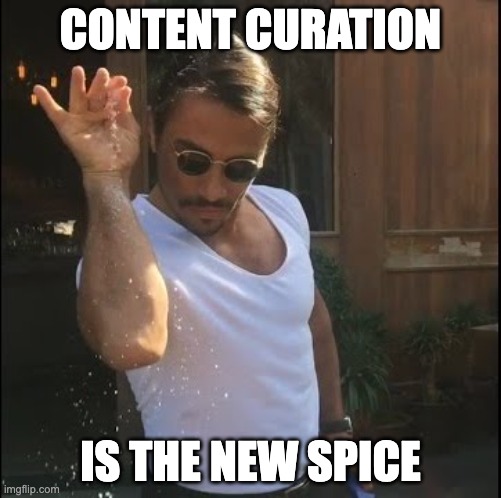 Does Content Curation Take Away From My Content?
Content curation is sharing relevant third-party content to help bolster your thought leadership and credibility with your audience.
While it works well as part of a mix for company social accounts and email outboxes, it thrives when leveraged by your customer and prospect-facing team members.
It isn't a creation substitute. We firmly believe against 100% curated content.
But it helps relieve the pressure of creating content outside your area of expertise just to fill the void on your content marketing calendar - or to address basic questions that are well answered by reputable sources already.
Why reinvent the wheel?
You shouldn't be blasting people with information just to please the algorithm anyway.
Taking a systematic, strategic approach to content will help you with your SEO, engagement, and audience if you provide something of value amidst all of the noise people are constantly surrounded by.
Marketing and sales should be viewed as one team because both aim to nurture prospects into a purchase decision.
But 80% of the buyer's decision is made before your sales rep gets a hold of them. Up until that point, your marketing is what's educating and convincing that prospect they have a need only you can fix.
Using curated content allows you to help your prospect get to that 80% mark faster by removing the need for them to research elsewhere and further develop you as the expert.
By sharing other people's thoughts and opinions, you're building trust with your readers, and they don't have to go somewhere else to find the information they would need to corroborate what you're saying if you have it all together for them!
But having your creation and curation strategies line up can be challenging if it's all manual.
If you have to search for, read, approve, and share the curated content yourself, that takes just as long to create!
This is compounded when your team exists in different geographies, targets different industries, or prefers to associate their personal brand with specific content themes.
How can you possibly bring each salesperson the best content for their brand and ideal prospect using a manual process with finite resources?
This is a core reason why UpContent exists.
UpContent and Curated Content
Content curation done manually can take far too long when you have limited time, human power, and mental energy. How could you ever keep up?
UpContent's purpose is to help automate the steps of the content curation process that should be automated (hint: in the majority of cases, that doesn't mean everything) to allow the time and space for the manual steps that maximize the impact of your strategy.
Our proprietary crawler goes to the end of the internet space twice daily to find content meeting your set criteria so you can choose the best pieces for your business from one place.
UpContent was never created to replace a person or a job role but to act as another handy dandy tool to increase the ROI of your content efforts while saving mental energy for content creation.
Selling with Curated Content
I mean, an honest show of hands. When was the last time you willingly talked to a sales rep before doing extensive research?
No one likes to feel sold to, so put the power back into your customer's hands and let them research for themselves, but you can provide that research for them, building some clout with it.
UpContent allows you to build Topics and Collections based on your business and sales team's needs to find the best and freshest content.
Any content that matches your search will land in your Collections dashboard in UpContent.
From here, you can manually approve what articles you want to use, have them automatically shared on whatever platform you need, or create a workflow with a little manual and some automation for optimum efficiency.
We partner with the best platforms in social media sharing, marketing, and sales to help you seamlessly share that content manually, automated, or a mix of both.
You can even use the content you curate in more than one place for more than one purpose, like social selling, curated email newsletters, and internal chat threads.
Driving Revenue with Trust and Relationships
To help your prospect get to that decision point faster with content you're curating just for them, you need to know exactly what they want to learn, and they definitely don't want to be sold to.
You can not leverage curated content correctly if you are only focused on selling.
I know I've talked a lot about how it helps, but the underlying theme, which now I'm saying bluntly, is this: content curation is for education, not selling.
But education helps your prospects decide when to buy and from whom.
It's all connected, but not the same thing.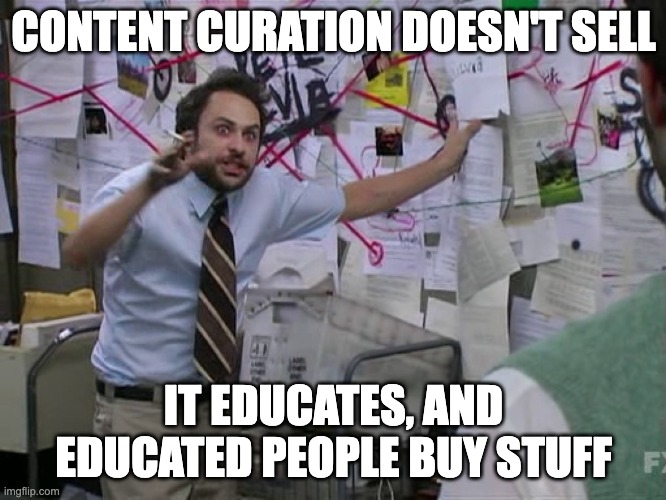 ‍
In any market you are attempting to sell in, the first thing potential customers will want to know is if you understand their industry and have experience working within it.
Consistently sharing valuable and reputable information not created by your team builds your credibility, and mixing that in with your company's content creates the perfect content mix.
Up Your Content Game with UpContent
UpContent isn't a tool to replace someone on your team or your incredible content creation efforts.
UpContent is only going to make you look better!
Using third-party content to create a content mix allows your team to show their expertise in what you specialize in and your thought leadership on relevant trends, news, and topics related to your business!
By positioning your team as go-to resources, they will have cultivated an audience ready to pounce on the next piece you create knowing that it must be worth the read.
Talk with one of our Content Curation Experts today to learn how curated content can be the missing ingredient you've needed for your content marketing strategy.
Or, check out some of these articles on curated content!
What's The Difference Between Content Curation and Syndication?
Created Content vs. Curated Content: Which One Is Right For You? Pros and Cons to Help You Decide
Back to blog