Cherry Bekaert Uses Curated Content Across Multiple Departments in a Unified Way
Bethany Dameron
·
5 minute read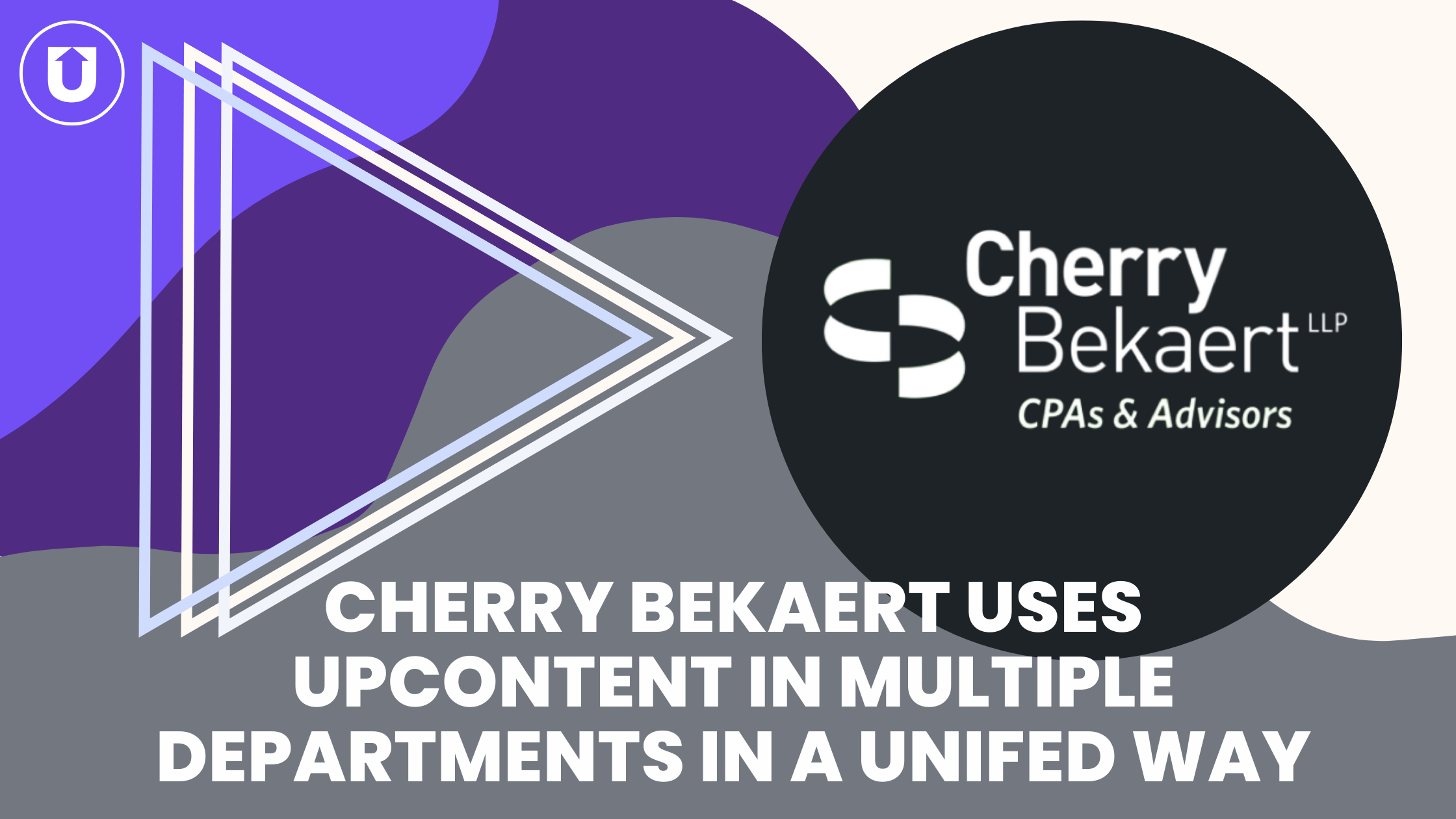 How do you establish yourself as the accounting firm people should turn to in a fiercely competitive industry?
That's what Cherry Bekaert, one of the nation's top 25 accounting firms with hundreds of ambassadors across various industries, was faced with solving in 2020.
Because Cherry Bekaert offers advice for ten different industries, including industrial, professional services, and private equity (to name a few), it's hard for a single communications team to showcase the collective expertise in each of these industries without diluting the overall message.
One solution they came up with was that instead of only having one message, they could support those who are serving their clients in creating a more credible social media presence using social selling and employee advocacy strategies.
This allows each member of the Cherry Bekaert team to share and discuss the trends and perspectives that best align with their practice area and industries - directly speaking to their target clients while still reflecting on the collective experience and breadth of firm capabilities.
Cherry Bekaert has used UpContent as its content curation solution since January 2020 and has built an external and internal strategy for its team.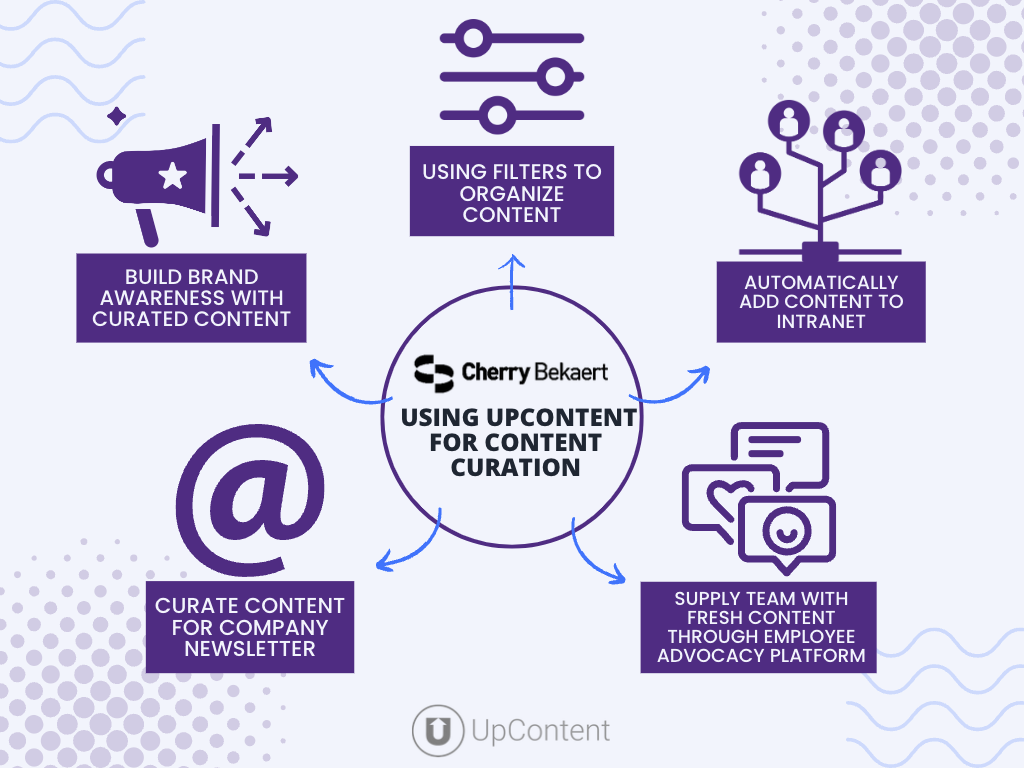 ‍
But, given the already busy schedules of their teams and the diversity in the industries and solutions offered, doing this manually would never make this vision possible.
Digital Marketing Strategy Leader at Cherry Bekaert Vivian Rodick says increasing brand awareness has been top of mind for the last couple of years.
"One of the things that's important to us, and we have put a lot of effort behind, is having quality curated content that's easily distributed," she says.
Growing Thought Leadership
"It's not easy to develop thought leadership quickly," Vivian says.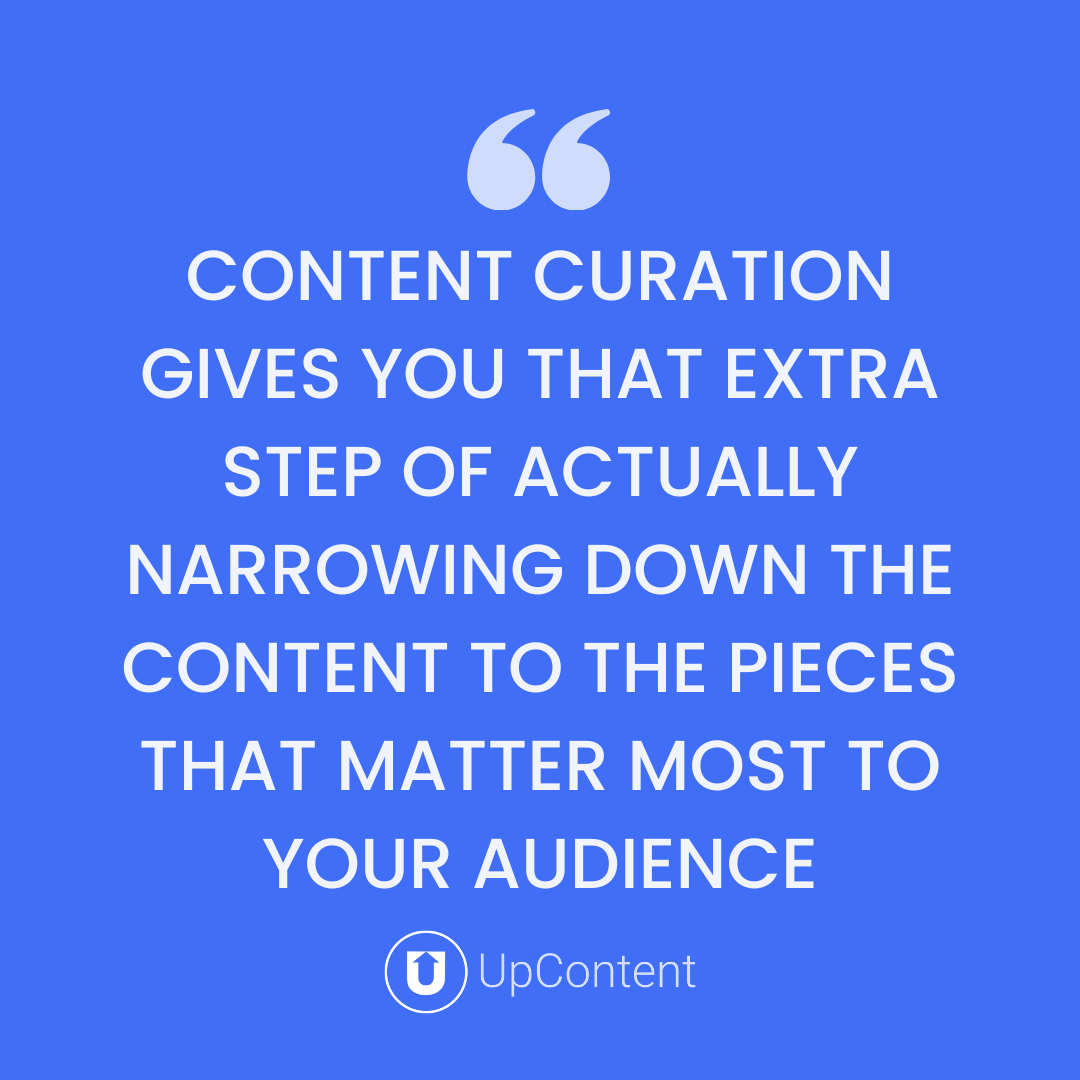 ‍
Thought leadership isn't very tangible, so creating a repeatable and manageable process can be challenging.
It has to be something strategically built so your team will get behind it and actually consistently share content over the course of time, not just a couple of weeks when the campaign starts.
If it doesn't become a habit and it's not easy to accomplish, then thought leadership will never happen in a sustainable way.
In the age of LinkedIn influencers, a.k.a. thought leaders, and all the digital noise we consume, it can be challenging to set yourself apart to be the trusted resource your customers need.
Cutting through the information clutter for your audience is a great way to build trust and naturally develop yourself as someone they come to for guidance, but who has the time to create or find the best content to share all the time?
That's where content curation can help!
Sharing thought-provoking third-party content deepens the relationship with your customers and prospects by demonstrating you are:
Abreast of the latest trends and developments in your industry.
Willing to let someone else be the expert.
Willing to contribute to discussions around others' opinions, methods, and ideas.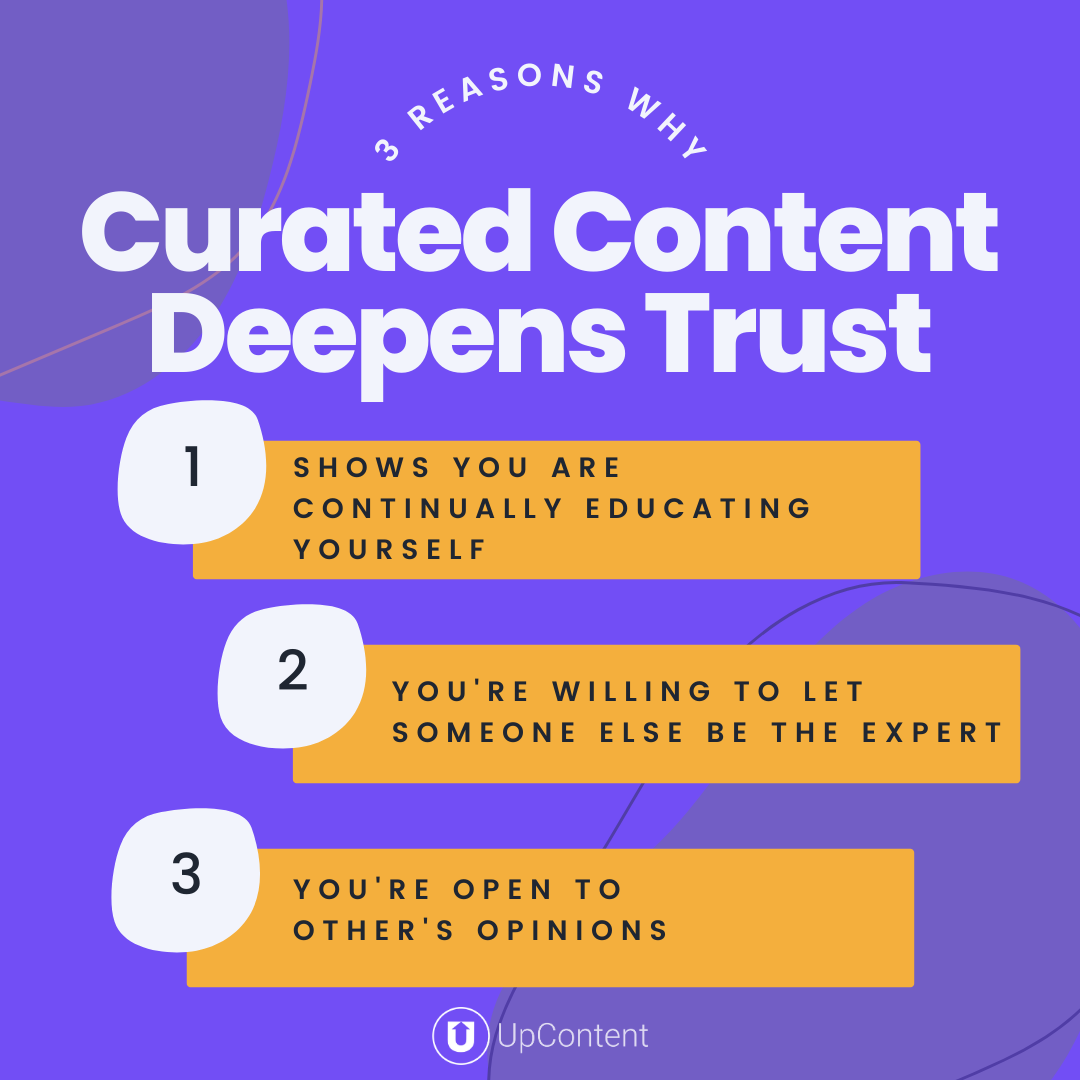 ‍
But how can a small marketing team consistently find such a diverse set of the right third-party curated content that a hundred ambassadors not only want to share but will properly position them as credible experts on LinkedIn to their clients and prospects?
Finding a Way To Share Curated Content Easily
Chris Piereman, the Knowledge Management Lead at Cherry Bekaert, shares how UpContent has supported his team in solving for that challenge.
"I've used various platforms for my professional life in various organizations, and there's so much noise out there. Curated content applications, such as UpContent, can increase that signal-to-noise ratio," he says.
In this digital age, most humans are consuming some form of content from the moment we wake up until we finally go back to sleep at night.
All of that content, the digital noise, if you will, fills our brains up quickly, and if you can "signal" or provide valuable content, it makes it easier for your audience to grow and learn instead of becoming overwhelmed.
Sharing valuable content helps cut through the digital noise we all live in, increasing the credibility of your thought leadership while also establishing yourself as a trusted resource in your industry.
Cherry Bekaert needed a way to consistently surface articles across a wide variety of topics with minimal manual intervention. They found that capability with UpContent.
"UpContent allows our people to access content relevant to specific services they provide in the market and positions them as thought leaders in that area," Vivian says.
"It is not doable for us to [manually] have all of that content available weekly, so having UpContent find the content for us is very convenient. It serves as an invaluable tool for learning more about a particular topic or industry."
They utilize UpContent's integration with their social media platform for their external marketing and have built custom Topics for their ambassadors.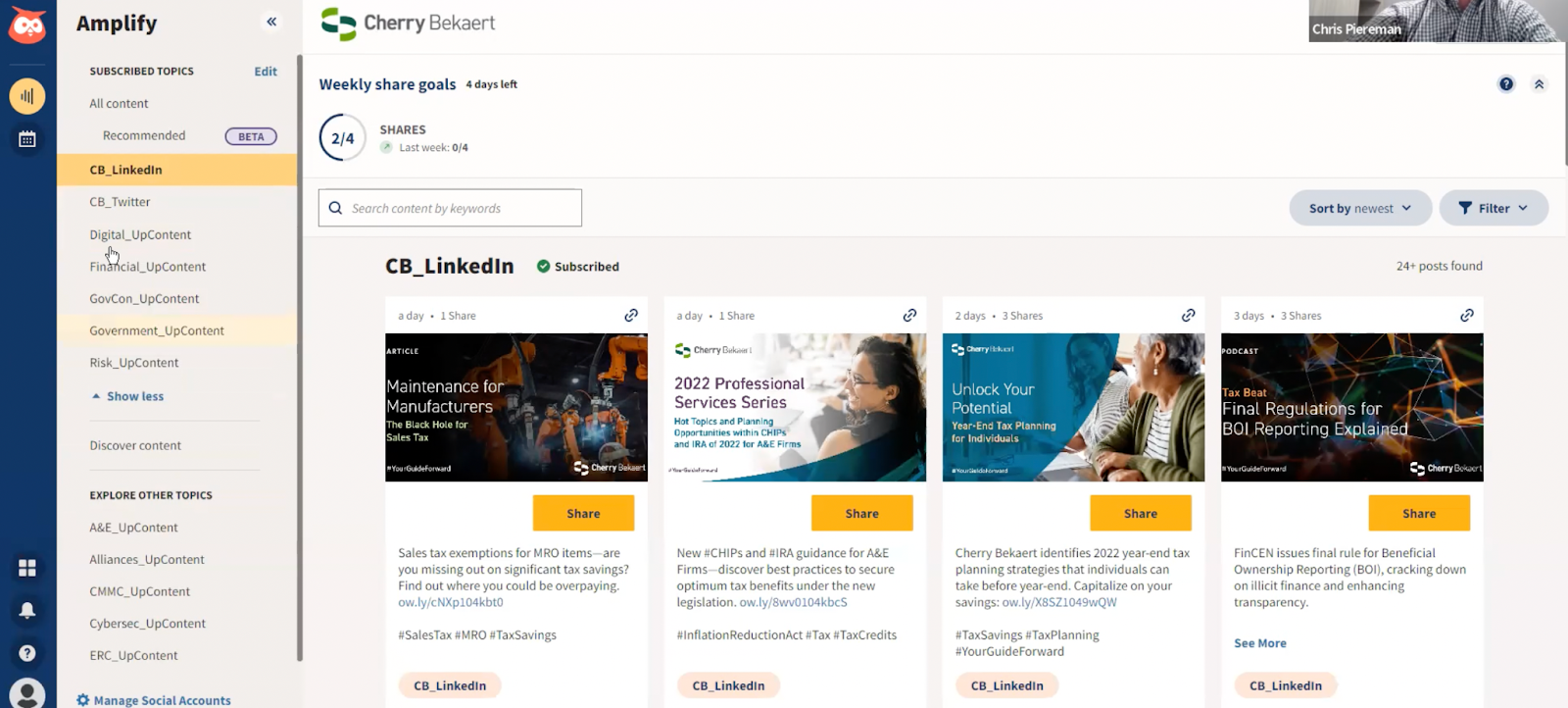 ‍"We can take a piece of content, whether it's Harvard Business Review, a government organization, any of the more extensive specific types of content related to services we provide, and allow our leaders and experts to provide their own perspective.
This builds their thought leadership on their social media profiles and, in turn, furthers our brand awareness, which was the original problem we were trying to solve," says Chris. "UpContent is an invaluable resource."
Cherry Bekaert is also utilizing UpContent's partnership with Sniply to create custom call-to-actions on every piece they share externally with a custom banner linked to their site.
In just 2022's Q4, they have seen more than 3,300 engagements on content shared by their team across multiple platforms!
Another primary way Cherry Bekaert uses UpContent is a custom-built intranet resource for their ambassadors.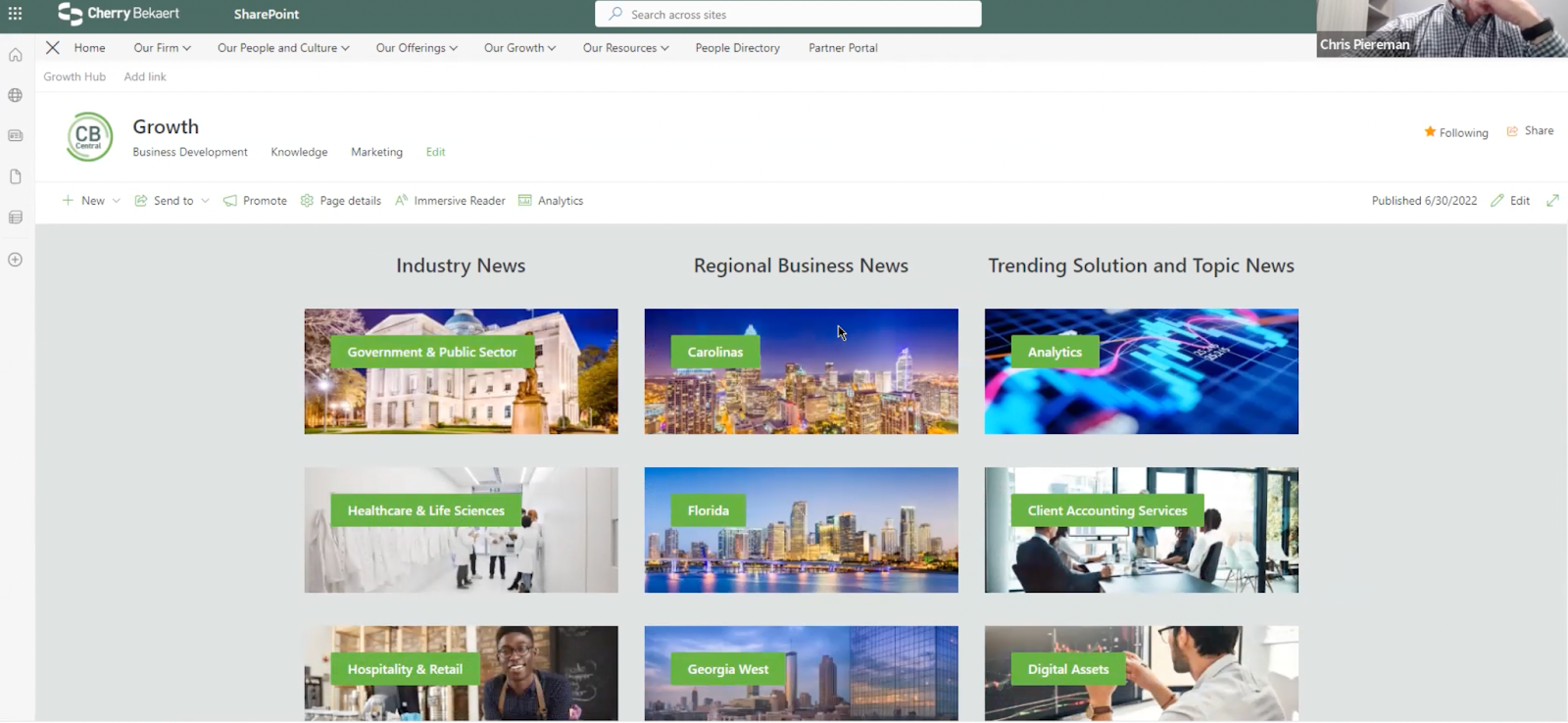 ‍They've created three main Collections that each have multiple Topics, further breaking down the main areas they are educating their team on.
"This provides a resource for when I don't have the time to Google search everything under the sun. If I want news, I can come here and zero in on something that has my specific interest," Chris says.
Their team even uses this as a resource when developing their original content and needing more information on a particular area.
Exponential and Rapid Growth Since Using UpContent
"All of our accounts for Cherry Bekaert platforms have grown exponentially and rapidly during the last almost two years. It's just a beautiful thing to see. And every day we're amazed at the growth that we've had," Vivian reflects.
In the first 11 months of 2022 alone, their 100 ambassadors active on their employee advocacy platform have shared more than 9,000 articles.
The primary metric they track for the brand awareness goals is engagement.
Since mixing curated content into their content marketing plans, they've seen a staggering increase of 2.1 Million page and profile impressions since January 2020, up from just 81K.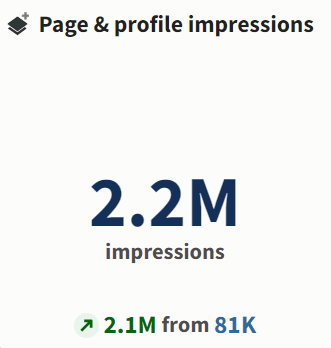 ‍
"Without UpContent, we definitely wouldn't be at the level and state we're currently at," she says.
Doubling Efforts Moving Forward
Because of how successful their brand awareness campaign has gone through employee advocacy and social selling efforts, Vivian says they plan to double the number of ambassadors using UpContent.
"There's tremendous value in having great ambassadors sharing content from UpContent, and it can only promote better things. So I'm looking forward to that and seeing how the growth will impact us," she says.
While thought leadership isn't something that can be easily bought or assumed, it is something that you can naturally grow over time with consistency, and that's where making content readily available has helped Cherry Bekaert.
"One of the ways that we use UpContent is to position our people as thought leaders and share interesting and curated content for their audience," says Vivian.
In less than two years of using these marketing strategies, Cherry Bekaert is ready to double their ambassadors using UpContent for their content curation and brand awareness efforts without needing to expand their communications or knowledge team to support it.
"Looking at the use and application of the capabilities of UpContent, it's an essential element as part of the marketing and sales processes in the 21st century," Chris says.
"I don't know how an organization can get reach in the marketplace without the capabilities such as UpContent."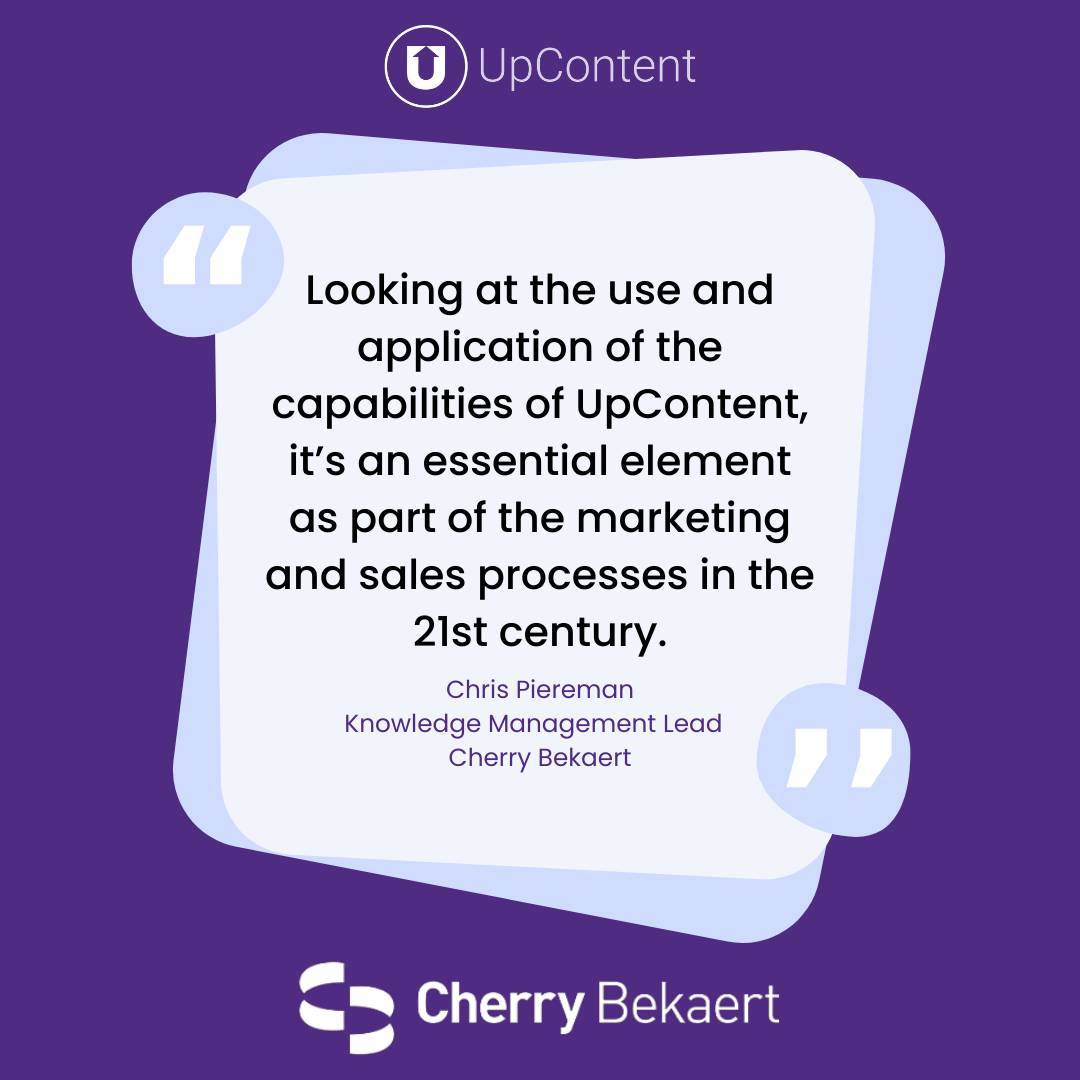 Back to blog