Social Selling and Employee Advocacy Platforms That Integrate with UpContent
Bethany Dameron
·
3 minute read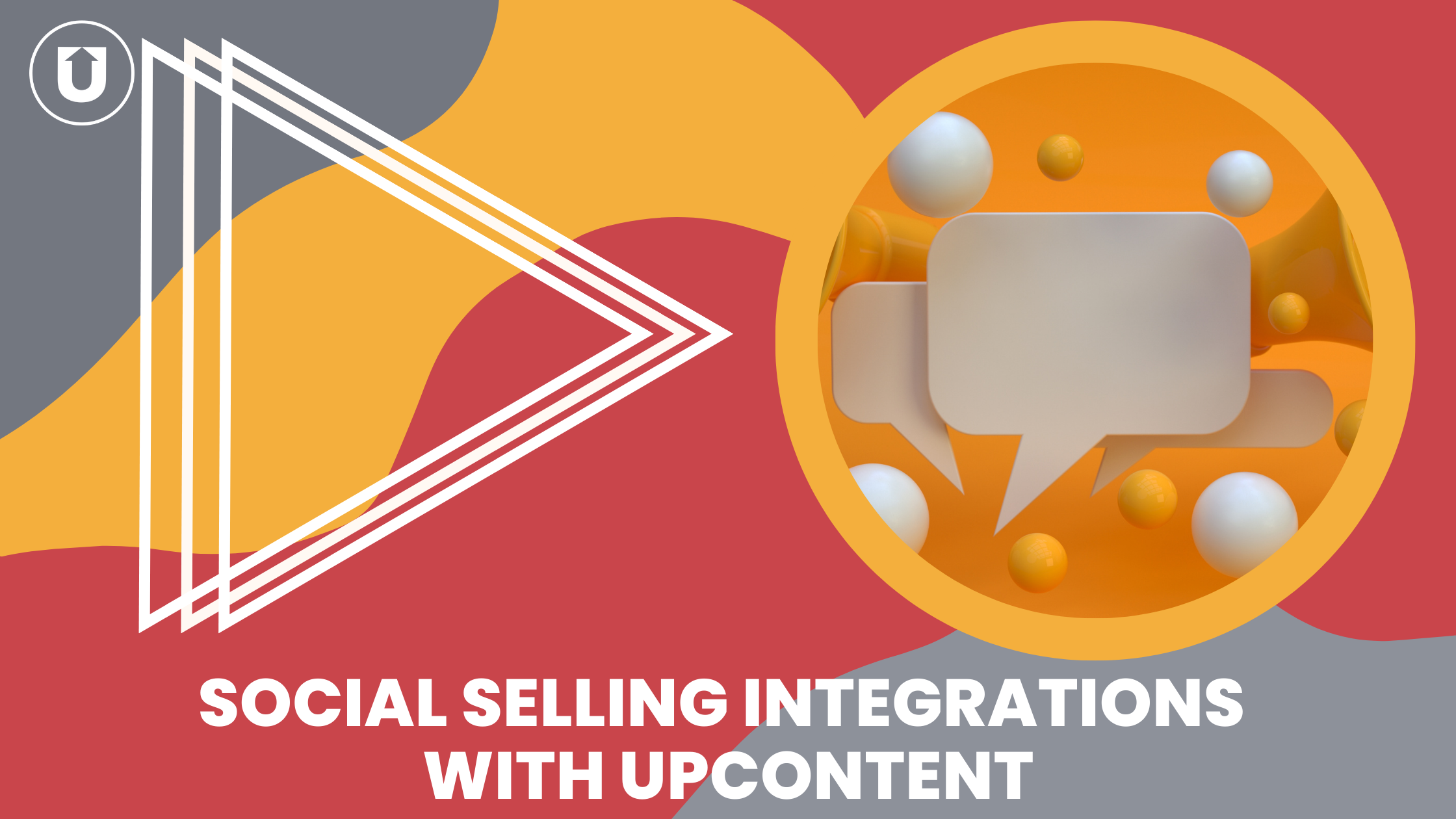 Social selling and employee advocacy are great strategies that pair nicely with each other, kind of like good cheese and wine.
You could have one without the other, but together: *chef's kiss.
But when you're trying to supply your company with great content for them to share with their respective audiences, trying to find the right content can be overwhelming.
UpContent thrives in being your middleman to help you easily get the best curated content out to your audience with tools you're already using!
We believe that being the best tool for your content curation strategy means we shouldn't be the best at EVERYTHING.
When building UpContent, we wanted to ensure we could work alongside your existing technology investments. We just wanted to amp it up a little and make those investments even more valuable.
That's why we offer so many integrations with other social selling tools so you can get the most out of curating content through UpContent while not trying to replace other tools that are leaders in their spaces.
In this article, we'll walk through our social selling and employee advocacy integrations and, if we don't already integrate, how you can still use UpContent!
Social Selling and Employee Advocacy Integrations
Social selling and employee advocacy are two strategies that go hand in hand but have distinct differences.
Social selling is using social media as a sales tool for building an engaging digital presence and fostering trusted relationships online - like you would face-to-face interactions - with potential clients.
Employee advocacy is also using social media but as a way to promote and educate others about the company you work for.
Social selling has elements of employee advocacy folded in, and both help deepen relationships with your audience by providing a more rounded view of what you do.
Finding the right content to share alongside your created content can be time-consuming but critical. With UpContent, you can have freshly curated content readily available where you're already scheduling and sharing with your audience.
We integrate with several social selling platforms, such as Denim Social, Hootsuite Amplify, and SOCXO.
Denim Social
Through UpContent's integration with Denim Social, finding engaging content to position your financial service brands and advisors as thought leaders is easier than ever.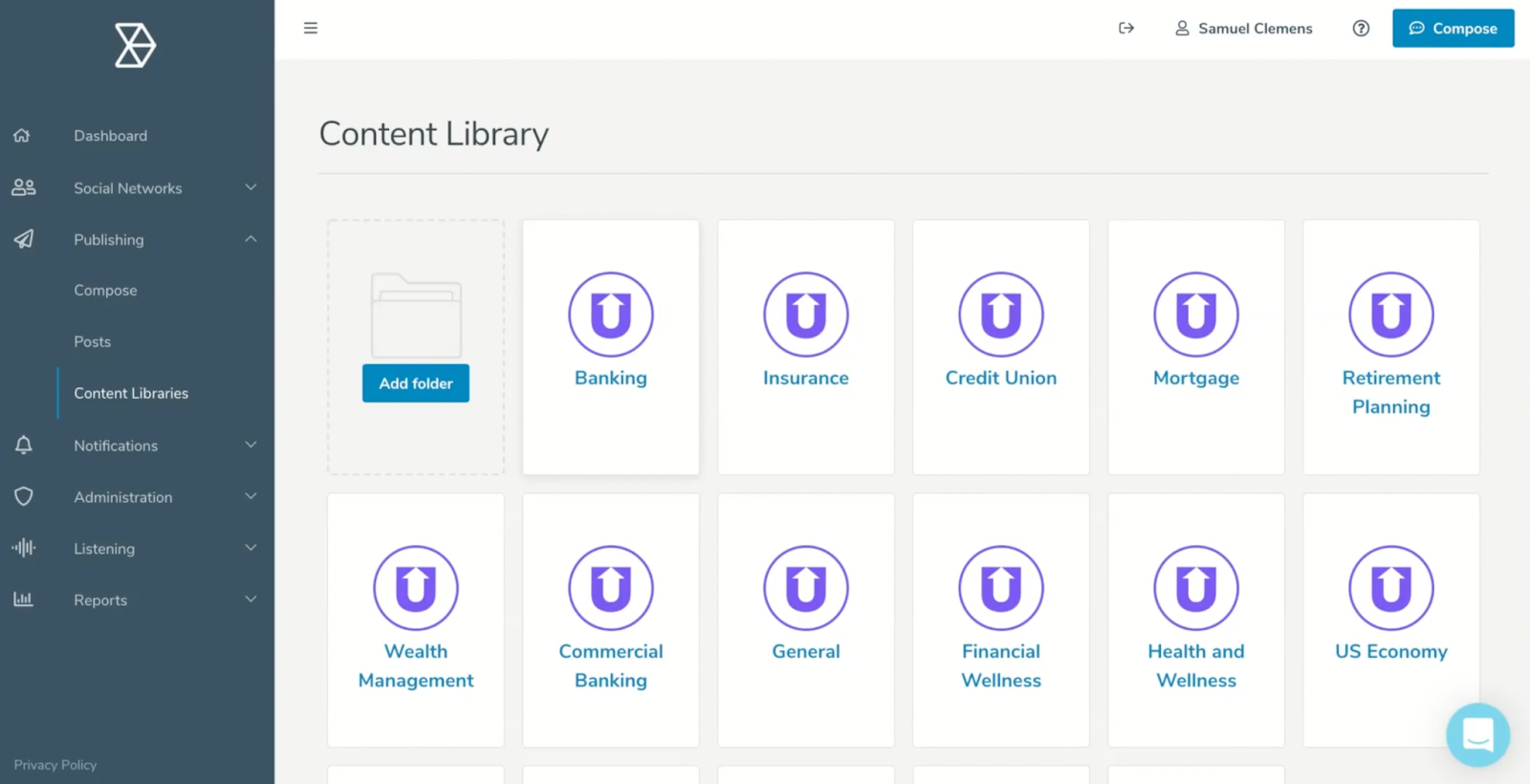 ‍
With regularly curated articles available right in your Denim Social dashboard, you'll never run out of shareable content. You can use pre-populated post captions or customize messaging to fit your brand.
Denim Social and UpContent set advisors up for social selling success by positioning them as trusted resources within their communities with localized content streams. Your marketing teams can easily pre-approve and organize custom-curated social media posts into folders within content libraries to be used by advisors on their networks.
Hootsuite Amplify
Hootsuite's Amplify provides a simple interface across mobile and desktop that you can fill with topics for team members to choose from and share directly to their personal or branded social media accounts in just a few clicks.
Your marketing team can approve content in UpContent to automatically refresh in your team's Amplify dashboard, where they can easily share articles, write personalized captions, and schedule posts to their individual social media accounts.
UpContent's partnership with Hootsuite uniquely enables your team to leverage this same curated content for your company's social channels, email campaigns, and populating your website - all via the tools you are already using and all without having to leave the Hootsuite dashboard.
SOCXO
SOCXO is an advocacy platform that enables brands to transform their stakeholders into brand advocates.
With UpContent's integration with SOCXO, you can easily source curated content from your dashboard, approve articles, and share them on your social media channels.
Don't See Your Platform?
What if you're using a platform like Bambu by Sprout Social or leveraging an internally built social selling process?
No worries, we have you covered!
Zapier,
Our partnership with Zapier allows you to create automated workflows that will execute whenever a new article is approved to an UpContent Collection or at a specified frequency.
An example of how this would work for social selling could be that you sent an article to your UpContent Collection, and now you need it to notify your team through a Slack or Microsoft Teams channel there is a new article they can share.
You can also use the trigger-based integration when an article is added to a Collection to automatically schedule a social post using your chosen social scheduling platform.
RSS Feed
You can turn each custom Collection created within UpContent into an RSS feed for integration with your favorite social selling or other technology that makes your life easier and your audience more engaged.
API
Staying true to our "partnership and integrations" mindset, the UpContent Public API provides access to UpContent's proprietary content curation platform, allowing developers to build powerful content discovery and curation features directly into their applications.
We want to help you succeed because your success is our success.
If you're interested in building a tool using our API, we'd love to work with you!
Next Steps to Using UpContent Integrations
Our goal is to help you with any content curation strategy or need you have.
Integrations help UpContent take a clearer shape in your content marketing strategy, and we would love a chance to learn more about your content vision and help build you a custom workflow that achieves these goals!
Schedule a call with one of our Content Curation Experts today, and they can help you narrow down the best way to use UpContent.
Or, if you'd like to learn more about content curation and UpContent, check out these articles!
‍
Three Myths about UpContent: What UpContent Does and Doesn't Do
Why Your Social Selling Strategy Isn't Working, and How You Can Fix It
Three Types of Content to Send To Your Team Via Internal Message Threads
Back to blog