4 Key Benefits of Creating Original Content
Natalie Stezovsky
·
3 minute read
Did you know that, according to Content Marketing Institute's annual report on trends and tactics in content marketing, 38 percent of marketers expect to increase their content budget in the next year?
There's already tons of content out there, and hearing that next year is going to be even more cluttered might be enough to put you into content shock going into 2018.
I'm sure it's got your mind racing, preparing for the year ahead. You're probably thinking all about how you can keep up and compete with other companies for your audience's attention, dollars, and brand loyalty.
So, how will you fuel your content marketing strategy with amazing, original content that cuts through the noise and engages your audience — not blend into the background among all the other content put out there by your competitors and industry peers?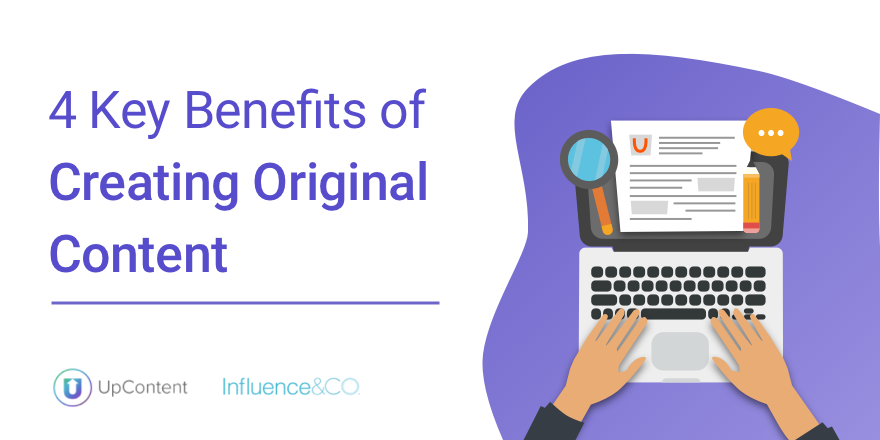 The Benefits of Original Content
Creating original content isn't just helpful when it comes to standing out in a crowded digital world. It can help you achieve other goals as well.
Think about it: No one wants to read something they've already read, just by someone else. Publishing unoriginal content — or boring content or overly promotional content — can hurt your credibility and put distance between your brand and your audience.
But creating and distributing original content coming from your leaders can make a huge difference in your efforts. Here are four major benefits of creating and sharing original content:
1. It's great for engagement.
This might be the content nerd in me speaking here, but there's really nothing quite like reading an article that is well-written and thoroughly researched, offers new information, and keeps me interested from start to finish.
Content like that isn't exactly easy to find, so when people do come across it, they're more likely to consume it all the way — and share it with their friends, too.
When you create high-quality content that actually meets the needs of your audience, it can skyrocket your performance.
2. It proves to your audience that you understand them.
Speaking of meeting your audience's needs, creating original content goes hand in hand with addressing your clients' pain points.
We're all looking for ways to make our lives easier and our work more efficient.
When you create and distribute content that answers your clients' questions and meets their need for resources, you've proven that you understand them and want to help.
Plus, digging into the data behind what your audience is struggling with and why can inspire truly original ideas for content, which keeps your work fresh and engaging.
Show that you have the knowledge and ability to be a resource by thinking of your audience when you create content.
3. It positions you as a leader in your industry.
When you tackle issues and ideas in your content that no one else in your space is talking about, you earn a valuable edge.
That kind of true thought leadership content demonstrates your industry knowledge. It shows that you understand the trends affecting your industry, that you're thinking beyond your day-to-day and looking ahead to the future.
This positions your brand as an industry leader — one that's knowledgeable and trustworthy.
4. It helps increase your SEO.
With so much content out there, increasing your online visibility and search rankings is one of the best ways to get yourself in front of the right audience — and original content is a major part of any solid search strategy.
One way that my agency approaches this is by guest posting content to reputable online publications.
By contributing content to publications with high domain authority and linking to truly valuable, unique on-site content, you can earn powerful backlinks.
It's important to note that online publications will reject your content if it's not unique or original, which is another reason original content is so valuable.
If you want more information about what online editors are looking for and how to improve your content, check out our report "The State of Digital Media."
Creating original content is easier said than done. Unless you have a fully dedicated content marketing team handling this stuff for you, then it's easy to let these efforts dwindle.
Want to learn how to actually pull it off? Watch our webinar on "How to Create and Distribute Original Content and Why It Matters for Your Brand."
Natalie Stezovsky is a VP at Influence &Co., a company focused on helping brands and individuals extract and leverage their expertise to create, publish, and distribute content to gain influence, visibility, and credibility with their key audiences.
Back to blog