Empower Your Sales Team With Icebreaker for HubSpot
Scott Rogerson
·
5 minute read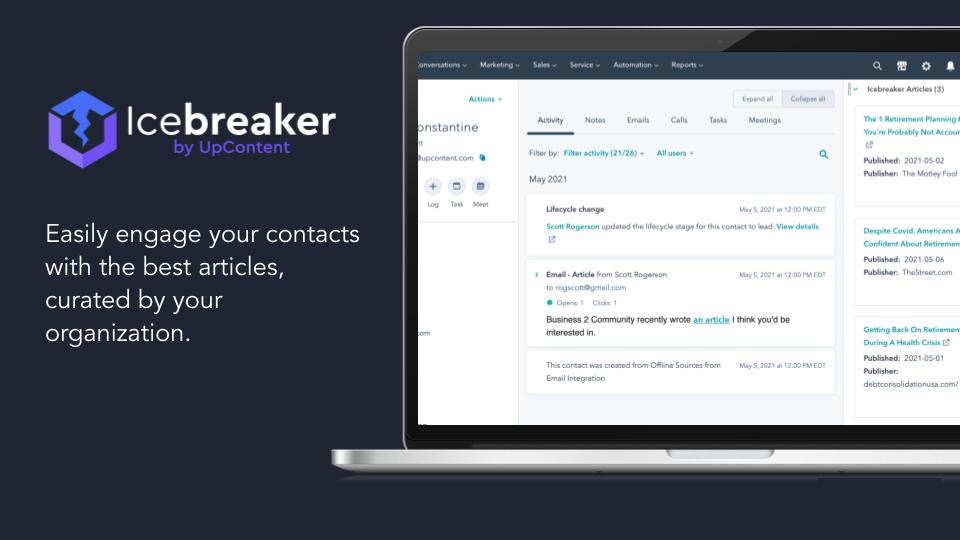 Content is a powerful thing. Content makes people smile. Content makes people think. Well-written and researched content can teach its audience something new that they didn't know.
However, one purpose is paramount to all others when it comes to any business: making money.
Research from HubSpot indicates that the most common measure of the success of a content marketing strategy is total sales. Businesses do not invest in content for no reason — they put their money into content expecting results, and the one result they care the most about is how much it boosts sales.
However, few businesses have the resources in-house to set up and maintain sales collateral, the knowledge and time to manage creatives, or the budget to retain the services of an agency to create branded content.
Most companies can employ at most three content creators — enough to provide some of the content required by their sales teams, but certainly not all of it.
The solution? Content curation.
Content curation is the practice of sourcing and sharing high-impact, pre-written content relevant to an area of interest or topic that your audience wants to know more about.
Content curation helps your prospective customers make informed buying decisions while offering value to your leads and helps you grow your brand.
What Is Icebreaker?
With curated content consistently showing a high level of engagement, curated articles are an excellent way for sales teams to connect with leads and drive them down the sales funnel in a "non-pushy" way.
UpContent's Icebreaker was developed in partnership with HubSpot to recommend articles to your sales team that have already been vetted by your HR, marketing, sales, and (if needed) compliance leadership using UpContent's automated filters or manual workflows.
In this way, they can share the content with confidence, knowing that whatever Icebreaker suggests is from your team's approved UpContent and is in line with your organizational goals, and meets all brand hygiene standards and compliance requirements.
Once integrated with HubSpot, Icebreaker's suggested articles appear directly within the HubSpot contact record, simplifying your email-sending workflow and quickly eliciting responses from your leads.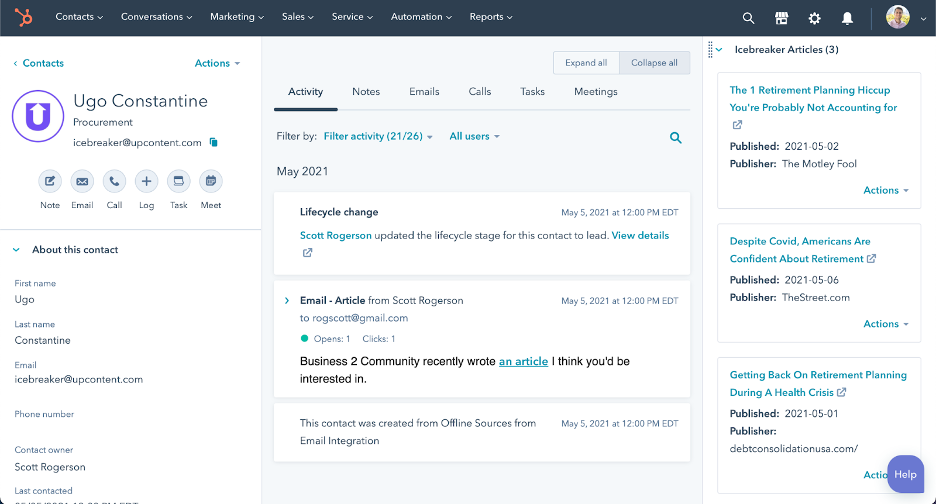 How Does Icebreaker Help Your Sales Teams Engage Prospects?
Curated content from UpContent's Icebreaker can be a powerful weapon in your HubSpot CRM sales arsenal.
As a leading curation solution for hundreds of organizations across a variety of industries, UpContent offers sales teams a diverse collection of articles and blogs, providing the insights your team needs to kickstart conversations that pique your prospect's interest.
Here's why you should consider integrating Icebreaker into your HubSpot account:
1. Lead Nurturing
Not every lead is prepared to make a purchase when you first reach out. A potential customer could be interested in your product or service, but there might be particular reasons that stop them from signing up right away.
They might not have the budget to buy at the moment.
Maybe they have a current contract to use a competing solution.
Maybe they require sign off from senior decision-makers that have other priorities at the moment.
No matter their reasons, your leads are still precious to your business. Therefore, your sales team needs to find ways to keep your offer front of mind until the lead is prepared to pull the trigger. For this case, curated content is a handy lead nurturing tool.
If you use HubSpot to manage your leads, UpContent's Icebreaker app will help your sales team identify relevant content which addresses their contacts' pain points while allowing them to overcome any stumbling blocks they encounter in the sales process.
There's also another benefit to curated content in your lead nurturing compared to your "homegrown" content. According to a Demand Gen report, only 7% of buyers say that they "frequently" trust companies' branded content, as opposed to a massive 64% who would say the same about content sent to them from reputable third-party sources.
What this means is that, with the right curated content, your sales team can go a long way toward convincing your leads to make a purchase.
2. Establishing Trust And Credibility
It is a well-known fact that most consumers depend on recommendations that they get from their peers. However, they also want information from other authoritative sources. Although it might feel counterintuitive, it's true:
Whenever you share helpful content from another expert, it boosts your credibility in the eyes of your audience.
Providing your customers with this information allows you to back up any claims your brand makes through supporting third-party research.
Offering engaging content will make you their go-to resource for inspiring, engaging, and helpful information. In time, you will find that you'll develop a stronger relationship with your contacts as they will learn to trust the knowledge you have to share.
3. Brand Building
We have already looked at how your prospects are likely to view your third-party curated content as more trustworthy than the collateral you produce in-house.
Keeping this in mind, sales teams should start viewing content curation as a tool they can use to build trust and extend the company brand as well as their personal brand, therefore broadening your reach.
A curation platform like Icebreaker helps your sales team to find and share the best and most relevant content with your prospects.
The application lets you use HubSpot to effectively communicate your brand's value, vision, and unique selling proposition without feeling like you are shoving the message down your contacts' throats.
For example, let's say you're selling a SaaS solution. Your application helps organizations' department heads automate a specific labor-intensive task that takes up a significant chunk of their workweek, thus freeing their time to focus on the bigger picture.
In this case, you would want to highlight this particular pain point to prospects, so you could email a recent third-party survey that discusses how business leaders in your target industry are stressed and overworked.
You may perhaps send a link to an article featuring a well-known figure in the industry talking about how many senior managers find themselves so bogged down by administrative issues that they fail to add value to their organizations.
This content aligns perfectly with your product's value proposition without feeling like a sales pitch.
4. Networking With Prospects
HubSpot is an incredible tool for networking, allowing your company to remind its prospects about the existence of your products or services.
When you keep the conversation flowing, you move your leads through the buying cycle.
Through approved curated content, you can do this without giving the impression of constantly trying to make a hard sell and alleviate the administrative burden from our sales team in needing to find this content on their own and risking sharing something that would not have been approved.
However, you need to have a reason to contact a prospect constantly. When you regularly slide into the prospective client's email inbox to ask them what they plan to do over the holidays or how their weekend is going, do not expect to keep their interest for long. Whatever extra context or value your salespeople offer will help them build much better relationships with their prospects - content curation is the perfect solution.
By sharing a blog discussing new industry legislation, a report on the state of the market, or a news article featuring their company with a prospect, you can break the ice (see what we did there) by asking what they think.
Will the news have any impact on your role?
Will you do anything different from now on?
What is the reaction of other decision-makers in your industry?
Again, it is all about positioning your sales team as a team of trusted experts who have a genuine interest in what their prospects are doing, not money-hungry sharks desperate to get a deal over the line as quickly as possible.
5. Sharing Information With Marketers
In this article, we've spoken about how sharing curated content compares to branded content. In reality, the two are complementary. By helping you assess the impact of your curated content with prospects, Icebreaker can help you fine-tune your content creation strategy.
Is there a particular piece of curated content that resonated particularly well with your prospective customers? Is it something that gained plenty of engagement and traction?
Your sales team can give this information to your marketing department. They could let them know what worked exceptionally well with the content, why your audience seems to find it valuable, and the kind of conversations you have had because of sharing it.
It isn't about persuading your marketing team to churn out similar versions of the curated content. It is about taking what has worked before and then using it to develop something that's as good or better.
Make Meaningful Connections With Prospects And Drive Sales With Icebreaker
It is easy to dismiss the use of curated content as lazy or an easy shortcut. If you are going to share someone else's content, it is because you can not produce any of your own, right?
Wrong!
Your curated content can be as valuable - maybe even more - for moving your leads down your sales funnel.
Icebreaker provides a simple way for your team to offer prospects approved third-party content that meets compliance and brand standards. The application makes it simple for your sales department to know what kind of content has the most significant impact, who to share it with, and how to use it to initiate valuable conversations with leads.
‍
Back to blog