Use Curated Content In Your Newsletter
Bethany Dameron
·
6 minute read
When people discovered fire, I bet they had no idea what all it would be able to do, right?
They probably used it for one purpose: light and warmth.
Imagine what it was like when they found out you could use it for cooking and creating tools!
And, of course, as a developed species, we use it to make s'mores, so we have obviously mastered the art of fire.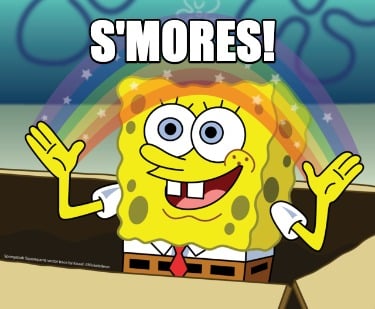 Sometimes with marketing processes, we only think of using them in limited ways.
We are so creative in other areas of our job, sometimes we don't realize that the work we are doing could be slightly redirected to further our goals with little effort!
But, did you know you can use curated content for your newsletters?
That same content you're curating for your team to be sharing on their social media accounts can be easily placed in an email newsletter, and have a profound impact on the open and engagement rates you are experiencing with your subscribers!
With 85% of executives likely to share a good piece of content when they see it, making sure your audience sees the best content is crucial.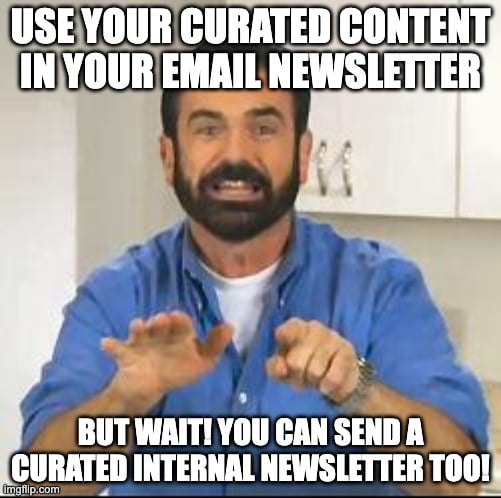 ‍
You can also use this same content in an internal newsletter with similar results! Social selling is one way to get great content in front of your team, but sending a curated newsletter including your top picks helps encourage reading, learning, and sharing!
At UpContent, we care about efficiency, so we created a system used by hundreds of companies to curate content strategically, automating the elements that waste, and making the process of truly curating a breeze.
In this article, we'll talk about why you should use curated content in a newsletter, when you should send those newsletters, and how to get started!
Why Should You Use Curated Content in Newsletters?
Curated content in your newsletters cuts through the noise on topics that matter most to your audience by bringing them right to where they spend most of their time: their inbox.
By sharing content written by other people and publishers, you're helping strengthen your readers from the inside out by adding outside voices to the narrative.
Using Curated Content in Your External Newsletter
If you're creating an external newsletter, you can use this content to educate and build trust with your customers!
You can easily add a section, or a whole new campaign, titled "What We're Reading" that could include articles your team curated or your employees read and shared the most.
This helps build the relationship between you and your subscribers/clients by showcasing what's circulating amongst your team and presenting the best that's out there - all of which isn't your own- helping establish that human element in those you're marketing to.
If you have any email funnel for prospects or new customers, that funnel is seven, maybe eight touches. Most people call this a "Welcome Sequence."
But then, what do you do after that funnel?
What exactly are you supposed to write to your email list about if you want to keep nurturing them pre or post-sale?
How do you get them to open those emails?
And how can you do that in a way that doesn't take so much time that it hardly becomes worth it?
If you're already curating this content, and you've got this group of people that at one point said they were interested in you but didn't buy yet, this is a great recipe for a curated newsletter.
With zero to little extra effort, you can move the stuff you've already approved and have it automatically go out to these people to continue building that relationship while cutting through the digital noise for them.
With this type of campaign running, you can use your email marketing tool to assess engagement.
When a subscriber's engagement is high, give them an easy way to give you their feedback and ask questions.
What a great way to reactivate their interest!
Using Curated Content In Your Internal Newsletter
An internal newsletter is a great way to keep your company informed of what's happening in your industry, especially if you're a medium-sized or larger company.
Just because the newsletter is going to your employees doesn't mean it has to only contain content you create about what's happening.
You can also use it to share valuable articles from other leaders in your industry to help further educate your staff and equip them for informative and engaging conversations with their contacts outside the company.
Let's face it, no one has time to read everything that's out there.
By providing your team the best content directly in their inbox they can benefit from simply staying informed or use these campaigns as assets for sharing with their key prospects or customers to further the value they provide to those relationships.
How Often Should I Send a Newsletter?
Our short answer is this: on a consistent basis to build yourself up as a trusted, reliable source of information.
Multiple times per month is ideal but simply start with a frequency you know you can stick to and adjust as needed.
You could send out a newsletter every time you had something to say, but we believe that is more of a "broadcast" mentality, and we haven't seen a great ROI on it.
Whether you're talking internally or externally, consistency always has a higher chance of being read than random newsletters hitting people's inboxes.
Your employees and customers are inundated with information, so being strategic, personable, and consistently helps you more over time than a successful blast every once in a while.
How Should I Send My Newsletter Out?
The easiest way?
Email!
We make it easy for you to share your curated content with your audiences in whatever software you are using to create your emails.
There are several methods of adding curated content to your newsletter, from 100% manual to 100% automatic and anything in between.
100% Manual
This method is simply copying and pasting the links you have curated in UpContent in your email content builder.
You would have your email platform open in another tab and switch back and forth as you paste each article where you would like for it to go in the email.
This would need to be done for every curated email you want to send, whether that be individually or to your email lists.
100% Automatic
On the flip side of manually copying and pasting every time you want curated content in your newsletter, you can activate our partnerships with HubSpot or Mailchimp or use your UpContent Collection's RSS feed to automatically trigger emails on a frequency you specify.
Inside UpContent, we have an email template builder where you can customize a template to include a Collection set up specifically for your newsletter.
The builder creates an HTML code that you can then set to email every week or month at the same time, pulling from the freshly curated content in your UpContent dashboard.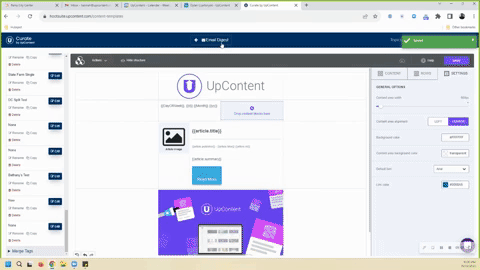 We have a great partnership with rasa.io.
Their technology enables you to add your UpContent Collection's RSS feeds, containing only your approved articles, from your favorite sources and rasa.io will automatically customize the set of articles for each of your subscribers based on their past interactions.
You have solid design controls, the ability to insert visual conversion prompts, and can prioritize your original content (when available) to ensure the most exposure.
Somewhere in between
You can also set up a process with a mix of manual and automatic configurations using some of our other partners (like Constant Contact or HubSpot) or your current email setup.
Build your curated newsletter email template in UpContent.
For example, you could use our Constant Contact partnership.
You would create a template in UpContent, then define the campaign in UpContent so each time you are ready to send an email, you can with a single click right from UpContent!
You can even schedule the email in UpContent so you don't have to worry about manually going in to hit "Send."
You can use the UpContent email template builder just to build the curated content section of your email.
You can copy and paste the HTML that is generated for you by UpContent into a code block in your preferred email service and customize the rest of your email around that block.
This allows you to build the block once but change everything else in your email builder as needed and ensures the correct links and images appear with the right articles to properly and safely curate content.
Build your custom mix with us!
Schedule a call with one of our Content Curation Experts (or click on the purple bubble on the bottom right of your screen if you're already using UpContent!), and we can help you set up your newsletter process to fit your needs.
UpContent is extremely dynamic, which means you can do just about ANYTHING with it, but that also means that deciding where to start isn't as straightforward.
Our team specializes in creating workflows that are best for your team, and we love helping you discover all the ways UpContent can be used for your company.
Next Steps in Curating Content In Your Newsletter
Adding third-party content to your newsletters can diversify your brand's communications, whether you're talking to your employees, customers, or both.
Educating your team on industry news and trends helps them better relate to your customers and provides an easy way to showcase their expertise without coming off as parroting the brand's messaging.
When your customers can access the information they need to know, it helps them make a buying decision faster - and more confidently.
We help you curate dynamic content from different sources efficiently.
You can use UpContent to assist in your curation process, set it on auto-pilot, or create a strategy specific to your business to get the most out of your UpContent subscription.
Schedule a call with us today to get started on your curated email strategy, click on the purple chat bubble on the bottom right of your screen to talk to our team and help you set up your emails!
Or you can start building your email campaigns today using resources from our Help Center.
If you're interested in learning more about email and curated content, check out these articles:
Back to blog