Best Content Curation Software for 2023
Bethany Dameron
·
6 minute read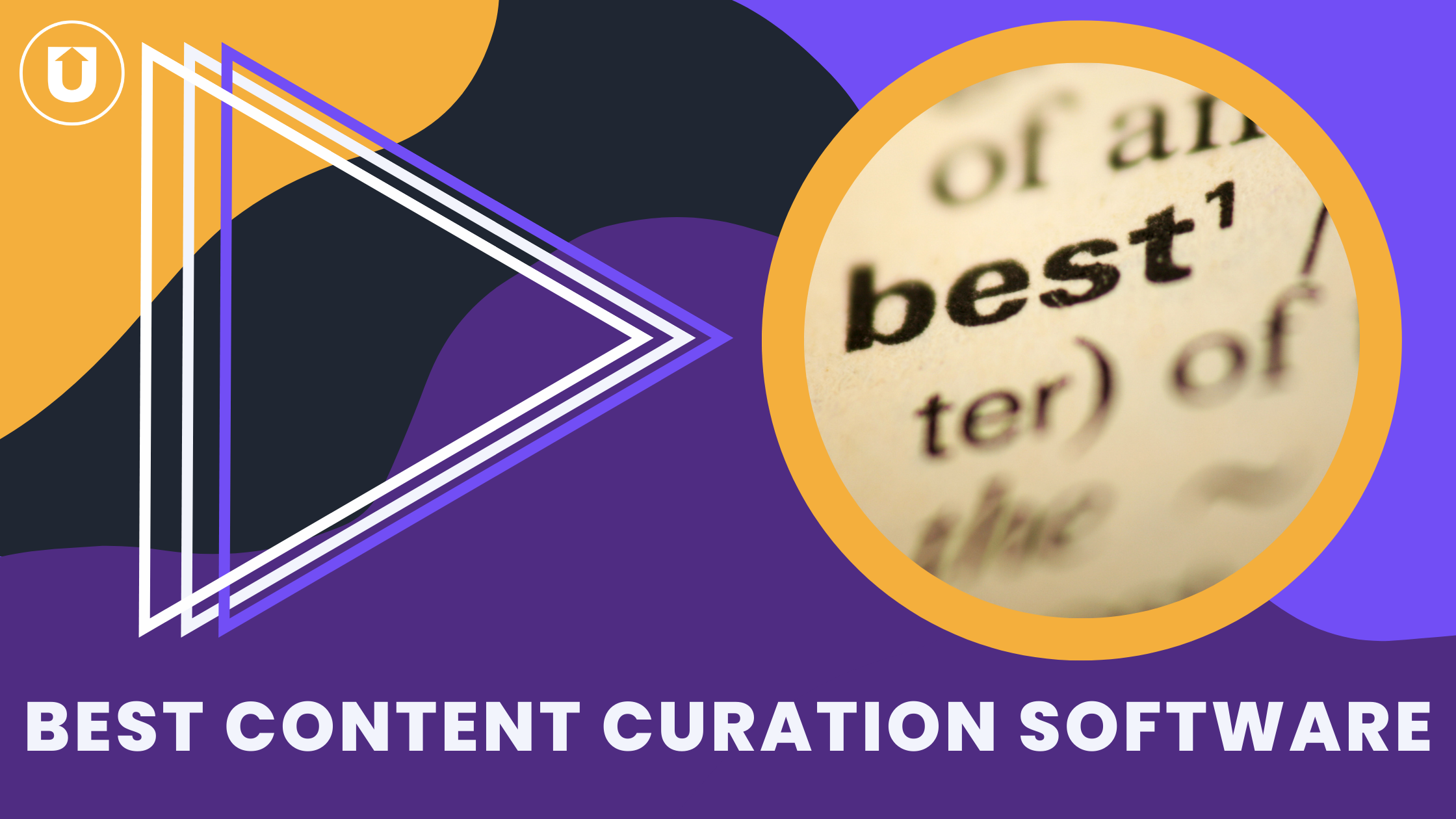 Content marketing isn't just about adding noise to the never-ending content "algorithm" that it says it needs.
In this day and age, people are overwhelmed with noise, especially digital noise, and no one wants to be tuned out.
That's where having a focused content marketing strategy comes into play, but having to create only the best and most valuable content is a far reach for most of us.
The idea of only creating content limits your overall marketing strategy, and that's where content mix comes in to save the day.
There are many different ways to create a content mix: curation, aggregation, syndication, and user-generated content (UGC).
A content mix of 60% third-party content and 40% created content is a great place to start and allows you to create the best content that demonstrates your expertise while also showing you value others' thoughts and opinions on a similar subject matter.
But trying to find the right third-party content and distributing it can take just as much time and effort as creating the content yourself.
So how do you effectively create a content mix without doubling your workload?
Content curation software!
There are great curation, aggregation, syndication, UGC, and even content creation tools to help aid in the process.
Here at UpContent, we've helped hundreds of people find the best content mix strategy, whether with our content curation software or another solution.
To help you learn more about these, we broke down G2's Highest Rated Content Curation Software into their nuanced categories to help you find which software is best for you!
‍Content curation tools allow you to source, organize, select, and distribute third-party content, position yourself as the consistent "go-to" resource as well as present a more authentic version of yourself and/or your organization.
A curated content strategy includes selecting content that helps deepen relationships and builds trust between you and your audience.
The G2 Satisfaction scores reflect those at the time of this article's publication. The latest scores are available here.
UpContent is a content curation tool that searches the internet twice daily for the best content that matches your searches and gathers it into one location so you can easily select and approve the content you want to share.
Because of UpContent's "partner-first" mindset, you can efficiently distribute the content you find manually, automatically, or somewhere in between to best fit your overall process.
Sourcing from over 215,000 publishers a day and covering 16+ languages allows UpContent to bring the breadth and depth needed to support an effective curation strategy. .
As a dynamic platform, it can mold to any process, platform, or workflow you need.
ContentStudio is a content marketing and social media management platform for businesses, agencies, and marketers who want to share the best content consistently and increase their reach.
ContentStudio's Content Discovery module provides customers with the ability to build custom feeds based on keywords that matter most to your marketing needs, or choose from 500 pre-built topics to get started.
You can easily share your curated content to your website, social media, and email platforms from ContentStudio.
Cronycle is an all-in-one market intelligence platform for harvesting, sharing, and publishing insights.
They empower market research, content marketing, product innovation, and sales enablement teams to discover and produce high-value insights in less time and with fewer resources.
Cronycle's discovery engine allows you to choose from 80,000 topics surfacing the best and newest content for those topics every day.
Buzzsumo is a content curation tool that sources the best-performing content based on engagement, clicks, and interactions on social media, news sites, and more.
You can search a topic or keyword, see the best-performing content related to that topic, and then sort that content based on standard filters like date, content type, and more.
Scoop.it's curation service helps millions of individuals & professionals to develop their online thought leadership.
You can share curated content across multiple social channels or your preferred social media management platform by connecting your branded accounts and pages.
With their WordPress integration, you can easily republish curated content on your website to help boost your website rankings.
Curata enables marketers to create, curate, organize, annotate and share the most relevant and highest-quality content as part of a successful content marketing strategy.
You can discover the best content with their self-learning engine, easily organize and contextualize each piece with just a few clicks, and publish your content within Curata.
DrumUp is an end-to-end social media content scheduling and discovery app.
It is a content curation tool focused on social media, and it mines web content in real-time to recommend to your audience.
Content aggregation brings all the content from specific sources together, and it's usually content from the same publisher about the same topic or industry.
There is often very little organization to aggregated content, but it allows the reader to see everything sourced about a subject in one place and choose what they would like to read or share.
FeedOtter increases website traffic by automating blog, news, and RSS emails delivered by marketing automation software such as Marketo, Pardot, or Eloqua.
Their Smart-Sense automatically knows when new content has been published and ensures old posts are never sent twice.
You can have a completely hands-off automation workflow or a semi-automated feature that lets you review and approve each send.
Feedly is a content aggregator and RSS reader for busy professionals and curious minds.
You can train their AI engine, Leo, to prioritize topics, trends, and publishers that matter to you, and you can organize your feeds and filter out the content that isn't relevant to you.
With the Paper.li Personal Marketing Platform you can do the work of a marketing team by yourself in minutes.
You'll get daily personalized aggregated content, a fresh website, social scheduling, and a simple newsletter creator.
Syndication is republishing the same content from a publisher on your own website.
These solutions often include the purchase of "reprint" rights from these publishers to ensure that your use is in alignment with the publisher's copyright.
When syndicating content, a service like AdvisorStream allows you to share licensed content on branded landing pages bypassing any firewalls or ads your readers would typically run into.
Advisor Stream allows you to choose from nearly 30 publishers to syndicate content on your website and share via email or social media channels.
‍Content creation is best for anything you or your team has unique expertise on.
If you're looking for a tool to help create the posts for your content marketing strategy, a content creation tool can help with ideas, captioning, and posts!
​​Businesses use Social Jazz to keep their social media active by letting them easily add topics and events from a catalog, which are then automatically created, branded, and published as posts.
You can create posts based on holidays and trends, and businesses can fill out their social media calendar with what's relevant to them.
Social Jazz crafts posts with images, captions, and hashtags, using your company's logo and colors to make its brand shine.
User-generated content (UGC) is any content created by people, not your brand or marketing team, to share information about your business, industry, or topics.
Think of it like when people go to a conference and post to their social media about it, tagging the conference host. That's UGC.
Taggbox Widget helps you collect, curate, and present the best UGC from 20+ social media platforms into one innovative application.
With Taggbox Widget, you can easily present social media feeds, videos, and user reviews on your websites, hashtag campaigns, email campaigns, etc., and upscale your business.
Brands and retailers use StoryStream to give their customers more engaging, authentic, and immersive ways to discover and buy products – making shopping online more human.
They focus on curating user-generated content specifically for you to use as social proof of your product or service, and you can feature that content on your social media channels or website.
Choosing which software is best for you can come down to many factors.
First, you need to decide if a content mix strategy is right for you and, if so, if you should implement curation, aggregation, syndication, or UGC (hint: it may not be just one of these).
The most engaging content strategies are not composed of just one or two content types, but are truly a mix based on what your goals are with content marketing.
There are five key factors to consider when choosing a content curation platform, but your software should never drive your strategy.
Find a tool that works with you, not the other way around.
If you're interested in learning more about UpContent and how content curation can help your marketing and sales efforts, you can schedule a call with one of our Content Curation Experts today!
Or if you're ready to start comparing content curation tools from across the industry, you can download the latest G2 Content Curation Grid Report to see how the top content curation software stack up against each other in the areas that matter most to you.
Download G2 Content Curation Grid Report Here!
Check out some of these other articles:
Back to blog