How To Curate Content Faster- The UpContent Approach
Bethany Dameron
·
4 minute read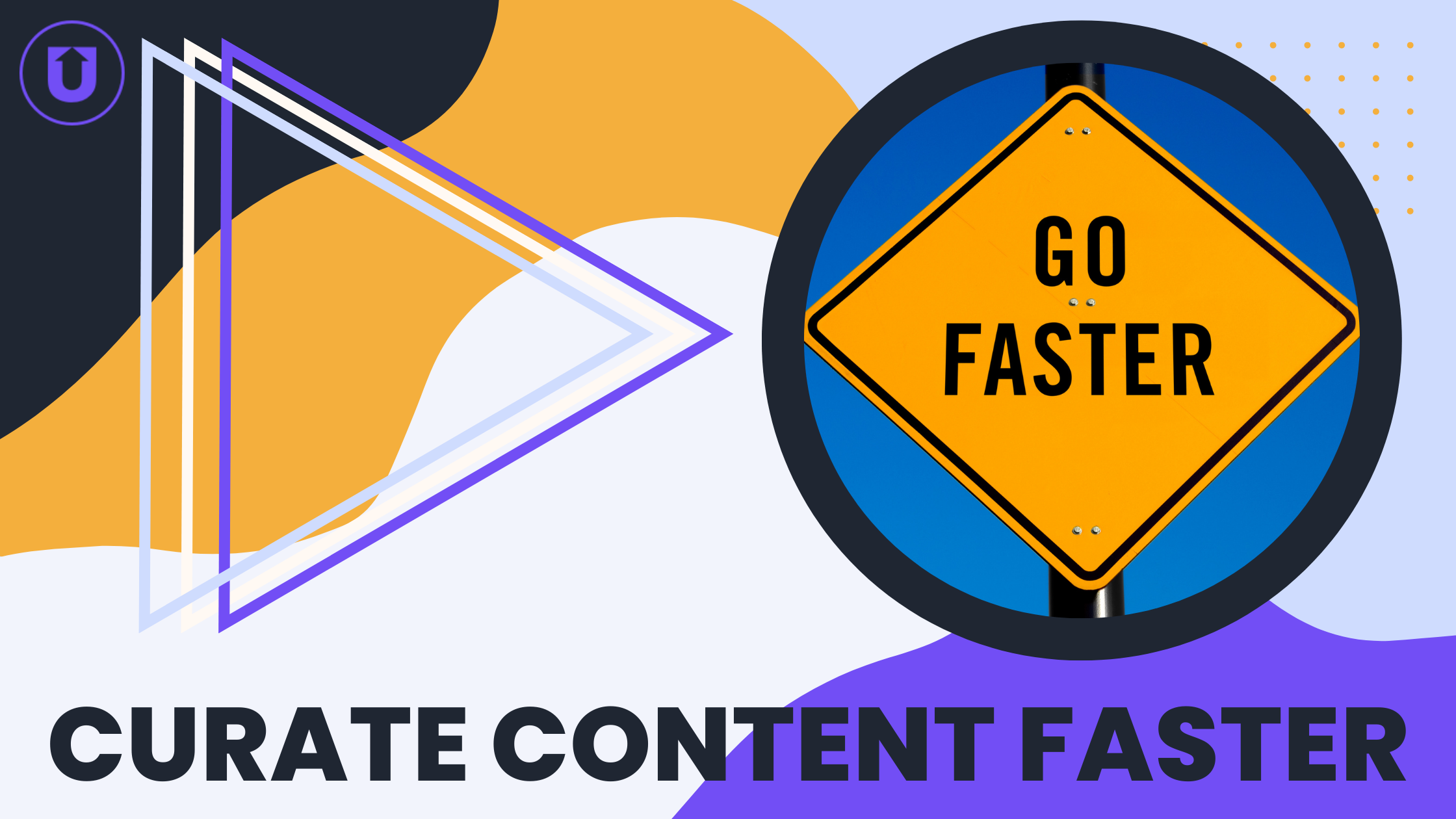 Did you know that 7.5 million blogs are published daily?
That number is hard to imagine and can be stressful when you're trying to execute a successful content marketing strategy.
‍It can be hard to stand out from the crowd, but there are proven methods to pierce through the noise with a targeted, valuable message for your audience.
Content curation is strategically sharing content you think your audience would benefit from based on your expertise and their interests.
But how do you find that content amidst the 7,500,000 articles hitting the interwebs every day?
UpContent helps you quickly find and share curated content, allowing you to invest your human focus on what matters most, selecting the right content to share.
For the last five years, UpContent has focused on streamlining the discovery and distribution process of content curation with our industry-leading proprietary crawler, helping hundreds of businesses find the ROI they need for curation.
In this article, we'll share how we approach curated content, how we got into content curation, and how you can curate content faster by using UpContent.
What do we think about curated content?
Content curation is a way to use content strategically, and it should be treated as such.‍
It should be equally important to how you strategize for your creative content.
Content curation is another pillar of your content strategy, not a way to fill the silence on your social channels when you don't have anything else to say.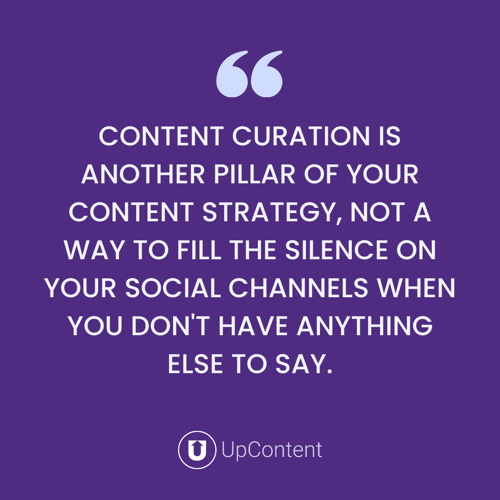 To do curation effectively, it needs to have a filtered element, whether that filtering process is automated or manual, to be called curation.
Content curation shouldn't take that long, in fact, it should take ten times less time than what you spend on content creation.
If you're spending eight hours a week curating content for your business, it's going to be hard to get the ROI you need to make it worth it.
Here at UpContent, we don't see content curation as the end all be all to your marketing strategy.
Curation won't solve all your marketing and sales woes; it needs to be a strategic pillar.
But curation plays a supporting role in your created content, like how Sookie is to Lorelai in Gilmore Girls.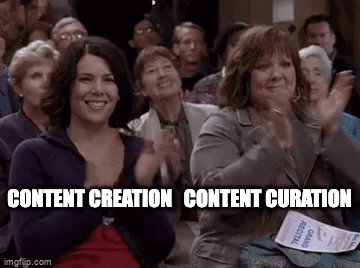 How we got into content curation
In 2015, our team was a part of a marketing firm serving 35 different industries.
‍We focused on executing effective content marketing strategies for clients of different industries and sizes.
‍Because of that, we had to be highly focused on efficiency and performance in our content creation and distribution efforts.
‍We realized that blending original and third-party content resonated better with our clients' audiences, and that's when we started working curation into nearly all client strategies.
‍The blend worked! But it took WAY too long to find and share the right content for each client and share it.
‍It took just as long to create our own content, so we thought, "Maybe we should just keep creating our own content?"
‍But our results weren't as good as when we had a mix of curated and created content.
‍We needed to find a way to use third-party content at a greater volume so that it could scale and find a way that didn't take a lot of time.
‍After analyzing further we realized that once we had the content, it still took us just as long to share it everywhere it needed to be distributed - and that each of our clients leveraged different platforms for distribution across social media, email, and their websites.
‍This led us to the fact that curation has historically faced two main problems:
Finding the good stuff
Getting the good stuff where it needs to go (without duplicating technologies already in place) ‍
And we couldn't find a tool that did both of those things, so we decided to create a tool that did both.
How UpContent optimizes your curation
UpContent was created to be a tool that optimizes your workflow by automating the things that should be automated and allowing the parts best for the human element.
Automating finding content to curate
It was important to us to have a tool to find content for any niche. If we don't have the breadth of discovery, what value can we really claim for our clients in surfacing the best for their audience?
‍We found a lot of curation tools that were strictly aggregators, where you find content and put it into a space for later (e.g. Pocket).
While these tools are great at solving that portion of the problem, they didn't solve the "Where is the good content for us?" problem. ‍
There are other tools out there that did have searching capabilities, but we were limited to finding only the most popular content in the space, or we couldn't get to the niche we were looking for.
With UpContent, you can be as detailed or broad in your search about any topic. There are no limits on categories; you can change them as often as you like - and can discover articles across more than 16 languages to ensure what you discover will resonate with your audience.
Applying custom filters to showcase what matters most
Deciding the best content for you to add your perspective to was still a part of the content curation process we wanted to make as frictionless as possible for our customers.
This part of the curation process is key to your brand and goals because this is where the human element should shine.
This is where you can let out a big sigh of relief because instead of having to do the dreaded searching and finding and digging, UpContent takes that first step out to only bring you quality pieces that match your search.
You can choose from a much smaller, tailored pool of content rather than tackling that massive amount of digital noise on your own.
Automatically distributing curated content
So to complete our sandwich of a perfect content curation tool, the distribution piece.
We wanted a tool that could find anything we wanted but would also work with existing distribution tools because those vary based on what industry you're in, the size of your organization, and frankly what is best for your organization.
Rather than building another tool that would have to compete with other distribution tools out there, like HubSpot or Hootsuite, we decided to focus on integrating with your existing content distribution workflows.
Being "all-in-one" goes against our philosophy that you should approach content curation like content creation.
So does creating messy copy-and-paste workflows that create friction, so we have partnered with content distribution leaders, so you don't have to change how you're getting the content out there.
Next steps to curating content faster
Content curation is not something you should do flippantly or on the side.
It's an effective marketing and sales tactic IF you can consistently and quickly mix it into your content plan.
Content curation should cut through the digital noise, not add to it.
‍If content curation sounds like the missing piece to your content puzzle, schedule a call with us to learn more or sign up for a free 14-day trial!‍
If you want to learn more about curated content and how you can use it in your business, check out these articles:
‍
Seven Ways to Use Curated Content
Back to blog