You Don't Need To Hire A Content Curator
Bethany Dameron
·
4 minute read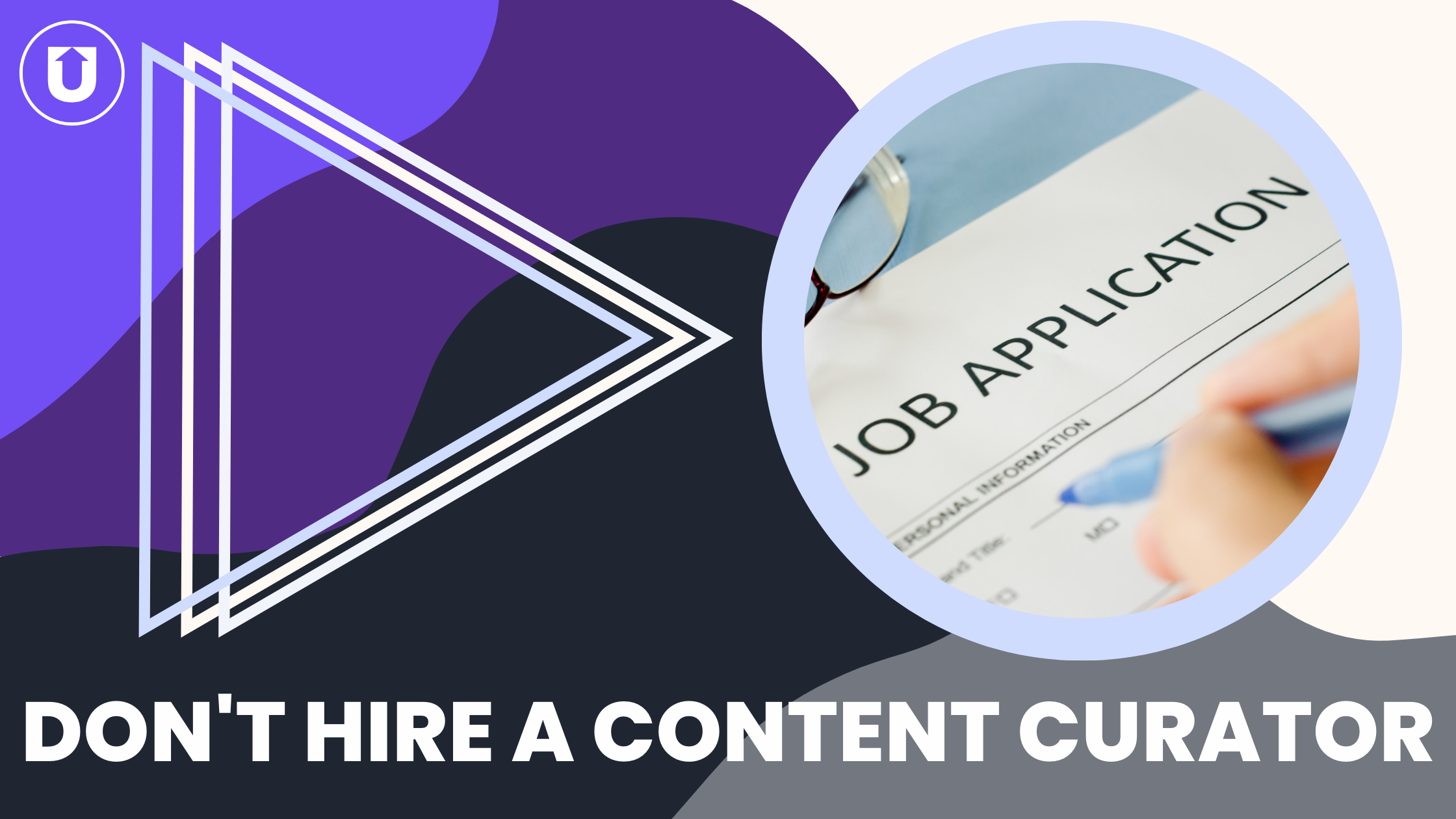 Oh yeah, content curation. It's that thing when you share someone else's content and add your own commentary to it, right?
Correct! It's a great way to help bolster your current content strategy if you're really only focused on content creation.
But does this mean you need to hire someone else to the team to handle this?
Especially if you're a smaller business or have a smaller marketing team, the thought of hiring someone else can feel daunting or discouraging from even trying anything new.
As content curation experts here at UpContent, we have never seen any of our clients have a full-time Content Curator on the team.
That doesn't mean that role doesn't exist, but having an isolated person to content curation isn't necessary or recommended for a successful content curation strategy.
In fact, you probably have people already on your team who would be better curators than hiring someone!
In this article, we'll go over why you shouldn't hire someone for content curation based on cost, the in-house expertise you already have, and the inevitable bias that comes with a content curator.
Content Curator Job Description
A Content Curator is responsible for finding, organizing, and sharing relevant and valuable content with a specific audience.
This can include identifying trends and emerging topics and curating or repurposing existing content to address these trends.
In content curation, a curator ensures that an organization's audience is consistently provided with high-quality, engaging third-party material.
This material is then often shared on social media, curated email newsletters, social selling programs, or a variety of other places curated content is effective.
However, despite the perceived value of a content curator, there are several reasons why hiring a single person to focus on these efforts is often unnecessary.
Cost
One consideration when deciding whether to hire a Content Curator is cost.
According to Indeed, the average salary for a content curator is $53,578 in the United States, but this can vary across locations, industries, and experience levels.
Additionally, organizations must factor in the investment needed to familiarize the Curator with the company, industry, and perspectives on the type of content they wish to see.
This can significantly burden smaller organizations or those with limited budgets.
In-house expertise
Many organizations neglect to consider that the necessary insights needed for an effective curation strategy are already present within the company - just dispersed across many of your team members.
Further, many of these employees are already reading the articles and insights you'd hope to create - there just isn't an effective method for bringing them to your team's attention.
With the right process and technologies, these individuals are able to curate content just as effectively as a single content curator, if not more so.
Utilizing in-house expertise can also help ensure that the content found aligns with the organization's values and goals and is relevant and valuable to its audience.
Personal Editorial Bias
When hiring a content curator, the organization relinquishes some control over the content curation process to a single perspective.
While a content curator can bring valuable insights and expertise, it's easy for the perspective of the content to become limited to what that single person favors rather than the collective perspectives of the full organization.
If this goes too far, the channels where this content is distributed become a reflection of that single person, and those on your team wishing to tap into the curation efforts to build their own digital brands find a dearth of information that aligns with their views and interests.
By instead creating a process that consistently taps into the perspectives of multiple core team members while providing the mechanism for others to occasionally suggest content as well, you're naturally curating a fuller perspective of your company because your people make up your company, right?
This can be best achieved by using content curation software to help automate the parts of content curation that can be time-consuming, such as finding the content and getting that content out to your audience while also providing the forum for what matters - identifying the content that is best for each audience.
Using Content Curation Software
While hiring a content curator isn't always the best option, leaving your team to curate content on their own can prove to be inconsistent and even chaotic when not properly managed, eventually fizzling out or still leaving your company curating content that's biased to only those who consistently participate.
Content curation strategies deserve the same amount of care as any strategy you want to implement, so if you're not hiring someone specifically to curate content for your company, you still need to define an individual or small set of champions to aid in the creation and implementation of a sustainable curation process.
UpContent was designed to help automate the processes of content curation that could be automated and streamline the parts that should be manual, like actually selecting the content you want to share.
However, UpContent, along with other software, can be set up as manually or automatically as your company wants and needs.
With the latest content fitting your search parameters automatically loading into your UpContent dashboard (or destination of your choice), you can easily select what content you want to use for your social media, curated newsletters, and social selling efforts for your brand or individual strategies!
Many of our customers see success in their curation efforts by only investing 20 minutes each week. Some even use it less once they build their automation workflows to their liking and allow our AI to learn what works best for them!
That's significantly different than hiring someone for 40 hours a week - and a fraction of the cost!
Deciding If You Should Hire a Content Curator
While content curators can be valuable assets to some organizations, they are not a requirement to see success in a content curation strategy.
Factors such as cost, in-house expertise, and controlling for personal bias should be considered when deciding whether to hire a content curator.
Depending on the specific needs and goals of the organization, it may be more cost-effective, efficient, and sustainable to curate content using content curation software and a broader set of team members only asked to invest an incremental amount of time to help you find and share the content that matters to your audience.
If you're interested in how content curation software could help your team, sign up for a free 14-day trial of UpContent today, or you can schedule a call with one of our content curation experts!
If you're interested in learning more about how content curation can help your business, check out these articles:
‍
Become a Better Thought Leader in 2023 with Curated Content
Five Things To Consider When Choosing a Content Curation Tool
How To Curate Content Faster- The UpContent Approach
‍
Back to blog