How Financial Advisors Can Get More Visibility and Engagement by Sharing the Right Mix of Curated and Branded Content
Jay Palter
·
4 minute read
Sharing knowledge and information is a vital part of how we advance our society. Throughout human history, people have shared ideas, stories and opinions as a way of adapting to the world they lived in.
With the ease, speed and reach of content sharing today, no surprise that it's a hallmark of the digital age.
Whether sending email newsletters, text messaging or posting on social media, content sharing has become an important way for all of us, including Financial Advisors, to be visible in each other's lives, provide support, entertain, inform and participate in discussions.
To better understand the latest content sharing trends and best practices in Wealth Management, I reached out to 2 thought leaders working on the leading edge, Scott Rogerson of UpContent and Brendan Kenalty of ReachStack, to discuss the importance and business impact of financial advisors effectively sharing the right combination of content with clients and prospects, through the right channel, at the right time.
Why Do People Share Content?
According to research by the New York Times, there are five main reasons why people share content online:
To bring value or entertainment to others;
To define themselves to others;
To grow or nourish relationships;
For self-fulfilment (it makes people feel good); and
To promote causes or brands.
In The Psychology Of Content Sharing Online In 2021, several strategies are identified to help increase engagement around the content you share.
While the main objective, especially in a business setting, might be to promote your product or service, the key to getting more visibility and engagement from sharing content is to "appeal to the consumers' motivation to connect with each other, not just with your brand."
"This point is critically important and cannot be over-emphasized," says Brendan Kenalty. "If the goal of content sharing is to attract attention from your target audience, then you need to share content that people are interested in and may want to share with others in their own networks."
Whether you are sharing content with your existing clients via an email newsletter or on social media with a wider audience of clients and prospects, it's important to understand that people have a limited appetite for your branded content, no matter how good it is (or you think it is).
Earning and maintaining people's attention requires that you deliver content that they want to read and share – not only the branded content that you want them to read.
"People are viewing content online all day," says Scott Rogerson. "By serving as an outlet that can cut through the noise and elevate the worthwhile pieces, you are harnessing a dynamic that is already happening while building credibility and providing value to your audience."
Providing value is key because "people start to see your brand and your team as resources, not just another marketing campaign.
They begin to look to you for on-topic information, not just self-promotion. This helps credibility and trust with both clients and prospects," adds Rogerson.
See: Curated Content Designed As A Strategic Engagement Tool.
Develop the Right Content Mix
For years, content sharing best practices recommended a mix of lifestyle, industry and corporate content in a ratio of 70/20/10 percent.
A 2018 study of financial advisor content sharing by Hearsay Systems found that industry content was shared the most by advisors and agents, whereas lifestyle content generally received the most engagement from social media followers.
Not surprisingly, corporate marketers recommended corporate content more often.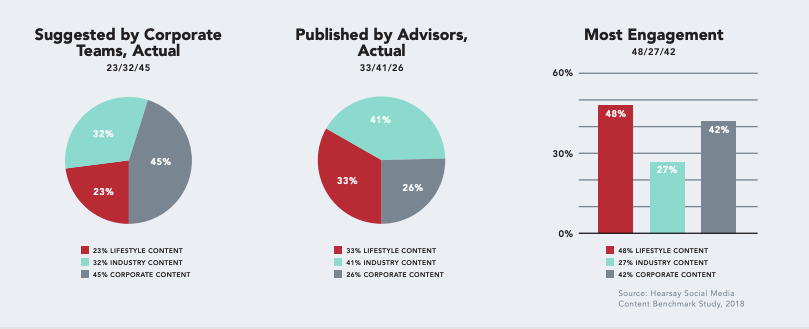 Another study by Argyle Social looked at content mix and found that content shares that linked to third-party websites achieved 33% more engagement than content created and posted on the website of the sharer.
However, this study also found a 54% higher conversion rate for content created and published on your own website.
Rather than only sharing branded content, the study's authors concluded the ideal mix of content sharing for companies trying to optimize both engagement and conversion rates would be to share 40% branded content and 60% third-party content.
"Only sharing curated third-party content or branded content published on your website is not as effective as getting the right mix of both kinds of content," says Kenalty. "Sharing topical third-party content gets more engagement and builds trust, while sharing branded content on your website drives more conversions – and financial advisors need BOTH to succeed."‍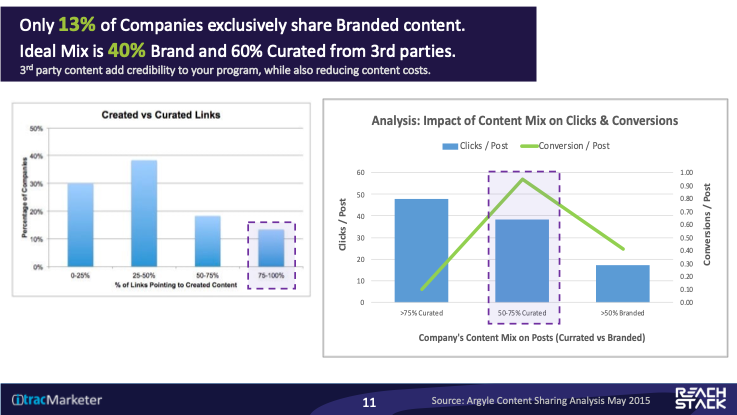 Have a consistent content strategy across your digital platforms
With some clarity around the optimal content mix to drive engagement and new business conversions, how else might advisors increase the effectiveness of their content sharing and social selling strategies?
"Empower your team to have a unified content strategy with email, social media and your website as channels to implementing that strategy, rather than independent email, social and web content strategies," says Rogerson. "This doesn't mean the same content has to appear everywhere, but it should be recognized by the content consumer that it was compiled by the same person they're going to speak with across all channels."
Having a content strategy is not just about what kind of content you share and where you share it, but also understanding what content is relevant to individual clients and prospects.
"Sharing a consistent content mix on all channels is important, but it's more difficult to track the interests and preferences of individual audience members on social media and websites," says Kenalty.
"That's why ReachStack is focused on streamlining email communications for content distribution – the personalized data about each client's interests is very valuable to every advisory firm."
Other ways you can enhance your content strategy include:
Humanize your brand by giving it a persona;
Be authentic to cultivate trust (prospects will only take action if they trust your brand);
Measure what you manage and use insights to increase performance.
See: How Financial Services Can Scale Their Businesses Using Social Selling
About ReachStack
ReachStack is an enterprise level personalization and automation platform for advisor-client communications.
Our "do-it-for-me" approach results in 70 percent advisor adoption vs. 10 percent adoption for most "do-it-yourself" tools.
Easily scale advisor-client interactions across your firm from 4 to 100x a year, by helping advisors deliver up to 20 personalized, sharable client interactions a month in only 5 minutes a day. For more information, please book a demo or contact us info@reachstack.com or 1-877-977-8225.
About UpContent
UpContent helps marketing, sales, and HR professionals deepen relationships with their audiences and drive revenue through strategically curated content.
Find the content you need and share it to the strategic platforms that make the most impact – all from one place. For more information, book a demo or contact info@upcontent.com.
Back to blog