How To Build A Successful Email Newsletter
Bethany Dameron
·
6 minute read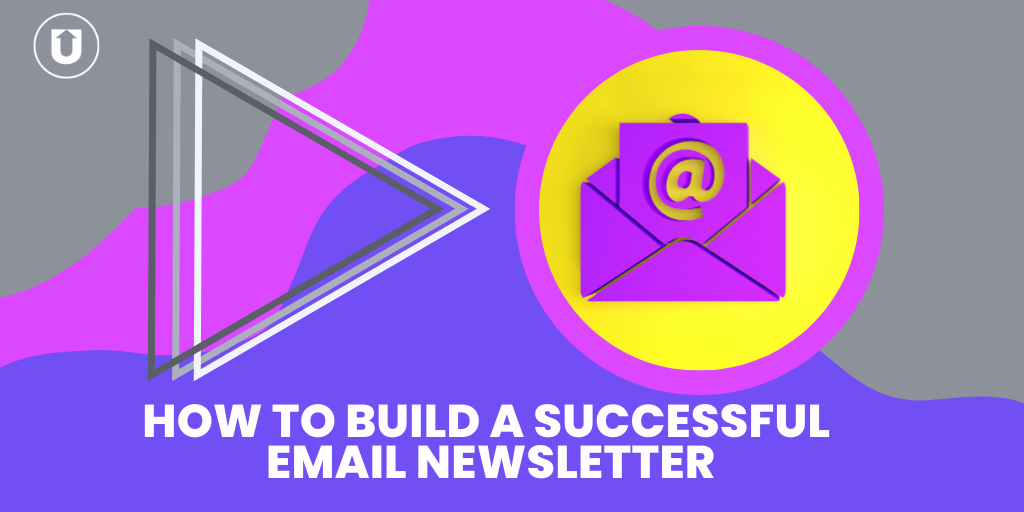 Email newsletters have been a cornerstone of digital marketing for years.
They are a great way to communicate with your audience, drive traffic to your website, and build brand awareness.
Great email newsletters are filled with valuable content your audience will engage with and associate with you.
However, creating a quality email newsletter that you can consistently produce is not an easy task.
Creating that much original content can be overwhelming and limiting in many cases, so many businesses have switched to a curated email newsletter with their original content sprinkled in.
Studies have shown that third-party content receives 33% more clicks than original content, and a content mix is a great way to keep your branding in front of customers while bringing them something of value every time you hit their inbox.
Here at UpContent, we believe in the power of curated newsletters. Our AI-powered crawler finds thousands of articles a day matching our customers' specific queries, further filtered, and then fed directly into their email marketing tool of choice.
In this article, we'll go over six key steps to building a quality email newsletter that engages your audience and delivers results.
Set goals and define your audience
Before you create a newsletter, you need to have a clear idea of what you want to achieve with it.
Setting goals will help you stay focused and ensure your newsletter meets your business needs.
Do you want to drive traffic to your website, increase your email subscribers, or promote your products?
When thinking about a curated newsletter, the topics you share content around should help bolster your thought leadership and expertise, positioning you as the expert and trusted resource your prospects turn to when in search of an answer.
Whatever your goal, ensure it aligns with your overall marketing strategy. Consistency is vital, not just in frequency but also in messaging.
Next, you need to define your audience.
Knowing your audience is essential to creating a newsletter that resonates with them.
Who are they, and what are their interests and needs?
Knowing the answers to these questions can tailor your original and curated content and design to their preferences.
Choose a platform
Once you have a clear idea of what you want to achieve and who your audience is, it's time to choose an email marketing platform.
There are several platforms that UpContent integrates with, such as Mailchimp, Constant Contact, HubSpot, and rasa.io.
When choosing a platform, consider some of these factors we have found to be important when creating your email newsletter.
Ease of use
The platform should be user-friendly and easy to navigate. If it's taking a long time to create a newsletter each week, it's probably not the best fit.
Customization options
The platform should allow you to customize your newsletter design to align with your brand.
Keeping your email newsletter consistent with your brand colors, fonts, and imagery is key to making it easier for prospects to remember who you are.
The fewer brain calories they use to remember who you are, the better.
Analytics
The platform should provide analytics to help you measure the success of your newsletters.
Make sure you can see the data points you need for your email marketing efforts to be successful and allow you to make good decisions in the future.
Automation
The platform should allow you to set up automation to save time.
This could be automation for creating and sending the email, adding curated content to Collections that you can approve to be in an email, and even contact list management.
Develop a content strategy
Once you've chosen a platform, it's time to develop your email newsletter content strategy.
Here are a few steps to developing a content strategy.
Identify your content themes
Choose relevant topics to your audience and align with your business goals.
For example, if you're a realtor, your content themes could be the housing market, home improvement tips, or gardening.
Determine your content format
Consider which content format works best for your audience.
Do they prefer long-form articles, quick tips, or videos?
Choose the format that aligns with your audience preferences. This is where those tracking and analytics tools come in handy as you tweak your newsletter.
Create A Content Mix
A common mistake many people and businesses make is focusing solely on sharing their original content.
While creating your own content is important, it's equally important to include curated content.
Curated content will help you provide more value to your audience and position yourself as an industry expert.
Created content should be a topic or idea you have a lot of expertise and a unique view on, but it's unrealistic to think you have that much to say on an exhaustive number of valuable topics for your audience.
Curated content builds your credibility as a thought leader and helps your original content stand out even more while also providing high-value information to your audience.
Design your newsletter
Now that you're figured out what you want to include in your newsletter, and the strategy behind it, it's time to do the fun part, design it!
Your newsletter design should be visually appealing and align with your brand. Here are the key steps to designing your newsletter:
Choose a template
Most email marketing platforms offer templates that you can use to design your newsletter.
Choose a template that aligns with your brand and content format.
Customize the design
Customize the template to align with your brand. Use your brand colors, fonts, and imagery to make your newsletter look professional and cohesive.
Ensure the design is responsive
Your newsletter design should be responsive and look good on all devices, including desktops, tablets, and mobile phones.
Most email marketing platforms offer responsive templates, so choose one that works well on all devices.
Designing your email with UpContent
You can design your curated newsletter within UpContent using our HTML email builder, integrate with one of our partners, or manually copy and paste articles into a template you've built within your chosen email platform.
This works with MailChimp, HubSpot, and Constant Contact,
The builder creates an HTML code that you can then set to email every week or month, pulling from the freshly curated content in your UpContent dashboard.‍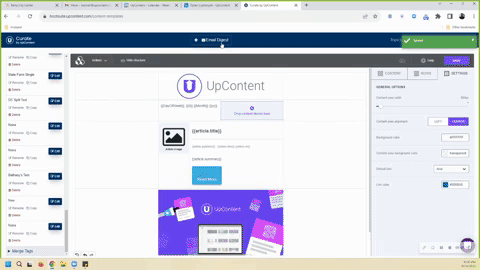 ‍
We also have a great partnership with rasa.io.
Their technology enables you to add your UpContent Collection's RSS feeds, containing only your approved articles from your favorite sources, and rasa.io will automatically customize the set of articles for each of your subscribers based on their past interactions.
You have solid design controls, the ability to insert visual conversion prompts, and can prioritize your original content (when available) to ensure the most exposure.
Build your email list
Once you've got your email strategy set and templates built, now you need to define who is going to receive your email newsletter.
An email list is a collection of email addresses that have given you permission to send them marketing messages.
It's important to note that you should only add people to your email list who have given you permission. This is called permission-based marketing and is required by law.
DO NOT EMAIL PEOPLE WHO HAVE UNSUBSCRIBED.
That's a sure way to upset people and possibly have them share their negative feelings about your company with their network.
Here are some ethical and easy ways to build your email list!
Website sign-up forms
Place sign-up forms on your website to encourage visitors to subscribe to your newsletter.
These can be simple forms that just ask for a name and email address! With many email platforms, great automation is to have those contacts automatically added to your newsletter list, so it will grow right before your eyes!
Social media
Use social media to promote your newsletter and encourage followers to sign up.
This could be as simple as sharing a link to a form where people can sign up for your newsletter, explaining the great information and content they will be getting once they sign up!
Contests and giveaways
Offer a prize or discount to those who sign up for your newsletter!
This is a great way to gather people's email addresses while also giving them something in return.
This same concept can be done with a free e-book or guide, webinar, or any other valuable offering you can give in exchange for contact deets!
Test and optimize
Once you've built your email list and sent out your newsletter, it's time to test and optimize!
Testing and optimization are important to improve the performance of your newsletter.
Here are some different ways to test and optimize your newsletter:
A/B testing:
A/B testing involves sending two versions of your newsletter to a small group of subscribers and comparing their performance.
This can help you identify what works and what doesn't work.
You can start by testing something small, like your subject lines, to test what kind of subject line gets your audience to open the email!
Analyzing data:
Use the analytics provided by your email marketing platform to measure the success of your newsletter.
Look at metrics such as open rates, click-through rates, and conversions.
You can also research your industry standards for email marketing, but some good metrics to start with are a 21.33% open rate and a 2.62% click-through rate!
Making improvements based on data:
Use the data you've collected to make improvements to your newsletter.
For example, if your open rates are low, you might need to work on your subject lines.
If your click-through rates are low, you might need to improve your content.
Next Steps To Building Your Email Newsletter Using UpContent
Creating a curated email newsletter can boost your brand's communication strategy and engage current and potential customers.
Providing valuable information to your customers can speed up their decision-making process and increase their confidence in your brand.
That's why we offer a solution to help you efficiently curate dynamic content from the best third-party creators out there!
With UpContent, you can automate your curation process or create a custom strategy tailored to your business needs, making the most out of your UpContent subscription.
Schedule a call with us today to get started on your curated email strategy, or click on the purple chat bubble on the bottom right of your screen to talk to our team and help you set up your emails!
Or you can start building your email campaigns today using resources from our Help Center.
If you're interested in learning more about email and curated content, check out these articles:
‍
The Power of Curated Newsletters
Transforming Your Email Newsletter
Back to blog