Summit Financial uses curated content to develop their financial advisors' thought leadership on LinkedIn
Bethany Dameron
·
8 minute read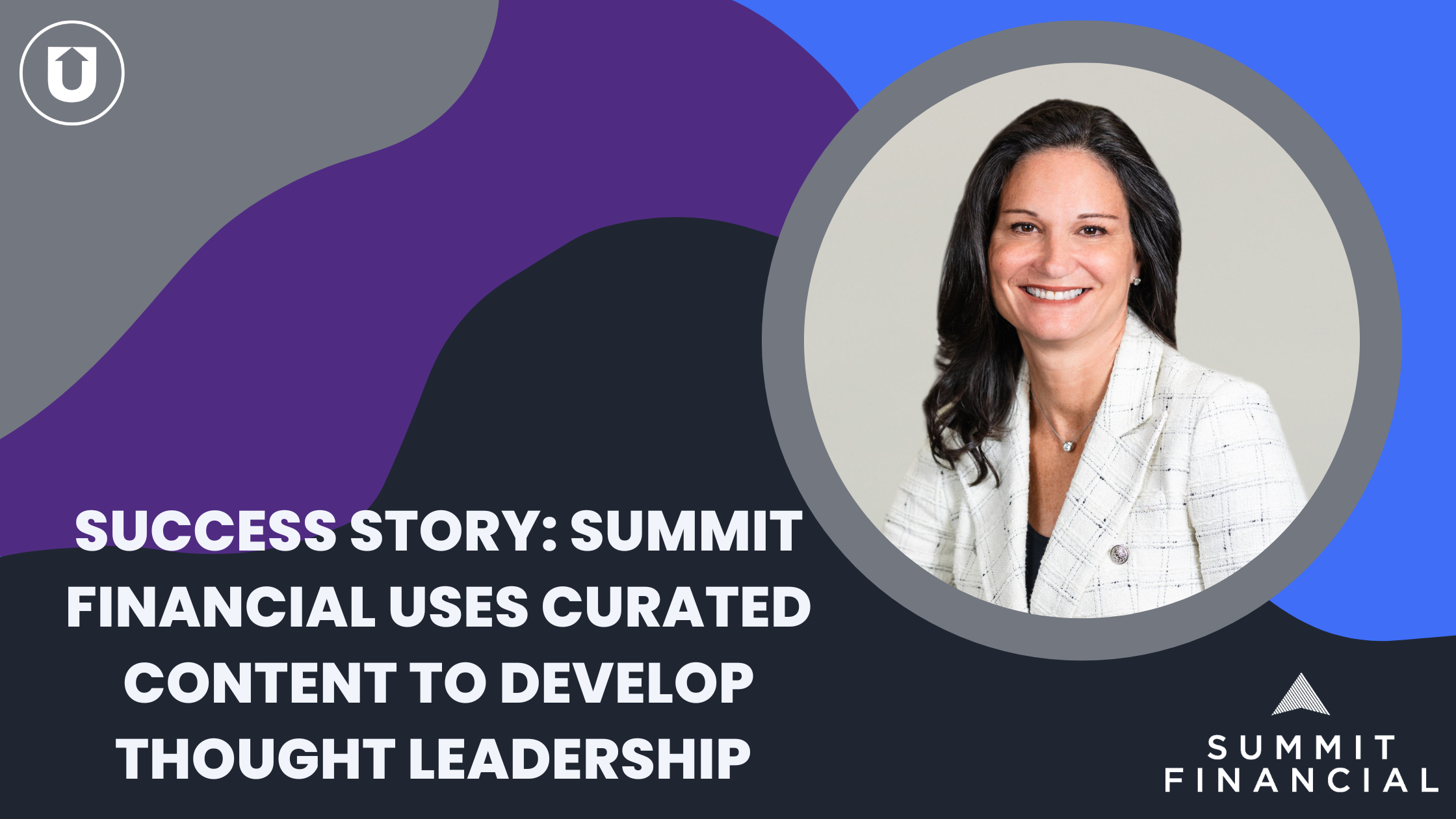 For most advisors, supporting their clients in building the resources they need to lead their best lives is their favorite part of the work.
That's the part that made you want to get into the field in the first place.
But all the other responsibilities that come with running your own advisory firm are often frustrating, and they can take over your day.
Running your firm shouldn't be something you dread, and that's where Summit Financial steps in.
They help financial advisors at many different stages in their business by providing the supportive services needed to grow - and equipping advisors to do what they do best, support their clients.
Managing Your Firm, So You Don't Have To
Summit Financial has been helping independent and breakaway financial advisors grow their practices for 40 years.
This allows their advisors to focus on helping their clients without the stress of keeping the firm running or finding the right tools and strategies to attract more clients.
One area of need frequently heard from their advisors was maintaining relevance in the ever-evolving digital world.
Advisor-client interactions aren't just face-to-face anymore, and that's the problem Jenna and the team needed to solve.
Yet when Jenna Bloomgarden started at Summit Financial two years ago as Director of Marketing and Advisor Development, many of their advisors weren't even on LinkedIn!
Clients are educating themselves now more than ever, and most of that education is happening online before discussing with an advisor.
Jenna's first task when she started at Summit was to help their advisors get online and develop their presence as relevant thought leaders.
But how in the world was she going to do that for nearly 50 different financial advisors across the country - each with their unique expertise and client profile?
Staying Relevant in a Rapidly Changing Digital Financial Services Landscape
It's important to stay on top of your industry's latest news and trends.
When providing the financial guidance, ensuring your recommendations address issues that are top of mind for your clients is critical.
Perhaps even more important is the ability to showcase this expertise in the digital world by being active in the platforms where your clients, prospects, and partners are already spending time.
"You must be present on social media because that's where people's attention is; everybody is constantly on their phones scrolling," says Jenna.
"If an advisor is not active on the social media platform most used for business, how will your clients and prospects trust that you're keeping up with the ever-changing financial climate?"
Jenna believes you must look current, fresh, and educated, and her CEO suggested using third-party content to accomplish this.
Jenna knew that convincing her advisors to add a new process would be hard work. They already have so much to manage that any additional investment of time or resources must have a significant ROI.
She had to find an easy, simple solution to get everyone on board.
Finding the Right Tool for Content
Summit Financial looked at different content curation platforms, but nothing checked off all of their compliance and customization requirements.
Jenna was introduced to UpContent and the team by Summit's Director of Business Development, Ed Friedman, who had some experience with the platform before joining the firm.
After her first conversation with Scott Rogerson, our CEO, she says she immediately knew this was a partnership, not just a service.
Because each advisor in their firm is unique, Jenna worked with the UpContent team to determine the various types of content the advisors would be most interested in sharing.
Based on this information, Jenna and UpContent developed a system where each of her advisors could choose from a range of topics, news, and interests to easily share directly to their firm and personal LinkedIn profiles using Hootsuite's Amplify product.
"Nobody has 52 hours a day to write enough content to put yourself out there and showcase your expertise. So this [UpContent] is a way to leverage our expertise without writing ten pieces a day."
Jenna says that before using UpContent, it would take days to find articles their in-house experts recommend, run them through their compliance team, and then disseminate them for their advisors to share.
By the time they got through that process, the article was often too old to be relevant for their audiences. Moreover, this wasn't scalable as they brought on more advisors.
Molding UpContent to Support the Summit Financial Strategy
"What has been great about [UpContent] is it's completely customizable," Jenna says.
Building Custom Collections
Her team built the topics based on a survey they sent out to their advisors on what they thought was important to share with their customers, but they have even taken it a step further.
Shortly after launch, and enlisting the assistance of Summit in-house experts, Summit's marketing team created Collections titled "Summit Financial Picks," which include specific articles their in-house experts recommend their advisors share with their clients.
In most cases, these picks come from articles already surfaced by UpContent.
In other cases, the team can use UpContent's Google Chrome plugin to add articles they find easily on their own - each automatically being checked for compliance before being delivered to other advisors.
The UpContent platform helps streamline the process for their advisors by helping them sift through the thousands of articles, educate themselves, and share with their clients.
It has also helped Jenna, and the Professional Strategy Team at Summit stay informed and better educated on news and events in their industry.
Jenna and the UpContent team have worked to build a content curation system that works for their firm, and the versatility of UpContent has allowed her to do that.
Building a Better a Better Analytic Dashboard
But customization can go beyond just curating content for your business.
Jenna asked for better analytics to help her firm better track what her advisors were interested in.
This inspired the UpContent team to fine-tune and develop a better analytics dashboard so they could understand the social selling program's progress.
They could track advisor adoption and engagement and identify areas where the team could make thoughtful recommendations on a per-advisor basis to maximize their benefit.
By separating share, impression, engagement, and content theme data, Summit Financial was able to personalize their recommendations to advisors to diversify further what they share, become more engaged with the posts their partners are presenting, or adjust post text to stimulate action further.
UpContent's data around which content areas were performing well and which could be further optimized enabled a proactive approach to ensuring what was being recommended best aligned with their advisors' and clients' needs.
When reflecting on how her team leveraged analytics, Jennasaidd said, "There's something to say about having a real partner in today's virtual world. I don't feel like just another customer or account."
Considering Compliance Requirements
At the outset, Jenna recognized that providing their 50 advisors with thousands of articles to share could become a compliance nightmare.
"We would need a compliance team of 50 to read every single article that was necessary to address our advisor's needs," Jenna says.
Her compliance team at Summit Financial built a compliance policy within Proofpoint that, through the Proofpoint and UpContent partnership, automatically evaluates the full text of each article discovered by UpContent's system for their firm.
"Proofpoint scans the articles automatically so that you can post instantaneously, and it's saved us so many manual work hours. It was the UpContent integration with Proofpoint which signaled to me that UpContent understood the needs of the financial service's clientele," she says.
Advisors Seeing an Impact from Brand Building
Within 12 months, Summit Financial advisors are seeing an average of nearly 100 engagements on their curated posts each month. They pull content from more than 20 unique categories from more than 50 different publishers, including lifestyle, leadership, and interest areas, per 30 days.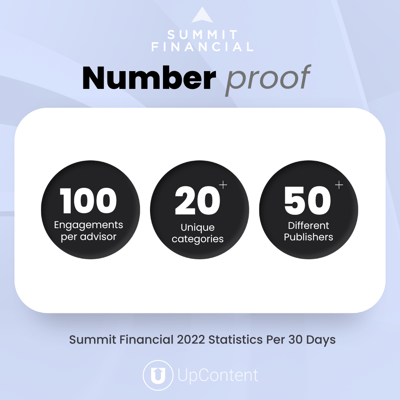 ‍
In Q3 of 2022, Summit Financial's advisors shared 440 different articles and generated over 4,000 unique clicks on LinkedIn.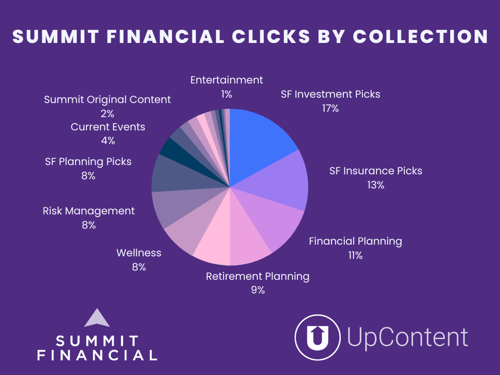 But the real success for Jenna is in the impressions - ensuring her advisors stay top of mind as providers of trusted insights.
"A content curation strategy is the long game. And I always say to our advisors, 'Is this going to get you new clients tomorrow? No, perhaps once in a while, but generally not. Instead, it is going to build your brand, increase your presence and keep you top of mind.'"
Jenna says staying top of mind with valuable information helps your clients in their research, and you become a source for them to educate themselves because they remember how often you share insightful, helpful content.
Her advice: curated content is a powerful tool in your toolbox to build your brand and showcase you are well-versed in your area of expertise.
Using UpContent enables you to build and execute content curation without having a massive team of experts dedicated to writing content.
You can't rely on your own firm to create enough materials for all the different topics you need to discuss with your current and potential clients. Even if you work for a mammoth-sized firm, only sharing content created in-house limits how much your customers will trust you.
"You have to demonstrate that you are educated across viewpoints, and sharing other sources about the same issue makes you well-rounded as an authority," Jenna says.
Built to Last
Jenna has had even her most skeptical advisors become active on LinkedIn!
UpContent's article discovery, filtration, and partnerships with technologies like Proofpoint and Hootsuite Amplify were core to delivering on that promise.
Jenna initially had a hard time convincing their top advisor that sharing curated content would help their business.
But once he saw how easy it is to share curated content that matched the interests of his network and it was already vetted for compliance requirements, he became more active on LinkedIn and has seen his engagement with current and prospective clients grow.
After this first year of consistently using curated content surfaced by UpContent, Summit Financial's advisors are happy with the results and are learning to play the "long game" in marketing.
Brian Snerson, Essex Wealth (a DBA of Summit Financial), is one of their most active advisors on LinkedIn, and he loves having his brand and name put in front of his clients on a continuous basis.
He established himself as an informed expert, and the quick turnaround time on new content ready to publish has made it easy to use the platform.
"I've been able to find topics my clients are interested in, track the best times to share, and present content, all from one place," Brian says.
Jenna adds, "It's defensive as much as offensive. If you're top of mind, they're going to do their research, and one of their pieces of research will be looking you up."
Evolving from social selling to digital selling
Now Summit is encouraging its advisors to translate the habits and success they've seen on social media to another digital channel - email.
After using UpContent and Amplify for a year, Jenna has added another element to their marketing strategy: email marketing.
They are now implementing the UpContent partnership with Constant Contact to aid advisors in being consistent and relevant in their email communications.
"You must have multiple touchpoints. Not all our advisor's clients are on LinkedIn, but they have their email addresses. So now they can share that valuable content via Constant Contact."
Jenna's Advice On Starting Your Content Curation Journey
When you're starting to implement a content curation strategy in your firm, give yourself some grace.
Be Prepared to Invest Six Months To Get Going
It took about six months for Jenna and Summit Financial to implement UpContent, Amplify, and Proofpoint for their advisors.
Developing the process for your company will take time.
For Summit, the longest part of the setup process was building their compliance documents in Proofpoint for articles to be automatically approved.
But the number of hours saved for her compliance team from reviewing thousands of articles each month made that time worth it.
"I needed to get it right. The UpContent team was a huge part of our onboarding process and so helpful every step of the way, understanding the need to get all parties comfortable with this new platform."
It's a big process. Here are the main stages that you'll work on for the first six months:
You'll be developing how you want your content curation platform to work behind the scenes, building topics, collections, and approval processes.
You'll need to build your compliance policies to ensure whatever is presented to your advisors is compliant and ready to go.
Then you'll connect to a social sharing platform and create the accounts for your advisors.
Introduce, educate, and inspire your advisors to use curated content in their individual marketing efforts!
The Process is Ever Evolving
Even once Summit Financial got their advisors up and running, they have continued to fine-tune, tweak, and better their process.
Your topics should evolve as the market evolves.
Your content mix is a living thing that needs to be monitored but doesn't need to be acted upon daily.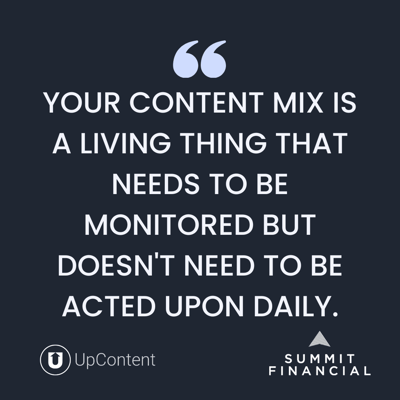 Make Sure Your Technologies Are A True Partner
The digital tools you choose to use for your content marketing efforts should come with a true partnership beyond the tool itself because you can't do it alone, and you need a team.
Jenna says the team at UpContent has stood alongside her and tackled challenges together, which led to the success of the platform she built using UpContent's technology.
"That's what's keeping me. I've created a really simple platform for the advisors, and I know the team at UpContent has my back.
This is a marketing tool with the added benefit of compliance, making it unique and scalable."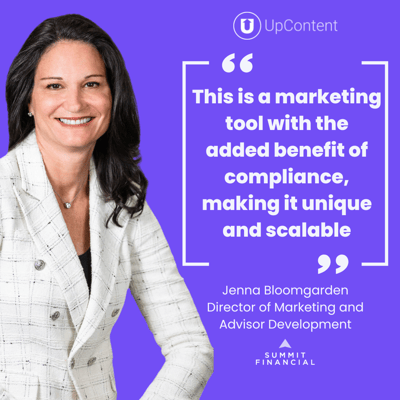 Back to blog