UpContent Named Leader in Curation and Distribution, #1 in Customer Relationships for Eight Consecutive Quarters
Bethany Dameron
·
4 minute read
The reviews are in, and we're ecstatic to be named a leader in content curation for the last three years by G2, the world's largest and most trusted software marketplace.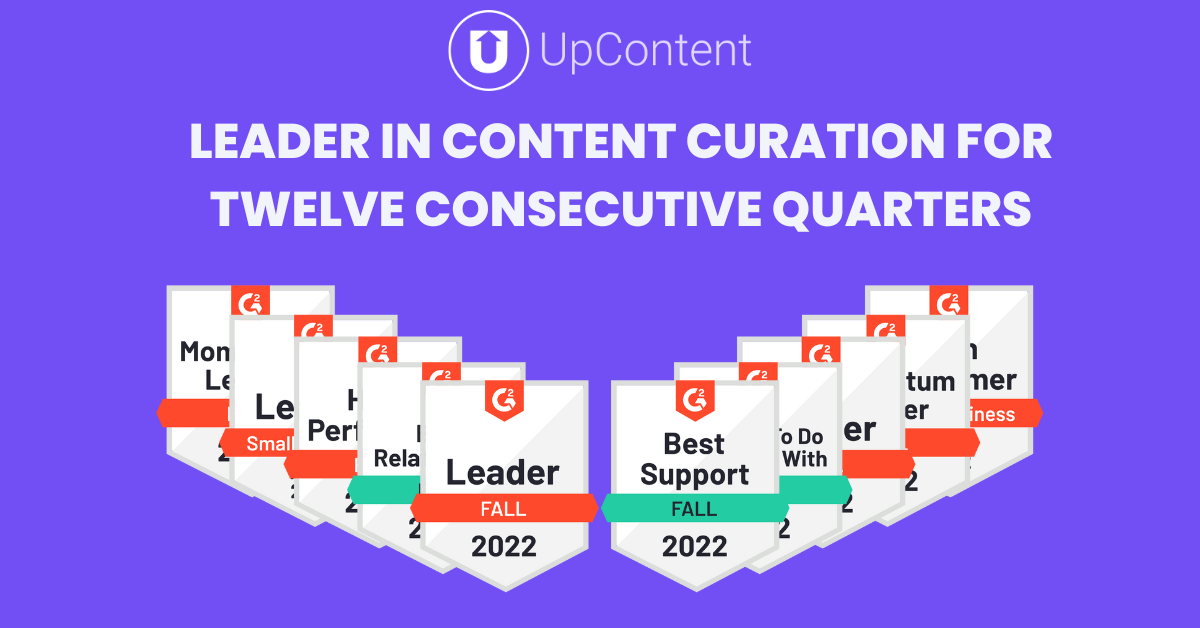 In the latest report for Fall 2022, UpContent has also earned the trifecta of best relationship with our customers, the easiest to do business with, and the best support for our clients for the eighth consecutive quarter.
But our most exciting news (as if this wasn't exciting enough) was that this quarter we were designated as a Leader in the Content Distribution industry for the first time!
Let's break down who G2 is and what each badge means.
Who is G2?
G2 describes itself as "the world's largest tech marketplace where businesses can discover, review, and manage the technology they need to reach their potential."
They asked why it is often easier to get genuine reviews about a $100 hotel room than $100,000 software, so they created a space for honest, credible software reviews!
There are over a million reviews available on everything from accounting services to video conferencing, including content curation, management, and distribution.
"Rankings on G2 reports are based on data provided to us by real software buyers," said Sara Rossio, Chief Product Officer at G2.
"Potential buyers know they can trust these insights when researching and selecting software because they're rooted in vetted, verified, and authentic reviews."
We here at UpContent care about G2 badges not because we have huge egos, but because the data and rankings are coming from our customers, and that's why we are so humbled and appreciative of these results!
Fall 2022 Badges
To help you navigate the recent report, here is a breakdown of each of these badges and what they mean.
Each badge represents the collective reviews left by real users about how effective they believe the UpContent solution is across a variety of criteria.
Leader in Curation (twelfth quarter in a row!)
G2 scores products and sellers based on reviews gathered from their user community as well as data pulled from online sources and social networks.
The scores are ultimately mapped to the G2 Grid, which customers use to compare products, help with the buying process, and determine which product best fits their needs based on the experience of their peers.
Companies and products in the Leader quadrant are rated highly by users and have substantial market presence scores.
This badge means so much to us because this rating is based on what you, our customers, have to say about us.
We have a unique approach to supporting an effective content curation strategy for our customers, meaning that we are not a one-stop shop for content marketing needs, but we want to be the best curation software that works with the best tools you're already using.
The heart behind UpContent was to create a way to curate content faster without sacrificing the human element that is necessary for valuable curation, and we're grateful to be ranked a Leader by G2 each quarter for the past three years!
Best Relationship (#1 for eight straight quarters)
Here at UpContent, one of our top priorities is not only just helping answer your questions and get you started using UpContent, but being your want-to-be content curation partner.
Whether it is a technical question or simply a need to discuss your overall curation strategy or workflow, we enjoy making our team of curation experts available regardless of your subscription plan.
We work hard to be even more available to our current customers to help expand or change their curation strategies, implement new avenues for curated content, and troubleshoot if a problem arises.
An administrator in a marketing department just gave us five stars and said, "I don't see any downside to using UpContent. It's reasonably priced, they have great service, and it does what it promises to do."
Building a successful company with a subscription model requires healthy and communicative relationships with our customers - and we are proud to maintain this standard.
Easiest To Do Business With (#1 for eight straight quarters)
Having great relationships with our customers is fantastic, but can only truly benefit if the process of getting things done is easy.
Our team prioritizes ensuring that both sales and support conversations are consultative, that our response time is swift, and that subscription adjustments are made with the customer, rather than the company, in mind.
An education management administrator gave us five stars, saying, "UpContent provides credibility, creates interest, and keeps community members on our site longer."
"Whenever we have had a question or glitch, the customer service team not only guided us to the best solution right away but also took time to continue to learn about our company and its specific needs, AND the staff was efficient and friendly throughout."
Best Support (#1 for eight straight quarters)
Giving you the kind of customer service we want when working with another company is how we run every aspect of our business.
UpContent, by nature, is a tool that helps connect curated content to you so you can share that content easily and consistently with your readers.
Kawan gave us five stars for "Great support and service!"
"Talk to Dylan. He's got many skills with the ability to help on other platforms to integrate UpContent. This is the best customer service in the industry." Kawan says.
Leader in Content Distribution (first time!)
We are honored to achieve this G2 badge as part of the fall 2022 reports for the first time.
We at UpContent are a content curation tool; however, we work hard to provide the best integrations and partnerships to allow you to share the content you're curating as easily and seamlessly as possible.
This recognition from our customers exemplifies the criticality of these integrations.
In one of our most recent reviews, Brandon gave us five stars and highlighted our partnership with Hootsuite in making his curation process easy.
"UpContent saves our company time curating content by providing relevant information and images in an easy UI. It integrates seamlessly with Hootsuite, making scheduling a month's worth of valid content easy." Brandon says.
Next Steps With UpContent
Ready to experience what working with UpContent could mean for your marketing and sales strategy?
Whether you are new to the concept of content curation or are simply looking to further optimize your current efforts, schedule a call today with one of our Content Curation experts to see how UpContent can help your business today!
Or, if you'd like to learn more about who we are and how you can use curated content, check out these articles!
Back to blog