Pros and Cons of Curated Content in Financial Services
Bethany Dameron
·
6 minute read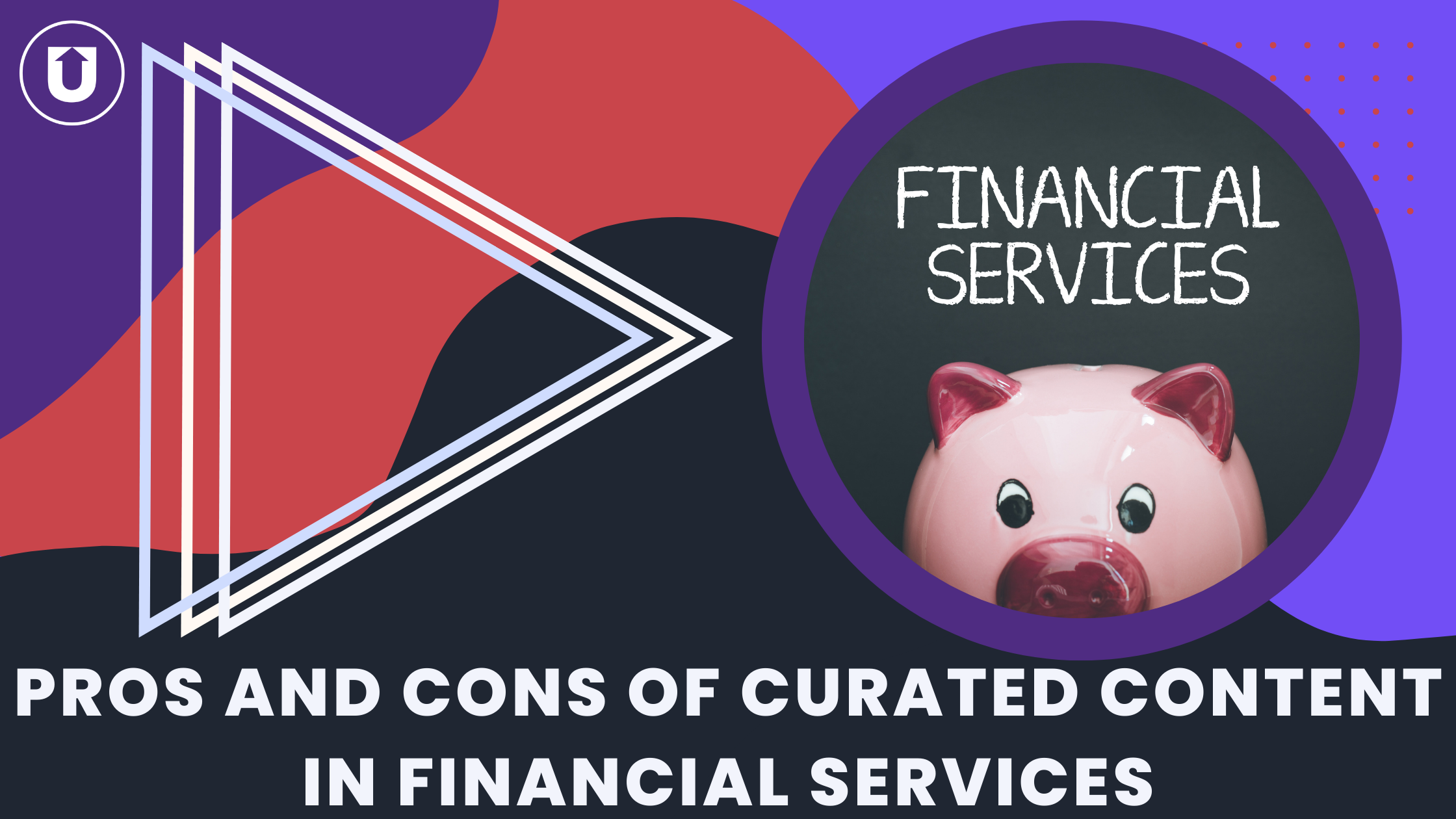 Did you know that more than half of the people landing on your financial service website bounce after seeing one page of your website?
According to a study by Contentsquare, 51% of people leave after seeing one page.
Those that stick around only visit four pages and spend an average of 53 seconds on those pages.
‍According to HubSpot's 2022 report, 47% of consumers looked at 3-5 pieces of content before talking to a sales rep via chat, video call, or email.
‍So what does this add up to?
‍You're amazing at math, so I'm sure you already know, but content marketing allows you to create valuable content for your customers to consume before committing to using your services.
Research shows that 90% of buyers use some form of online research before contacting a sales rep or making a purchase, so why not support them in their research by providing relevant content that will help them make their decision faster?‍
This is where curated content comes in.
You can share valuable information with your clients and prospects, keeping you top of mind and leading them to their buying decision or referring you to others.‍
Here at UpContent, we know a thing or two about content curation, and we are the #1 leading content curation tool for businesses looking to expand their content marketing strategies.
While we know that content curation is effective in helping your clients make a buying decision, let's walk through some pros and cons of curated content for your finserv business.‍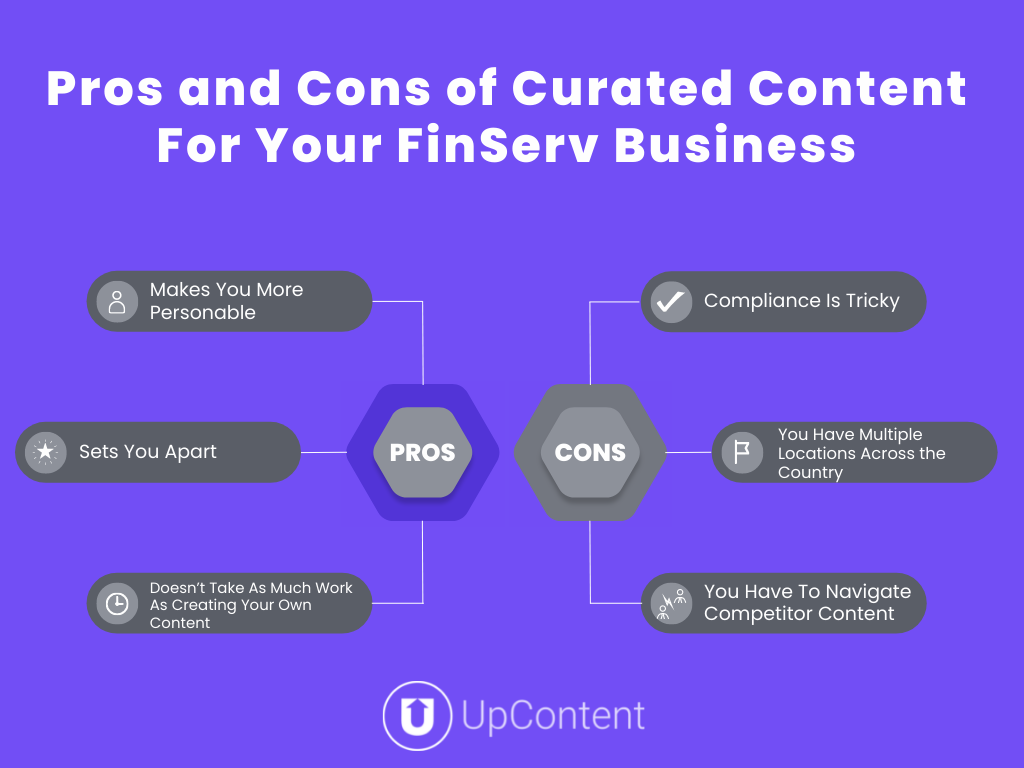 Pro #1: Makes You More Personable
Let's face it, the competition in the finserv world is FIERCE.
It feels like everyone is selling insurance, offering financial advice, or working in banking. ‍
But people want to work with real people, not some giant corporation without a face.
Show your personality by sharing useful content with your target audience.
Is fishing a popular pastime for your clients? Do you often find yourself in some lively banter about popular sports teams?‍
Thinking outside the box on what kind of content you can share with your customers can help them find common ground with you.‍
But what if not everyone you serve likes fishing?‍
That is a fair point, and I'll counter with curated content again.
You can target several special interest areas to make sure everyone you want to work with can find something of value to connect with you over while also showcasing different parts of your personality.
After all, wouldn't it be great to know that your prospective client is already a great fit to work with even before that first consultation? It's not just about financial prowess!‍
Pro #2: Sets You Apart
This next pro ties in with #1, but sharing curated content will set you apart from the competition.‍
Not everyone is creating or curating content specifically for their customers, and you have a chance to build a personal relationship through content.‍
And content curation is not only for new clients but also shows your current clients that you still care about them without trying to sell them stuff all the time.
We've seen curation used as a way to stimulate conversation.
A recent customer of ours was sharing curated articles about the changes in 401k strategies on their LinkedIn profile.‍
One of their clients reached out and said, "Just read this article you shared that reminded me that I need to talk to you about a 401k plan that I'm looking to start."
So this is a way better pathway than this advisor just email blasting everyone saying you should start a 401k plan.
Pro #3: Doesn't Take As Much Work As Creating Your Own Content
One of the biggest pros to content curation is it doesn't take as much work as creating your own content.
Don't get me wrong; content creation is essential and valuable.
We recommend a blend of curated and created content to maximize your results.
But instead of having only your voice present, giving your customers a peek into what you are reading can save them the time and mental energy of research.‍
It also builds trust that you are an unbiased thought leader with their best interest at heart, whether about financial service trends and topics or lifestyle - and I bet you are already reading these types of articles anyway.
You are just a single step away from getting even more benefits from that time!
Con #1: Compliance Is Tricky
Ok, so we've gone over some of the best reasons to use curated content in your finserv business, but with every pros list, there is usually a con list.
Compliance is PARTICULARLY tricky in the financial services industry.
I mean, there's FINRA, FCA, FFIEC, IIROC, SEC, PCI, AMF, GDPR…not to mention your firm's own internal restrictions!‍
Solution #1: Proofpoint (Compliance Technology Integration)
UpContent has developed a great partnership just for finserv businesses like yours with the leading compliance technology in the space called Proofpoint. ‍
Your compliance team can create a compliance policy inside of Proofpoint, turning on or off specific things you want or need.‍
Then UpContent takes that policy and connects it to your UpContent account so that every time an article moves from a topic into a collection, the full text of the article is checked automatically against that Proofpoint compliance policy. ‍
If anything is flagged, it shows in UpContent that the article did not pass compliance.
And with our automated filters, you can set the rules to only allow articles that do pass compliance to be made available to the advisor for sharing. ‍
No manual compliance workflow needed!
Con #2: You Have Multiple Locations Across the Country
Ensuring that the content shared will resonate with your current and target clients is critical. ‍
If you have a large firm with people in various cities, you would need an army of curators to keep up with each location's needs and preferences.‍
For example, as a mortgage firm, you have to show that you understand the local market and what's happening nationally.‍
Solution #2: Localize your content
With over 215,000 publications (and growing), using technology like UpContent can surface relevant articles from local, national, and international outlets that align with the interests of your audience and the message your team wishes to convey. ‍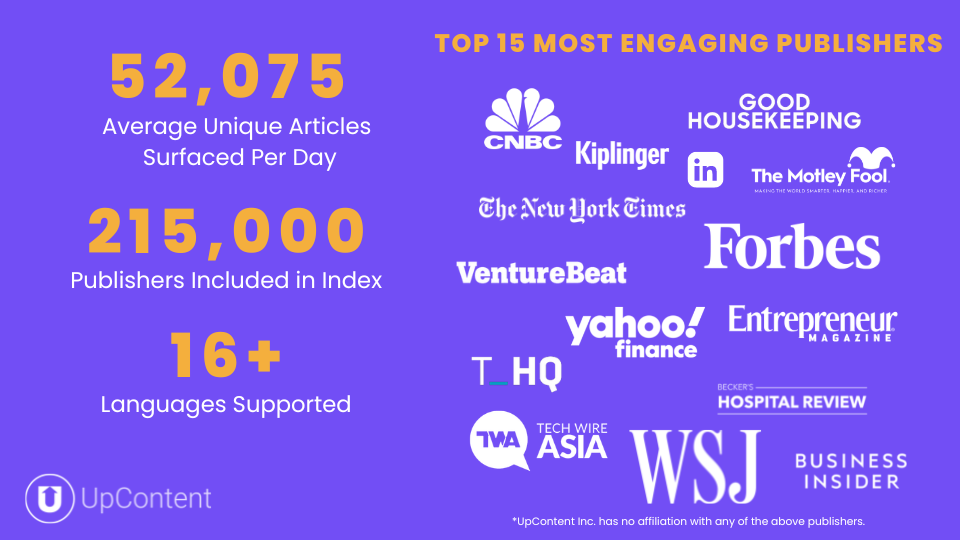 You can have a collection for each location in your firm and set up automation checkpoints so your employees can easily find approved articles for sharing without hiring extra people to focus on curating content.‍
Especially since the pandemic, getting in front of your communities is not easy.‍
The days of rotary clubs and big public events are not the same, and having an online presence is essential.
Gartner research shows that 74% of financial services leaders expect "substantial" or "significant" industry transformation in the next four years.‍
This includes how you connect to your current and future customers, which, as we found earlier, are hanging out online.‍
Con #3: You Have To Navigate Competitor Content
Now, we're not saying you should NEVER share content created by your competitors.‍
Your customers have the internet, and at some point, they are going to find out that life insurance isn't something only you can offer ;).‍
Yet, it likely isn't wise to share a competitor's press release talking about how amazing they are
For example, let's say you own an insurance firm, and an article you've discovered includes a section about the benefits of working with your main competitor, quotes, etc., but nothing about you and your firm.‍
This isn't the best article for you to share, but a comparison article would be.‍
Let's take a look at another example. Let's say the next article discusses some great points about the importance of life insurance and that binding a policy while you are younger is the best way to go. ‍
But, it also quotes a leadership team member for your competitor.
Should you trash it? ‍
Not necessarily. In fact, showing this lack of bias will likely endear you to your audience as they can now be even more confident that you can be the "go-to" source for all things life insurance and are not excluding great insights just because competitors are mentioned.
Finding all of this content and then reading through every possible article to ensure it's balanced and doesn't favor your competitor would take a lot of work hours if you're not using a curation tool.‍
Solution #3:
Within UpContent, you can design your queries to exclude your competitors to easily avoid having to read through any content by them or about them.
You can also elect to maintain this content as long as it is authored by publishers you trust - knowing that they don't publish advertorial or sponsored content.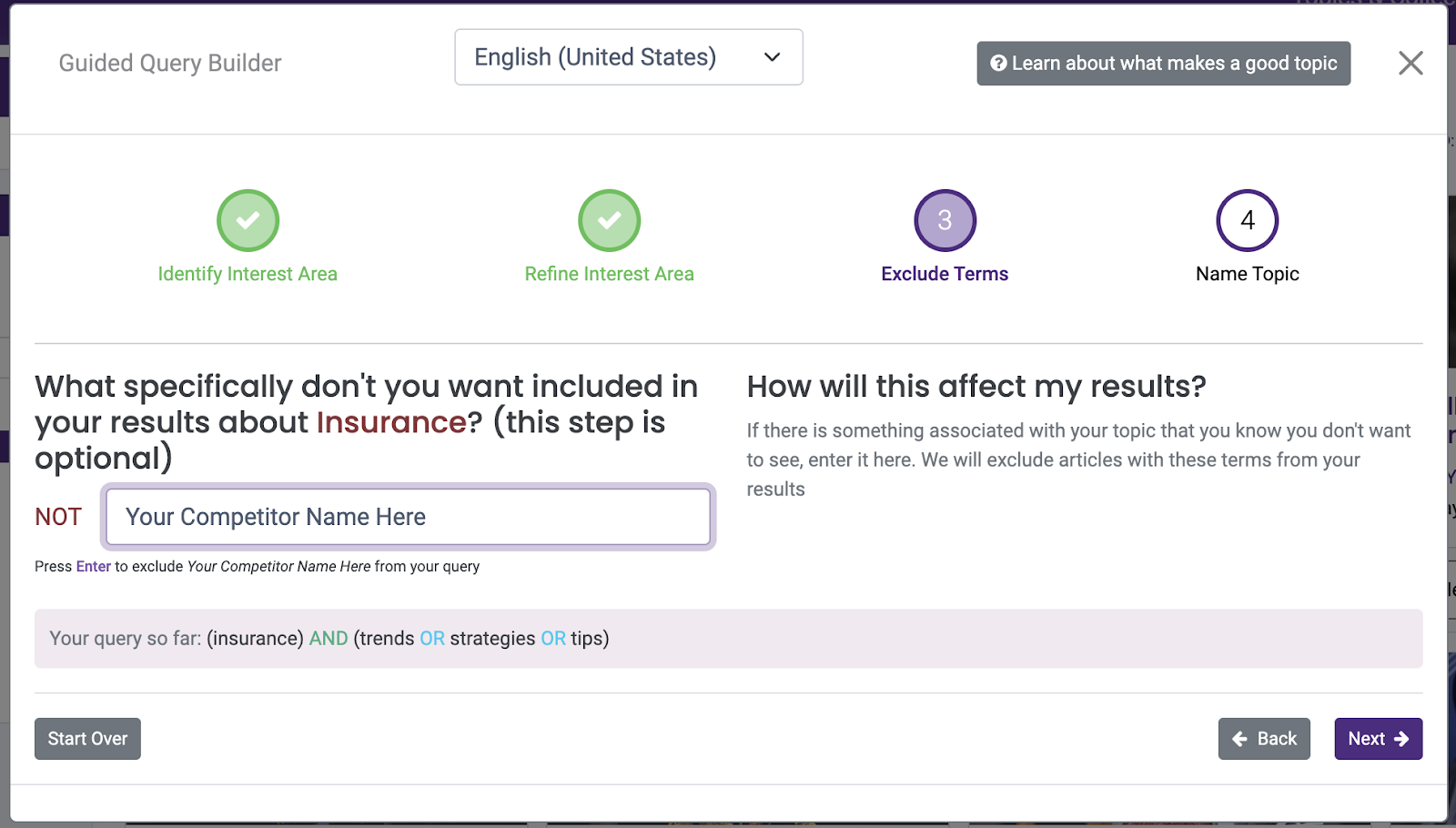 This eliminates the extra step of sifting through the curated content to remove your competitors.‍
You can also use this function to avoid other keywords or phrases you need to avoid for compliance, demographics, etc.‍
Next Steps to curating content for your finserv business
Customers are educated more than ever, and it's easy to find someone to help with any financial service you might need.‍
What's going to give your business the edge is how well you educate your prospects and customers. Using curated content is a smart way to get yourself in front of people with a fraction of the time investment required for creating original content each time.
While the cons presented are very real, they are all just challenges you can solve with some of the online content tools like Proofpoint or UpContent. ‍
UpContent helps you automate the discovery and sharing process of curating content to make the ROI worth it by automatically surfacing articles for you twice daily and integrating with the best in the content-sharing business.‍
If you'd like to see for yourself how UpContent can help your business, fill out the form and schedule a time to talk to one of our Content Curation Experts.
Or, if you'd like to learn more about how your financial service business can benefit from content curation, check out the articles below:‍
Back to blog