Scaling Sales and Marketing Conversations with HubSpot + Icebreaker by UpContent
Katherine Boyarsky
·
3 minute read
Both Civic Champs and Jackson Marketing Services understand the importance of streamlining time-intensive tasks so that nonprofits and SMBs can focus on doing the work that really matters.
Here's how they've leveraged Icebreaker and HubSpot to automate and scale marketing and sales.
Civic Champs: Supporting Nonprofit Growth
Civic Champs has been changing the way that nonprofits engage with their supporters since their founding in 2019.
Driven by their mission to maximize the impact nonprofits have on their communities, this social benefit software company has created a platform that automates volunteer management while eliminating manual data entry processes along the way.
Prior to discovering the UpContent integration with HubSpot, the sales and marketing teams at Civic Champs found themselves struggling to add that coveted degree of urgency to their client and audience interactions. On the sales side, team members found it difficult to re-engage their clients during follow-up conversations.
The marketing department found themselves at a plateau, looking for ways to infuse their social strategy with relevant content at scale.
Improving Sales Engagement + Marketing Conversion with Relevant Content
As longtime users of the HubSpot CRM, social planning, and email marketing tools, the Civic Champs team jumped at the opportunity to utilize the Icebreaker by UpContent integration with HubSpot to improve both their sales conversions and marketing efforts with the use of relevant content.
According to Darcy Neuriter, Lead Marketing Strategist at Civic Champs, the decision to use Icebreaker was obvious.
"When we were figuring out how to optimize two of our marketing initiatives— to create really relevant email newsletter campaigns and to automate our social media planning posts— we turned to Icebreaker to fold the most relevant news into our brand."
The Civic Champs sales team found similar success when they began using the Icebreaker integration to embed relevant articles into their follow-up conversations with clients.
"Because we sell to nonprofits, our clients have a longer sales process compared to for-profit businesses.
There is a lag between the demo and when we actually sell that can last for a month or more and if you're not communicating with your client during that time you run the risk of them forgetting about your organization," explained Jon Moreno, Account Executive at Civic Champs.
"Since using Icebreaker to include relevant content into our conversations with these clients, we have been able to improve our sales conversions and actually close more deals."
Ultimately, both the marketing and sales departments at Civic Champs realized that the main benefit of using the Icebreaker by UpContent integration was the ability to continuously work within the HubSpot CRM to connect with clients.
"We turned to Icebreaker because we could use it where all of our customer data and conversations already reside and automate the manual tasks," said Neuriter.
According to both Neuriter and Moreno, not only does the Icebreaker integration make the lives of Civic Champs easier, but it also improves their customer relationships.
"Icebreaker strengthens the personability and intimacy of the relationship with the customer by adding value to the conversation," said Neuriter.
"It allows you to add a soft touch to a typical client check-in, as opposed to being a standard reminder," added Moreno.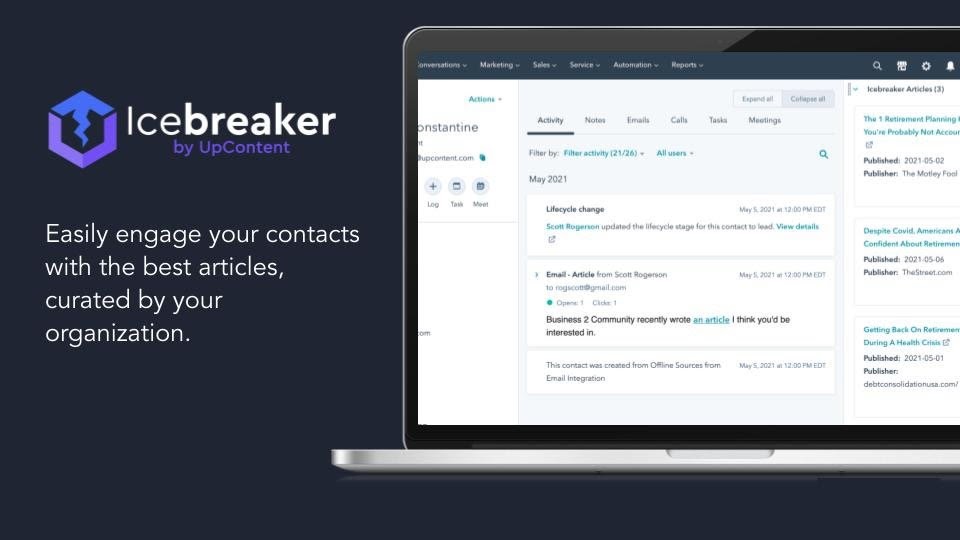 Jackson Marketing Services Inbound Marketing + Sales Strategy
Similarly to Civic Champs, the team at Jackson Marketing was working to improve selling confidence and improve conversations.
As a team that doesn't love the sales process or being too self-promotional, they were looking for ways to organically connect or reconnect with prospective clients, as well as strategies for scaling their social media engagement efforts.
They found themselves searching for a tool that provided them with easy access to the most relevant content for increased engagement with customers and prospects. They were looking for a tool, that is, until they were introduced to the Icebreaker by UpContent integration.
Boosting Sales Confidence with Strategic, Automated Conversation Starters
Stacy Jackson has been a HubSpot user for many years. She uses the marketing platform for both her team and her clients' marketing management and growth, and recently upgraded to Sales Pro for their internal sales operations. Jackson Marketing has also been using UpContent for many years to build collections for customers, scale up social media efforts, and automate marketing tasks.
"It's been a big timesaver for us. UpContent helps us keep really focused on the right content for customers, giving us time back to focus on strategy," Stacy Jackson, cofounder of Jackson Marketing Services, added.
Her team has been able to use Icebreaker to surface conversation starters in addition to the ways they've used it to ramp up social media publishing.
"It's been an easy way to incorporate the outreach we're already doing on the sales side, and made it a lot easier for me to get in there. I don't love sales outreach and Icebreaker has made it so much more approachable and effective," Jackson said.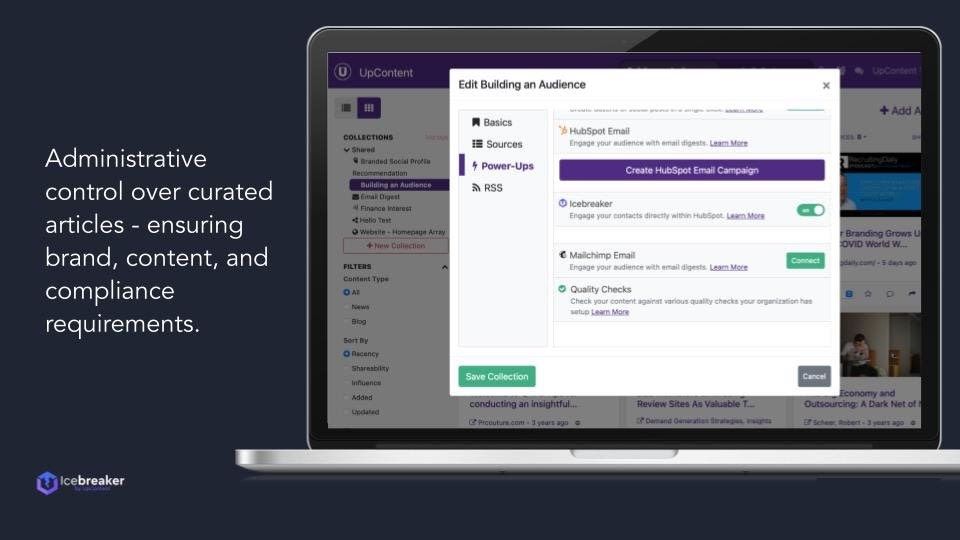 Benefits of the Icebreaker by UpContent with HubSpot Integration
The use of third-party articles consistently shows improved engagement and establishes a relationship with the customer.
Icebreaker recommends the articles from a pool of content curated by your teams that are most likely to re-engage your prospects.
All recommended content is relevant to the goals of your organization and meets your brand requirements.
Suggested articles appear automatically within your contact record, allowing you to compose marketing and sales emails quickly.
Curated content gives sales and marketing teams confidence to have meaningful conversations.
Make social media more engaging with high-quality, recent content.
Incorporate brand safety with administrative controls over content selections.
Get started optimizing your sales communications and marketing efforts by infusing them with targeted content today with the Icebreaker by UpContent integration with HubSpot.
‍
Image Credit: "The Icebreaker" by Trey Ratcliff is licensed under CC BY-NC-SA 2.0
Back to blog