2 Ways To Use UpContent On Your Website
Bethany Dameron
·
4 minute read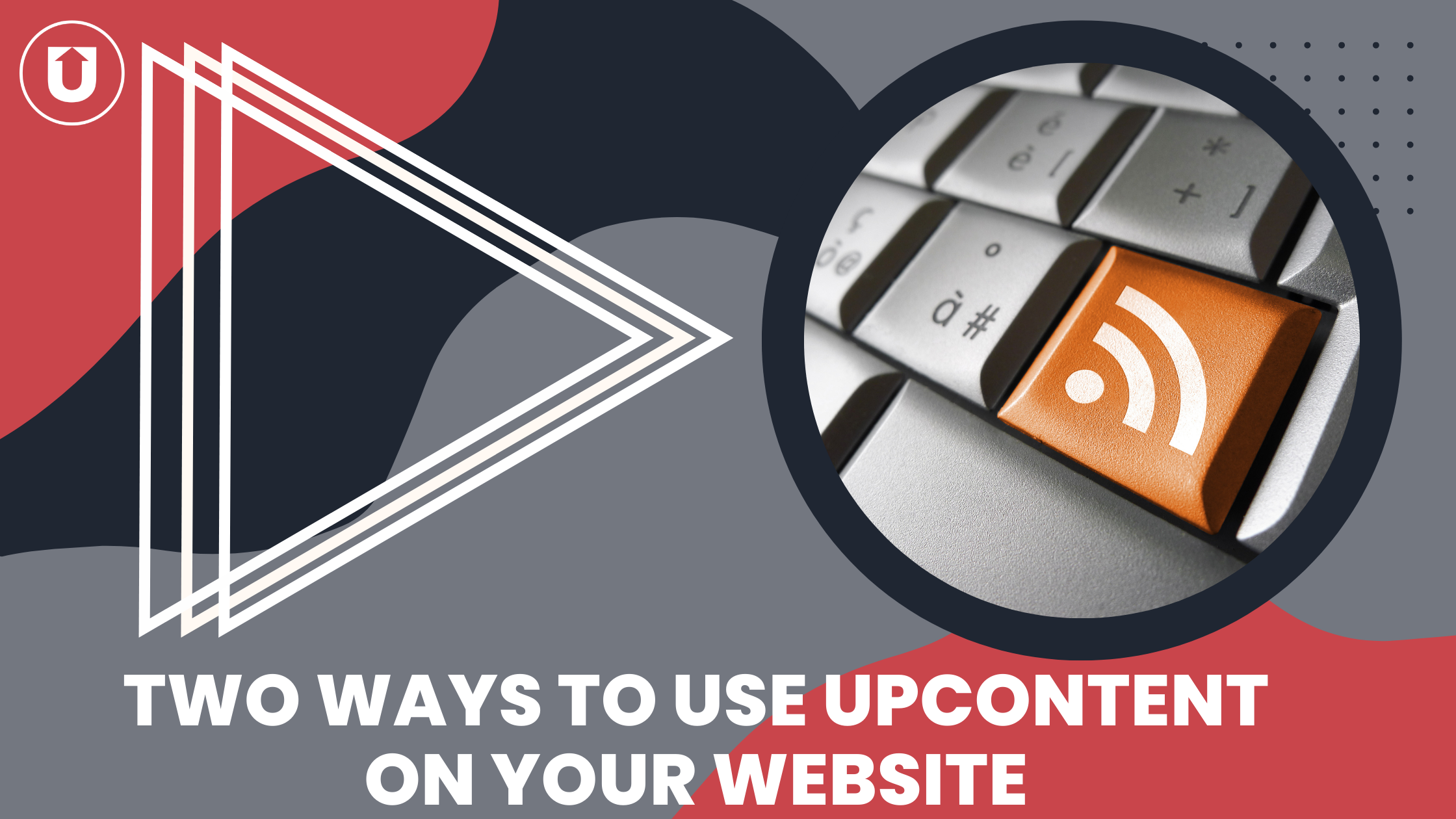 Using curated content on your website is an effective way to drive traffic and engagement while demonstrating that you are a well-rounded source for your potential customers.
But how exactly do you get that curated content on your website consistently and logically?
With UpContent, there are two main strategies for how you can add curated content to your website: the mirroring method and the gallery method.
Here at UpContent, we've helped hundreds of customers build content curation strategies that have increased relationships, sales, and engagement.
With nearly unlimited ways to use UpContent's curation software, it can feel overwhelming when trying to visualize how you can use it to achieve your goals, but this dynamism is precisely what makes realizing your vision possible.
In this article, we'll address the mirroring method and the gallery method and talk about the different displays available in our gallery method.
Mirroring Method: Presenting Curated Content As A New Post
If presenting each curated piece as a new page on your website is important to you, you will want to consider using our full API to accomplish this.
This method is the default for companies like Curata and Scoop.it!
Each curated piece will live as a post on your website with proper attribution to the original piece (links, image credit, etc.)
The mirroring method of curating content to your site allows you to add your perspective to the piece while engaging the reader longer on your site.
It also fleshes out your site by creating new pages every time you publish a curated article.
Mirroring is great for companies who are willing to dedicate some additional time to their curation strategy where they provide their brand's perspective on the curated piece as well as a more full abstract of the content being linked.
You will need a dedicated team to ensure you're curating correctly, i.e., proper attribution, licensure of images for articles, adding perspective and reason for sharing, etc.
As it related to UpContent, mirroring requires the use of our full API, and collaboration between our teams to build the custom workflow you need that will ensure that the proper content is approved and the presentation meets your vision.
The UpContent API provides all of the information you'd require to accomplish this, including the full text of the article being curated for you to develop your custom perspective.
We strongly recommend against simply republishing the works of others from both a legal and experiential standpoint.
From an investment perspective, gaining access to leverage our full API starts at $6,000/year.
Gallery Method
The Gallery method is the most common implementation of curated content by our customers and also the one we use here at UpContent!
This displays a "card" version of the curated article with a header image, title, publisher, date of publication, and sometimes a short description of the article or reasons you believe your readers should check out that piece.
These "cards" link to the original piece of content, allowing you to properly attribute the article and "pay" for the use of it on your website by easily allowing the reader to consume the content in its "native habitat" while also providing your site the benefit of showing engagement on your domain.
You didn't think we would send people away from your site without a way back, did we?
With our Sniply integration, you can add custom CTA's as an overlay on the original content - prompting the reader to return to your site now that they've been stimulated by the curated material.
These different setups range from "copy and paste" to "web developer needed" and are included in your UpContent pricing plan for our Curator plan and above, starting as low as $49 a month.
Each of these methods has the option for fully automated curating, manually choosing and publishing the content or any workflow that fits your team's priorities and needs.
There are four different displays or views when it comes to our Gallery method: Card, Carousel, JSON, and RSS feeds.
Card View
This is the most commonly used layout. You can show as many articles as you want at one time.
The card view displays the articles you curate as an interactive button the reader can click to read the original article in a new tab.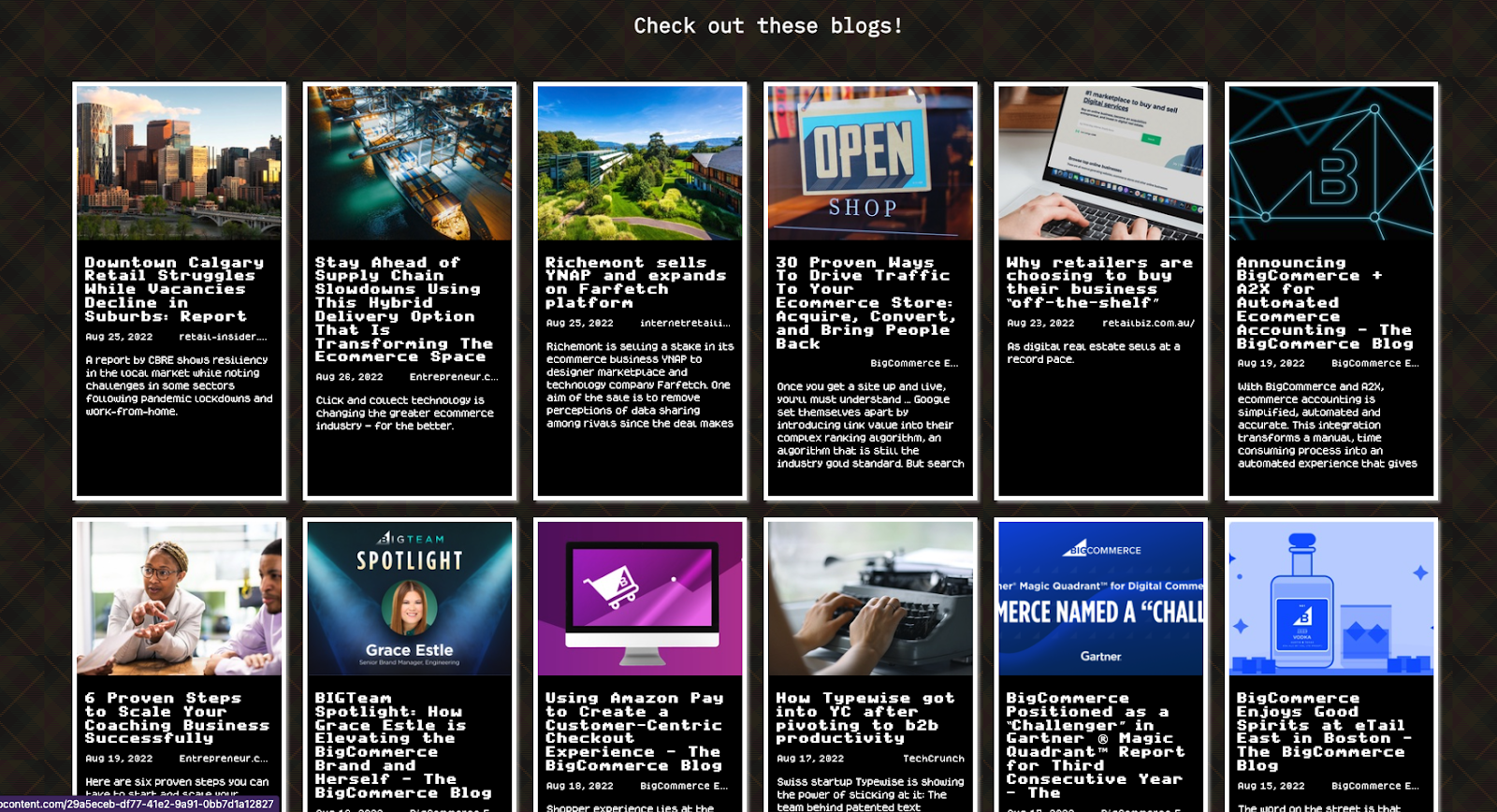 As you can see, the styling of these cards can be easily made to match your site's custom look and feel through our easy-to-use theme builder - all without needing web development expertise.
Carousel View
Carousels are best used within site designs where space is limited and you would like a little animation to liven up the page.
The Carousel will rotate through the top five articles within the Gallery and when clicked, expand into the card view to allow the reader to see all of the articles you've put in the Gallery.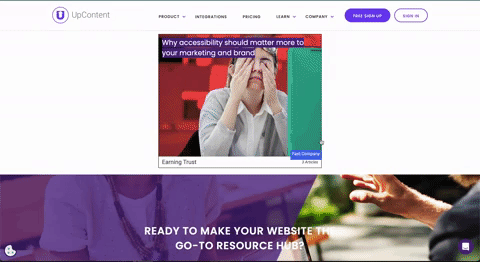 Both the card and carousel display formats have been optimized for SEO and accessibility requirements. Each leverages javascript, CSS, and HTML to display and therefore can work within any CMS that provides you with the ability to add custom code.
For more on the steps needed to include a Card or Carousel Gallery on your site, head here.
JSON Array
You have some customization control on the Card and Carousel views, but if you want to change the look more than what comes with those two views, you can use a JSON array.
This option lets you have the best of the mirroring and gallery methods by allowing you to present the content you've curated in whatever styling you wish, but maintain the reader flow of heading to the original article to review the content - and then coming back to your site to take action.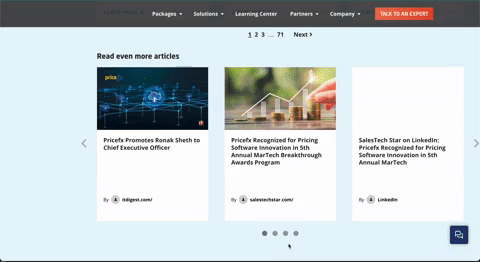 ‍
Unlike leveraging UpContent's full API, the JSON array does not require any authentication flow and keeps the responsibility of caching with UpContent - making life easier for your team in implementing the array.
Further, the JSON array is immediately available in your Curator or above subscription plan with a $0 additional cost.
RSS Feed
Many CMS platforms have made widgets or plugins to present feeds of curated articles in various ways on your website.
Should this presentation be of interest to you, UpContent can also help you achieve it by bringing you your curated content within an RSS/ATOM feed.
Check out this article to find the RSS feed URL for your UpContent collection.
Choosing The Way To Use UpContent On Your Website
The Mirroring and Gallery methods of displaying curated content on your website are great ways to share your thought leadership and expertise with your audience.
You can add curated content directly on your site using the Mirroring method or limit the number of pages and posts by linking to the curated content with Galleries.
Choosing between the two requires consideration of what you are looking to achieve for your audience, the amount of time you plan to invest in the curation process, and the technical capabilities of your team.
Our goal here at UpContent is to be as flexible as you need to execute your content curation efforts, so if you have any questions about which method or view is best for you, please reach out to our Content Curation Experts through the purple chat bubble on the right side of your screen!
If you'd like to learn more about how you can use UpContent for your content curation strategy, check out these other articles!
What UpContent Plan Is Right For Me?
Three Myths About UpContent: What UpContent Does and Doesn't Do
Driving Traffic to Your Website With Curated Content
‍
Back to blog