How to Sell When No One Wants to Be Sold To
Scott Rogerson
·
10 minute read
Note: This post represents a recap of a discussion held during a webinar titled, "How to Sell When No One Wants To Be Sold To." The webinar was done in conjunction between UpContent and fellow content marketing agency Influence & Co.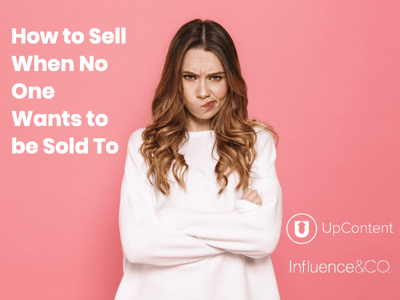 The reality is that no one ever really wants to be sold to. No one wakes up and thinks, "I'd love to hear from a telemarketer or 17 people I don't know in my email inbox!"
The challenge we are all currently facing is that if we look at our own inboxes we see emails regarding tools we may have signed up for in the past.
Or maybe we're seeing "reverse pitches" on social media channels like LinkedIn, where someone we don't know adds us and then attempts to make a pitch after we accept the connection. HubSpot has performed research on how sales are evolving from week to week during the pandemic.
One thing they've found is that there's been a growth in over-communication in both marketing and sales, but there's a difference in engagement levels. It's gone up for marketing while going down in sales.
This discussion addresses how to ensure that what we're communicating gets the engagement we need.
As budgets and schedules have shifted for people during these past few months, we need to be aware of how prospects are viewing marketing. Since time is limited, budgets are also limited.
You also have to account for the fact that prospects are dealing with new emotional stresses due to a global pandemic that weren't there previously. It's important for content marketers to be cognizant of that.
How do you do that? By always leading with empathy.
This may seem difficult at times. After all, how do you sell when you want to be aware of emotional stress?
In other words, how do we show empathy without sacrificing our conversion goals? The answer is to educate your prospects. Facilitate an educational sales process with informative, actionable content that does not feel overly "salesy."
How do we do this? By keeping three things in mind:
Have emotional intelligence.
Lead with empathy.
Lead with what your audience is most interested in.
How content works throughout the buyer's journey
Consider the buyer's journey, with its three phases: awareness, consideration, and decision. For each stage, content plays a huge role.
In the awareness phase, it's the opportunity to get your name out there for the first time. Soften your message a bit if you're reaching out to prospects initially or cold selling.
During the consideration phase, we get a little deeper with content by talking about processes or the unique value we offer.
We discuss the solution and service. What you'll find as you adjust expectations around what your pipeline looks like is that prospects may spend more time in this category than ever before, taking more time to deliberate.
You may see deals stalling as prospects have more to weigh than they did in the past due to economic or organizational concerns.
When you've reached the decision phase, there are fewer rules about being promotional. You can use content to discuss your competitive advantage — but don't lose your empathy. Lots of prospects will be faced with knowing your solution is the right fit but being unable to move forward.
They may tell you they make a final decision until later in the year. At that point, you'll have to determine how you use your content to "re-nurture" them.
During these times, we've seen major growth in the concept of "decision by committee." Organizations are averse to making additions at the moment, so they're seeking additional buy-in from others within the corporate structure.
You may have points of contact (the second, third, and fourth individuals with decision-making power) at different stages of the buyer's journey than your "main champion" at the company. It's critical to remember you need to move EVERYONE along through the process.
While ensuring everyone receives content to move them along, it's also vital to keep your champion excited. Position yourself as a partner to your champion, giving them the content they need to further persuade these other decision-makers.
Give your champion the content they need so you both succeed
You can use content to establish someone in the organization as your champion. They may be well-versed in what you do and what you offer, completely understanding the solution or service.
You may then run into someone further along in the organization who has no context about you. That means you'll have to convince them as well. It's a valuable skillset to build: having to educate others who aren't as amenable to you as your champion.
The more people you can get to buy-in to what you offer, the better it will be in the long run. Sometimes that means starting the process at the beginning all over again, even after laying a solid foundation.
This is true across all different industries. You'll want to arm your prospect with solid, valuable information at every stage of the journey. Leave them feeling confident when any questions come up about their needs, your product or service, or the role your offering plays in solving their problems.
So how does content fit into each of the three categories? Think of in these terms: all clients have one of three goals.
Sales enablement
Lead generation
Thought leadership
From a philosophical standpoint, shift how you view content. Content isn't an expense, it's an asset.
Content acts as your 24/7 salesperson. A properly developed piece of content on your website is the one member of your team that doesn't need sleep, a salary, or PTO.
Content takes a lot of time out of the process in the consideration phase if you've provided resources that check your client's boxes. You can get to the "meat" of how you can solve their problem or help their business.
Sales enablement
Sales enablement content could be lead generation content, but in this context, it is a tool used in the sales process specifically to move closer to the sale. For example, it could be a webinar or case study on what it's like to be your client.
It's appropriate to have sales-focused content here. Sales enablement content is particularly valuable to give to your champion. They can use this when meeting with their organization's leadership to make the case for working with you.
Giving them tools such as reading materials or infographics can be helpful in making the argument.
Sales enablement content is engineered to keep the conversation going. For those reading the content, it shouldn't make them cringe at your attempt to sell them on your company. Instead, it should help them understand what it's like to be your client.
Tell them how you'll affect the reader's day-to-day life and how you can help them. The reader should come away from this content thinking, "Oh, I can use that!"
Create content here that's informative, addressing a question they have. It also gives them confidence as they'll now understand exactly what it is you do.
Sales enablement content promotes transparency in the sales process. The more open you can be about what it's like to work with you, the better. This helps build trust with the client and will be beneficial to anyone reading the material.
Lead generation
One of the hidden advantages of our current situation is that people are beginning to read material they may have downloaded then set aside six months ago. More people are attending webinars due to working remotely.
There's been a significant uptick in webinar participation. In short: right now you have people's attention...so do something with it!
Lead generation is when you create a downloadable product with value that acts as a "gated asset." In other words, the prospect exchanges information in return for access to the content. Lead generation (or demand generation) content can include:
A "how-to guide"
Datasheets
Checklists
Walking the client through a specific process
Step-by-step guides (i.e. "X Steps to X-Y-Z")
Helping them understand a complicated issue (i.e. "A guide to understanding your healthcare premium")
The goal here is not to tout your accolades. The prospect isn't there yet. They have something you want: their information. To get that, you have to give them something they want. That can be data, guidance, or something else.
It has to be something they can use. If you possess some kind of proprietary data you can share that they can use, that's even better.
One word of warning: don't be surprised if conversion rates or lead time on this type of content takes longer than usual right now. It may take more email touchpoints than it did before simply because of the times we live in. That doesn't mean the content won't convert or isn't valuable.
Thought leadership
Content from this category means it's something that only you could have said. It should offer a unique perspective where you add to the conversation. Thought leadership is an often misunderstood concept.
Expertise is NOT thought leadership. Thought leadership should make your readers say, "That's right. I never thought of it that way.
I need to do or change something." It changes your reader's perspective on a topic. It's super valuable in the sales process because it adds credibility.
Out of all the content areas, thought leadership is one where you don't start defining the number of pieces you'd like to produce. Instead, ask yourself, "What stories can I share?"
It's a way to develop content that humanizes those providing a product or service. Your prospects should come away feeling like they understand you even if they've never met you.
Is thought leadership also about being sought after for your expertise? The answer is, "Absolutely." Anytime anyone seeks out your opinion, that's thought leadership.
Whenever a journalist/reporter wants you to weigh in on a certain topic because of your own credibility on the subject, it's an affirmation that you're starting to gain traction as a voice in your space. That's a good indicator that you're putting out valuable content.
Sometimes, being a thought leader means putting out resources that provide value without a promise of receiving anything in return.
You have to be willing to help people without wanting anything back. You can put processes in place to hold people accountable where you can, but some materials won't get a response immediately.
They'll just offer your prospects something they can use to take immediate action. This helps you stay at the top of their mind.
In terms of how content fits into your overarching strategy, there are three specific types to consider:
Earned. This is content you develop organically.
Owned. This is proprietary content coming from you and your team. It's typically featured on your website and/or social media channels.
Curated. Curated content involves leveraging third-party produced articles. You're not purchasing a license per se, but instead giving reference back to the original publication. It helps you showcase your understanding of what's happening in the industries you serve.
From expense to asset
Often we create content, promote it on our various channels, then move onto the next piece of content to create/promote.
Where you'll see more success is interweaving those pieces of content so they build on one another.
Link one individual piece of content's engagement with a specific article from your site and leverage that. It also helps to think about how your distribution channels are interacting. Where do your prospects go after the nurture campaign ends?
How do you repurpose that insight, getting them back into a campaign while keeping you at the top of their mind?
Content always points back to conversion, but it doesn't typically happen with a single piece of content. The model of "content > promoting that content > moving onto a new piece of content" is a somewhat rudimentary approach to content marketing.
What makes more sense is to continue the conversation and keep momentum going with related, multiple pieces of content. Think of content production more strategically, with a series that nurtures your prospects.
The crux of the "expense to asset" mindset behind content asks, "How do we make this valuable to someone six months from now?"
How do you make sure the attention for each piece is still there? How do you continue to drive attention to the content you've produced in a "non-salesy" way? How do we stimulate engagement, conversation, and activity with other curated articles that drive people to our site?
How to decide where to publish content
This infographic walks you through the process of deciding where to publish the content by asking a few key questions, including:
Does it provide value to your target audience?
Is it newsworthy?
Do you have insight to add to the conversation?
Is it important for you to stay competitive with regard to SEO?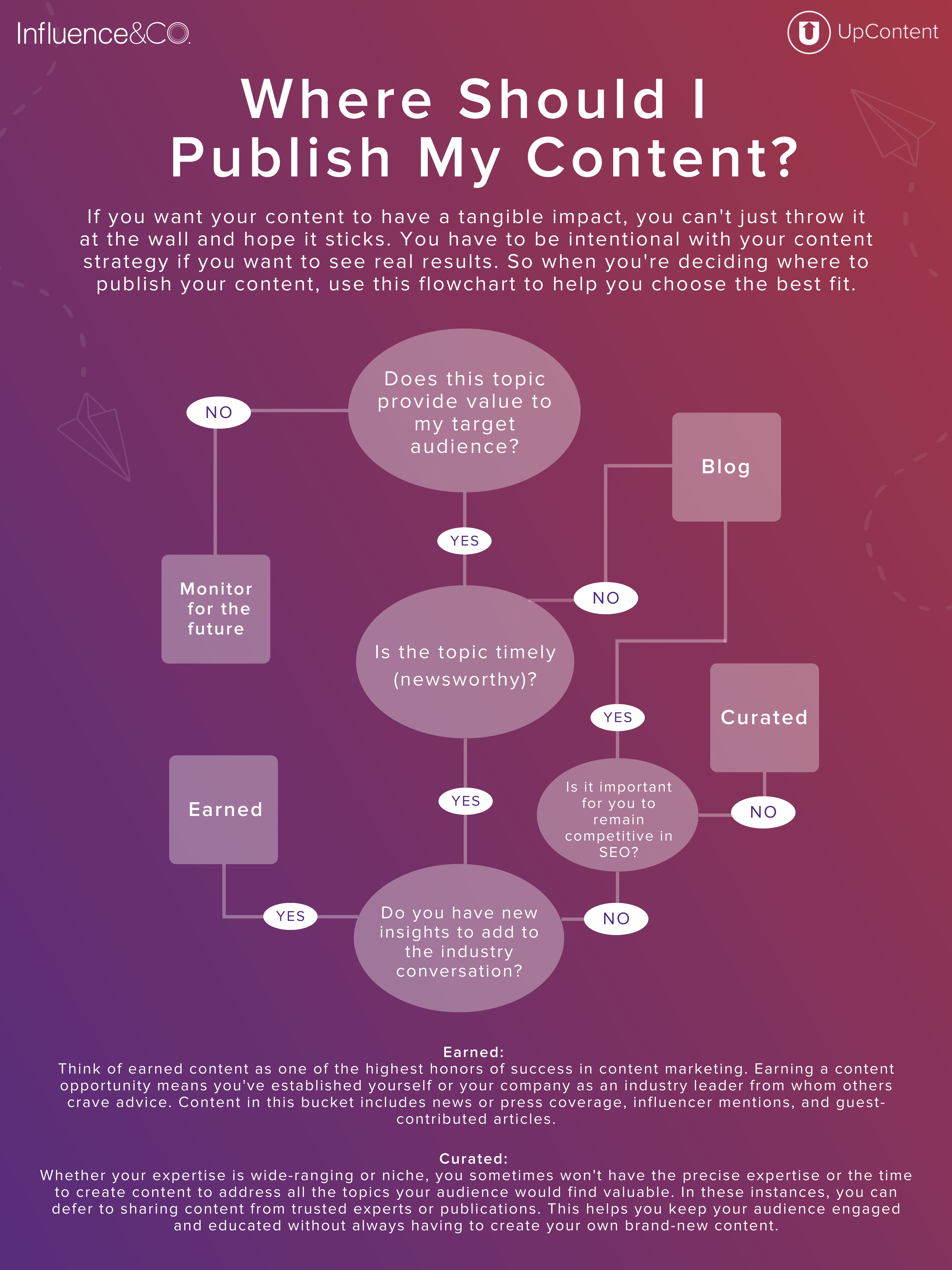 These questions should be asked sequentially, and the infographic tells you where it should go depending on the answer to each question.
This approach places a greater focus on asking yourself, "Where does this particular piece of content fit in with the rest of my content?" It moves you away from the idea of attempting to create an arbitrary number of content pieces in a given time period.
One of these questions comes with a caveat: when asking if a piece of content provides value to your audience, it's not just if you think it provides value. If your prospect disagrees, it doesn't much matter what you think.
That's why you'll need to validate your thoughts with some sort of data. That can mean keyword research or even anecdotal evidence like taking a survey of your current clients.
Also, remember that the content doesn't necessarily have to be pertinent in giving the prospect value today if it helps them make decisions in the future that they can then relate back to you.
Summarizing key questions
Each type of content has questions that will help you better understand how to develop it, such as:
Owned: What are the questions you keep getting asked? What are topics in your industry that you have expertise in?
Earned: What topics do you specifically have a unique point of view on that your competitor could not weigh in on?
Curated: What are articles you wish your prospects would have read? What are the articles your prospects wish you had read?
The webinar included several other questions from the participants in attendance, including:
What do you envision trade shows being like in the future?
Trade shows are a valuable resource for many content marketers and are obviously now on hold for the most part.
That's why if you've found value in them in the past, consider why those trade shows were so valuable for you. If it was because the host organization was a perfect target audience, determine ways to continue tapping into that audience.
Look at niche publications that reach the same demographic.
Another way is to ask the host of that trade show if they'd be willing to partner with you on a virtual event. Hosting a virtual event is a great way to network virtually while showcasing your product or walking prospects through your service.
One great virtual event feature for this are breakout rooms with smaller, focused groups. Or you can host a virtual panel, with other vendors participating. Collectively, you all have a bigger audience together than you do on your own.
Where does curated content fit into SEO strategy?
The answer to this depends on your implementation. With curated content, you should always follow fair use guidelines and standards.
If you're curating a third-party article, make sure that you're in no way impeding the reader from navigating to the original publisher's site. Of course, you should look to provide your own perspective with insights on the article, but make the original article available as well.
There are solutions UpContent offers that can make the original article part of your site's code. Curated content won't help you from a keyword perspective, but too many people see SEO as solely keyword-driven.
Engagement is also crucial to SEO, and curated content can help drive that.
How do you create content to satisfy the sales team without being too "pushy?"
Your sales team has its own needs. The issue becomes when those needs conflict with the prospect.
Sometimes, the prospect isn't "there" yet in terms of being sold to. To start, you should ask why the salesperson feels they need this particular asset and what it will do for them. Your salesperson may be ready to close while your prospect is still in the consideration phase.
That's why it may help to use a different angle. Develop content that can help the salesperson answer the prospect's questions.
For example, if a prospect asks, "Why is your service so expensive?" wouldn't it be helpful for the salesperson to have content related to figuring out budgetary issues or why the prospect shouldn't settle for cheap alternatives?
This allows the salesperson to answer questions without getting too "pushy." Craft content for them that helps them answer questions without directly selling.
How do we relate to our customers during this time?
This can certainly seem like a challenge, but this is the time to get creative with your content.
While everyone's experience is different, everyone's dealing with similar circumstances in one way or another.
You can use content to show your prospects or customers how you're dealing with it as an organization. Some companies are producing roundups of their culture and what they're doing internally to manage current events.
It may not have anything to do with the services offered, but clients can still benefit from it. They can use these best practices and apply them to their own businesses. Give your sales team the content they need to spark and continue these conversations around dealing with our collective new reality.
Interested in more information on how you can revolutionize your approach to content marketing in 2020 and beyond? For more on how UpContent can help, contact us to book a demo today!
Back to blog