5 Ways to Become an UpContent Power User
Thomas Sloan
·
2 minute read
As the customer success lead for UpContent, I am constantly creating resources to help our users get the most out of UpContent.
If you're looking for ways to increase your efficiency and maximize your curation efforts, then look no further. Here are five articles that will get you from average to all-star in no time.
This is an article you may have seen already, as I've placed it on the site as well as in many of our onboarding and support messages, because I often find it to be the most useful.
The main differentiator we have as a search tool is our use of Boolean search. What's that, why should I use it, and how does it work?
These are valid questions that we get a lot and are addressed in this article. If you'd rather watch than read, we've got that covered too.
Reading this article will familiarize you with this search methodology and help you find the content you're after faster than ever.
After you create a topic, the results we find start to appear in the default view, which is all content based on relevancy from the past 30 days.
However, you can change each of these parameters to either expand or narrow the scope of the content you're looking for.
This article will show you how to adjust the time frame, limit to the type of content you want to see, exclude or isolate certain sources, and use our proprietary sorting filters such as influence and shareability, to find just what you're looking for.
Narrowing your content feed is useful to take full advantage of one of UpContent's purposes: avoiding endless scrolling. This way, you can use broader search criteria, but still hone in on what's most important to you.
If you're not seeing as much content as you would wish, and care more about the quantity of your results than the recency, you can expand the time frame to up to a year.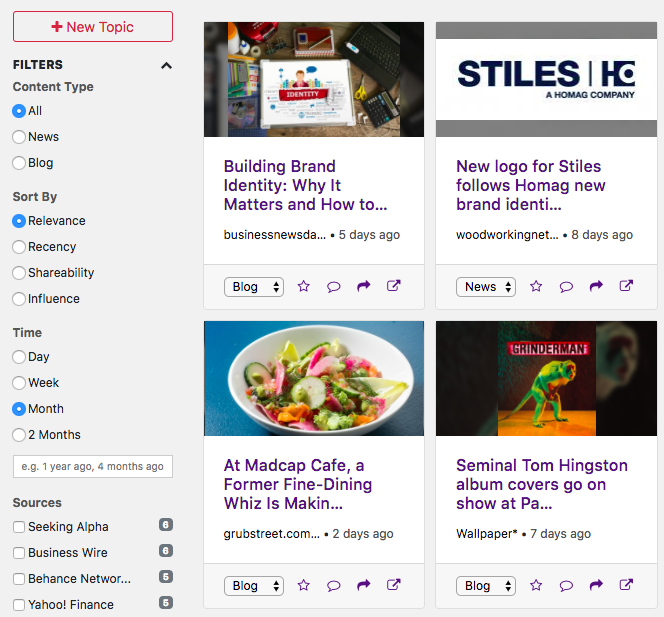 Some of you may wear many hats for your business, including marketing, while some of you may be part of a larger marketing operation.
In any case, it helps to loop others into your content marketing process. By adding members to your team account, you can collaborate on content curation–through adding notes, favoriting, and organizing your topics–to improve your marketing efficiency and efficacy.
This article walks you through the handful of steps you need to take in order to start collaborating inside of UpContent.

Hootsuite is one of the most popular digital marketing tools on the web, and with good reason. Hootsuite allows you to manage all of your social feeds, posting, scheduling and resources in one place.
UpContent integrates easily with Hootsuite, and can be added at no extra cost.
This article is short and sweet, but will walk you through how to easily add the UpContent app to Hootsuite (Three clicks–seriously).
If you use UpContent to create and manage topics for multiple clients, you know how your topics can grow into a lengthy list in which it can be difficult to select the one you're after.
By organizing your topics into folders, you can separate topics by client, or by interest area (tech, real estate, marketing etc).
If you plan on collaborating on topics at any point, you will need to put them in folders to be shared with team members, so doing so now will make the process easier in the future.
This simple article will show you how to move your topics into new or existing folders to make your content discovery and curation flow all-the-easier.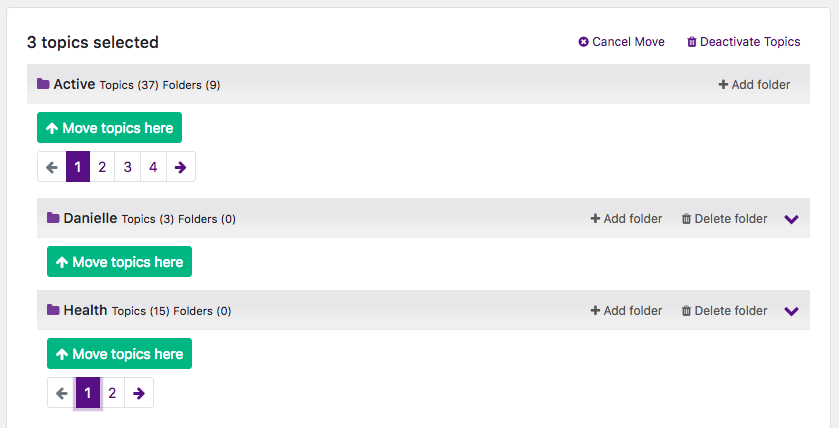 Looking for more?
At UpContent, we're all about helping you find great content and take action on it. Whether you're a new user or have been with us for a while, we have tools and resources to help you do both.
If you're looking for more instructions or helpful tips, you can head over to our Learn Site or schedule a time to do a walkthrough or demo on the phone with us.
Back to blog