UpContent vs. Google Alerts: Unleashing the Power of Third-Party Content for Social Selling and Thought Leadership
Bethany Dameron
·
4 minute read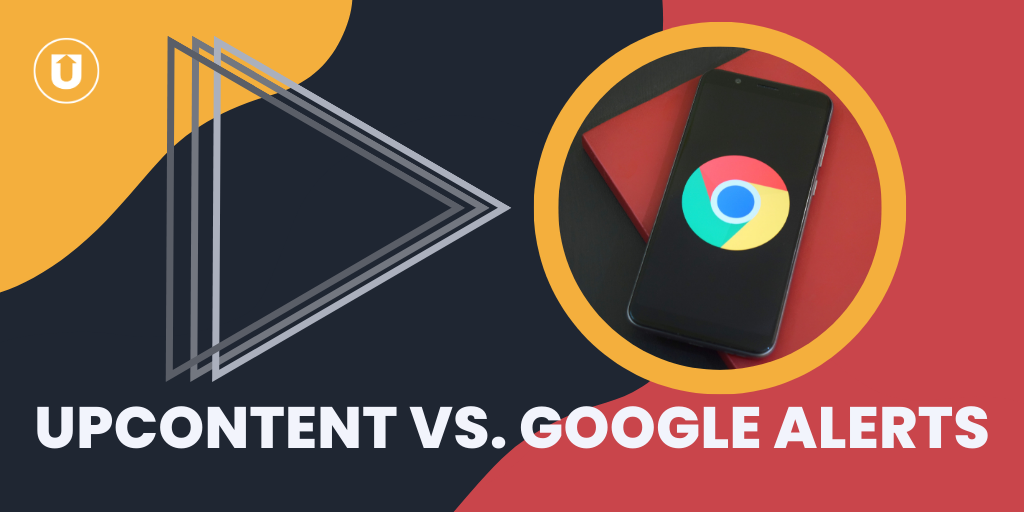 In the realm of social selling and thought leadership, harnessing the power of third-party content is essential for establishing credibility, engaging your audience, and staying ahead of the competition.
But before you can share third-party content, you have to be able to find it.
There are many tools out there that can be used for content discovery, such as content aggregators and content curation software.
UpContent and Google Alerts are different types of content discovery tools, and they each offer distinct approaches to finding valuable third-party content.
In this article, we'll explore both platforms' features, benefits, and user experiences to help you make an informed decision and optimize your social selling and thought leadership efforts with credible third-party content.
UpContent: Elevating Your Content Discovery
UpContent, a leading content curation platform, empowers professionals to effortlessly curate relevant and high-quality content.
With our suite of features designed to enhance content discovery, filtration, and optimization, UpContent takes the guesswork out of finding valuable third-party content that will build credibility amongst your audience.
Customers First
UpContent has a customer-first approach in everything we do, so we created our software to be flexible to your needs and processes instead of having to fit a mold we created.
At UpContent, we place great importance on assisting you with your curation efforts and helping you get started at both a strategic and tactical level - becoming your trusted content curation partner.
We understand that whether you have technical questions or need guidance on your overall curation strategy and workflow, having access to our team of curation experts is crucial, regardless of your subscription plan.
A recent G2 review described UpContent as having excellent service combined with a smart software solution.
"The best thing is that there are real people at UpContent who are prepared to get onto a Zoom call and listen to what you're looking for from the service - and help get it up and running too.
This definitely made all the difference to Rocket Content when we were setting up a new website using curated content as the backbone," they said.
Content Discovery Capabilities
One of UpContent's core strengths lies in its AI-powered recommendations.
By leveraging sophisticated algorithms, UpContent suggests articles, blog posts, and other content pieces that align with your defined topics and keywords with our Smart Sort feature.
This intelligent feature saves you time by delivering highly relevant content right to your fingertips in an organized layout that you can easily sort into Collections for distribution.
UpContent also connects with many of the social sharing and social selling platforms you're already using, such as Hootsuite, HubSpot, MailChimp, Denim Social, EveryoneSocial, and more, to make the distribution as seamless as possible, and to fit in with your current tech stack.
Additionally, UpContent offers advanced search filters, allowing you to refine your content discovery process by publication date, domain authority, and predicted engagement metrics, ensuring that the most timely and impactful content to share is at the top of the heap.
Customization Options for Tailored Content Discovery
UpContent gives users extensive customization options, allowing you to precisely adjust and refine your content discovery process.
By defining specific topics and keywords, selecting preferred sources and domains, and adjusting relevancy and freshness settings, you can curate content that precisely aligns with your audience's interests and your thought leadership goals.
Analytics and Reporting Capabilities
UpContent goes beyond content discovery- it equips you with comprehensive analytics and reporting to measure the impact of your curated content.
By tracking engagement metrics by article, publisher, and interest area, you gain valuable insights into the effectiveness of your social selling and thought leadership strategies.
The UpContent Customer Success team will deliver and review your metrics with you and suggest ways to further optimize your strategy.
Google Alerts: Uncovering Relevant Content
Google Alerts, a widely-used tool by professionals across industries, offers a straightforward approach to content discovery.
By setting up keyword-based alerts, users receive email notifications whenever new web content matches their specified criteria.
Content Discovery Capabilities
Google Alerts' primary function is to monitor the web for specific keywords or phrases.
While it offers a straightforward approach with customization of sources and regions to tailor your results, it lacks the sophisticated AI-powered recommendations and advanced search filters UpContent provides.
Limitations and Challenges
Despite its popularity, Google Alerts has its limits.
Users often encounter noise from unrelated or low-quality content, which can be time-consuming to filter through.
Additionally, the customization options are relatively limited, and users have reported challenges with refining the relevance of the alerts they receive.
Furthermore, Google Alerts lacks the advanced analytics and reporting features essential for measuring curated content's impact.
Perhaps most importantly, Google Alerts sits in your inbox, making the process of sharing a relevant article time-consuming, sporadic, and difficult to measure.
Comparisons Based on User Reviews
Users have shared mixed experiences with Google Alerts.
While the tool serves as a basic content discovery mechanism, professionals often express frustrations with noise and limited customization options.
User reviews suggest that Google Alerts may be suitable for casual users seeking general content. Still, it falls short for those looking to curate highly relevant and targeted content for social selling and thought leadership efforts.
Comparison and Evaluation
To make an informed decision between UpContent and Google Alerts, let's evaluate their key aspects together.
Content Discovery Effectiveness
UpContent's AI-powered recommendations and advanced search filters enable highly accurate and relevant content discovery.
The ability to customize topics, keywords, and sources ensures that you curate content that aligns precisely with your audience's interests and your thought leadership goals.
In contrast, while Google Alerts allows customization, it lacks the precision and sophistication of UpContent's content discovery capabilities.
User Experience and Interface
UpContent's user-friendly dashboard, content organization, and collaboration features streamline your content curation process.
On the other hand, Google Alerts leverages a familiar interface but lacks the intuitive organization and collaboration features offered by UpContent.
User Reviews and Feedback
According to user reviews on G, professionals appreciate UpContent's advanced content discovery capabilities, customization options, user-friendly interface, and in-depth analytics and reporting features.
Google Alerts, while popular, receives mixed reviews due to limitations in customization, noise from unrelated content, and the absence of advanced analytics.
Price
UpContent has a Free Forever plan that allows users to build one Topic to search for curated content, but to connect UpContent to other tools and have more robust Topics and Collections; you'll need to choose a paid plan.
With a variety of paid options, you can find a solution as low as $15/month, with a discount applied if you sign up for an annual plan.
Google Alerts is a free solution but is limited to email alerts as the only way of discovering content.
Making Your Choice Between UpContent or Google Alerts
When it comes to finding valuable third-party content for social selling and thought leadership, UpContent emerges as a powerful, adaptable tool whether you are an individual building thought leadership or an organization with a highly developed social selling strategy.
With its AI-powered recommendations, advanced search filters, customization options, and robust analytics, UpContent equips professionals with the tools they need to curate high-quality content that resonates with their audience.
While Google Alerts serves as a basic content discovery tool, it lacks the sophistication, customization options, and analytics capabilities that UpContent provides.
To optimize your social selling and thought leadership efforts, consider leveraging UpContent's comprehensive features and user-friendly interface by starting a free 14-day trial.
Or, if you'd like to learn more about how UpContent can help you with content discovery, check out some of our other blogs below:
Best Content Curation Software
Three Myths about UpContent: What UpContent Does and Doesn't Do
How Does UpContent's AI-powered Smart Sort Work?