What UpContent Plan Is Right For Me? Answer These Two Questions To Find Out
Bethany Dameron
·
5 minute read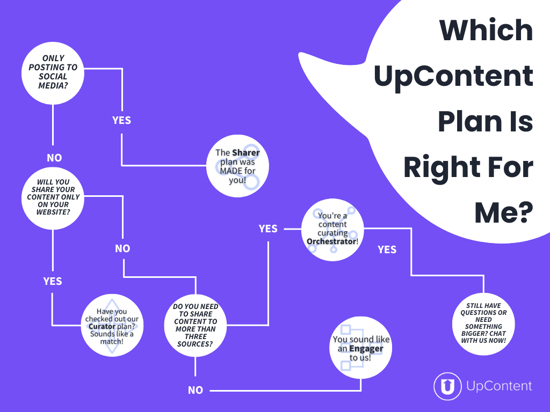 YAY! You know UpContent is the content curation solution you've been looking for, but now comes the most important question: Which plan is right for me?
We get it. We've been in exactly your seat (or standing desk) googling "How much does X cost?" or "is X really worth it?"
You're hesitant to pay yet another monthly charge for a service you don't know if you're really going to use, or isn't really helpful after all.
Creating only original content backs your business into a content corner: it appears that you only value your opinion, and your content becomes weak as you try to talk about topics that aren't really your area of expertise.
You end up doing a disservice to your readers by not sharing the best content that's out there.
That's where content curation comes to save the day.
Instead of creating every single piece of content you share, you can have a strategically curated pool to choose from that will save you hours of research and creative time while also boosting your credibility with your potential customers.
While content curation isn't the silver bullet you are looking to find for your marketing plan (spoiler: you're never gonna find that bullet), UpContent was birthed out of a need to find the best content from the best sources.‍
Whether you're a small business or a large marketing corporation, you'll soon have a clear idea of the most common ways people use UpContent for their business, how to choose the right plan, and each plan's pricing and features.
Two Common Ways People use UpContent‍
"Okay that sounds great, but does anyone like me use UpContent?"
‍There are two primary ways people use UpContent: As a content control center or as an automated showcase.
Content Control Center
Let's take a look at Antje's team from ACC. They use UpContent primarily as a control center for the content they want their team to use and share.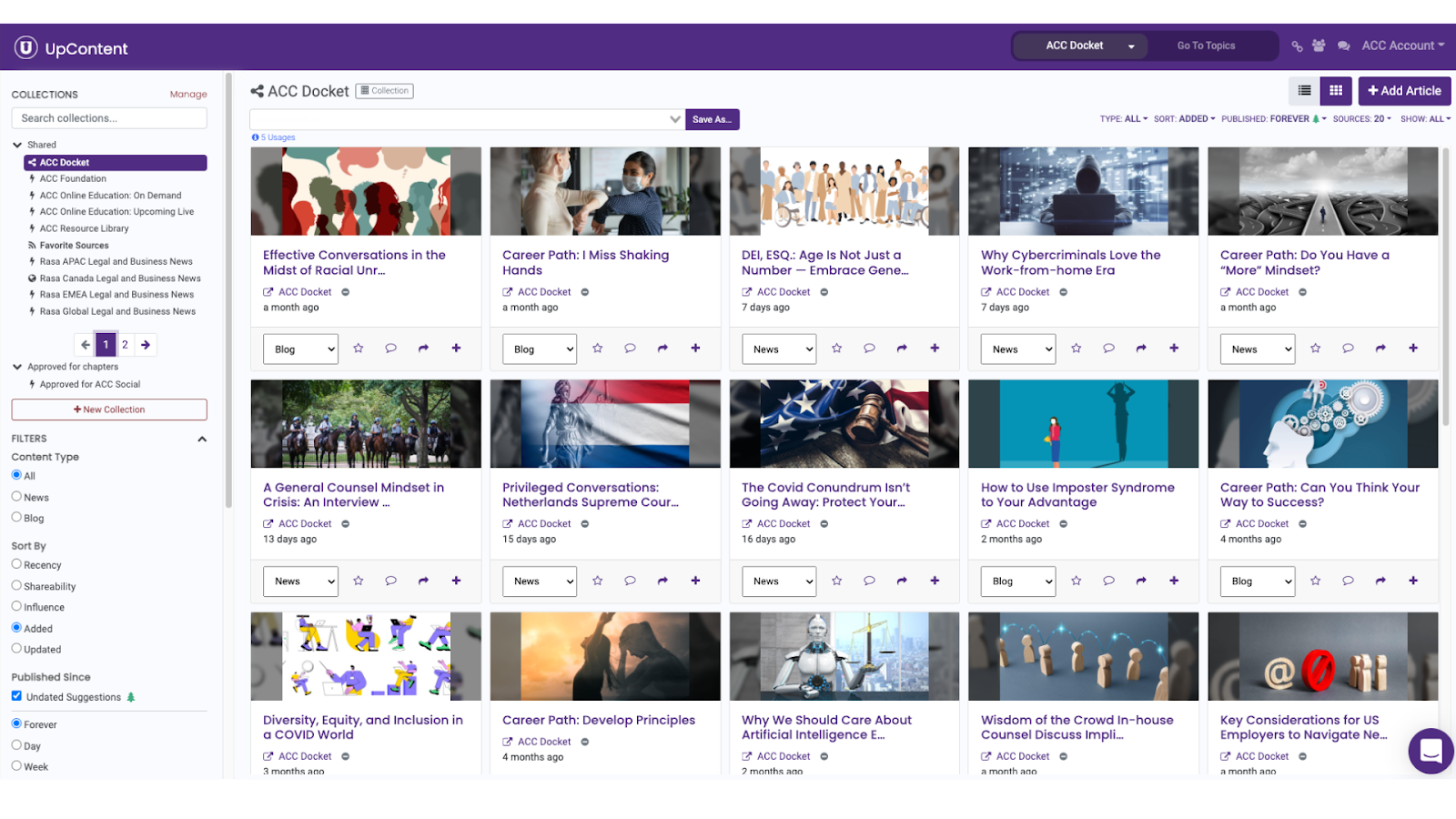 ‍
They use their collections as dynamic libraries for each part of the business.
Automated Showcase
The Old North Collective consistently presents* fresh and updated content directly to their website for their users, so they aren't having to manually scan and fresh blogs and articles to their users.‍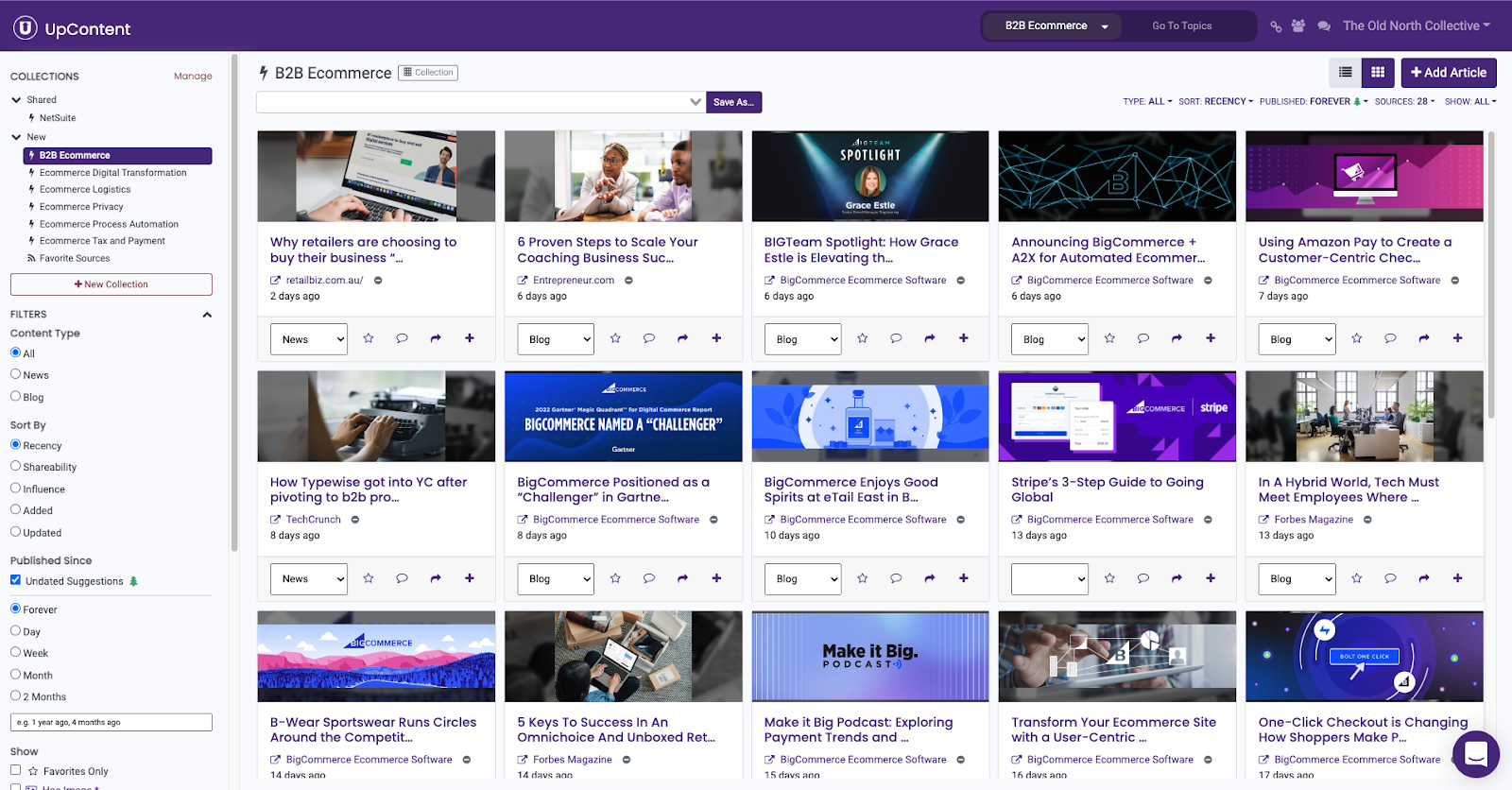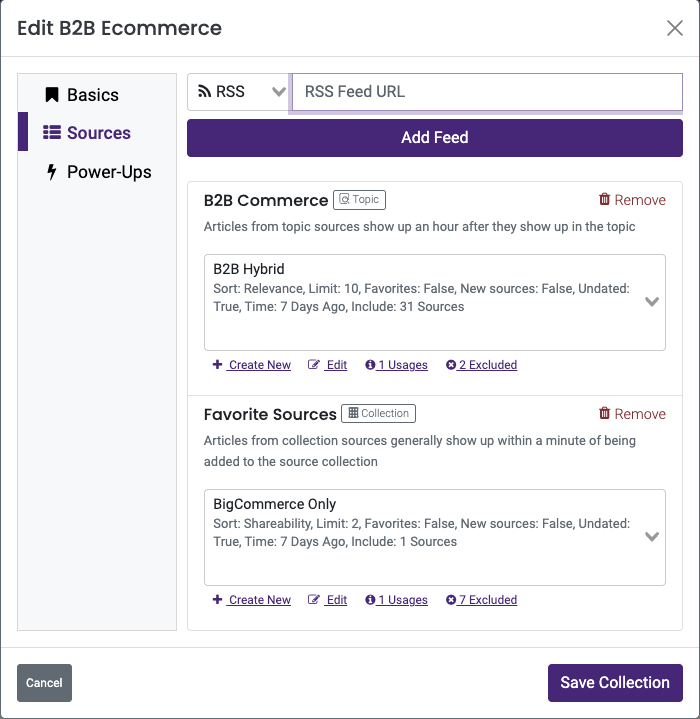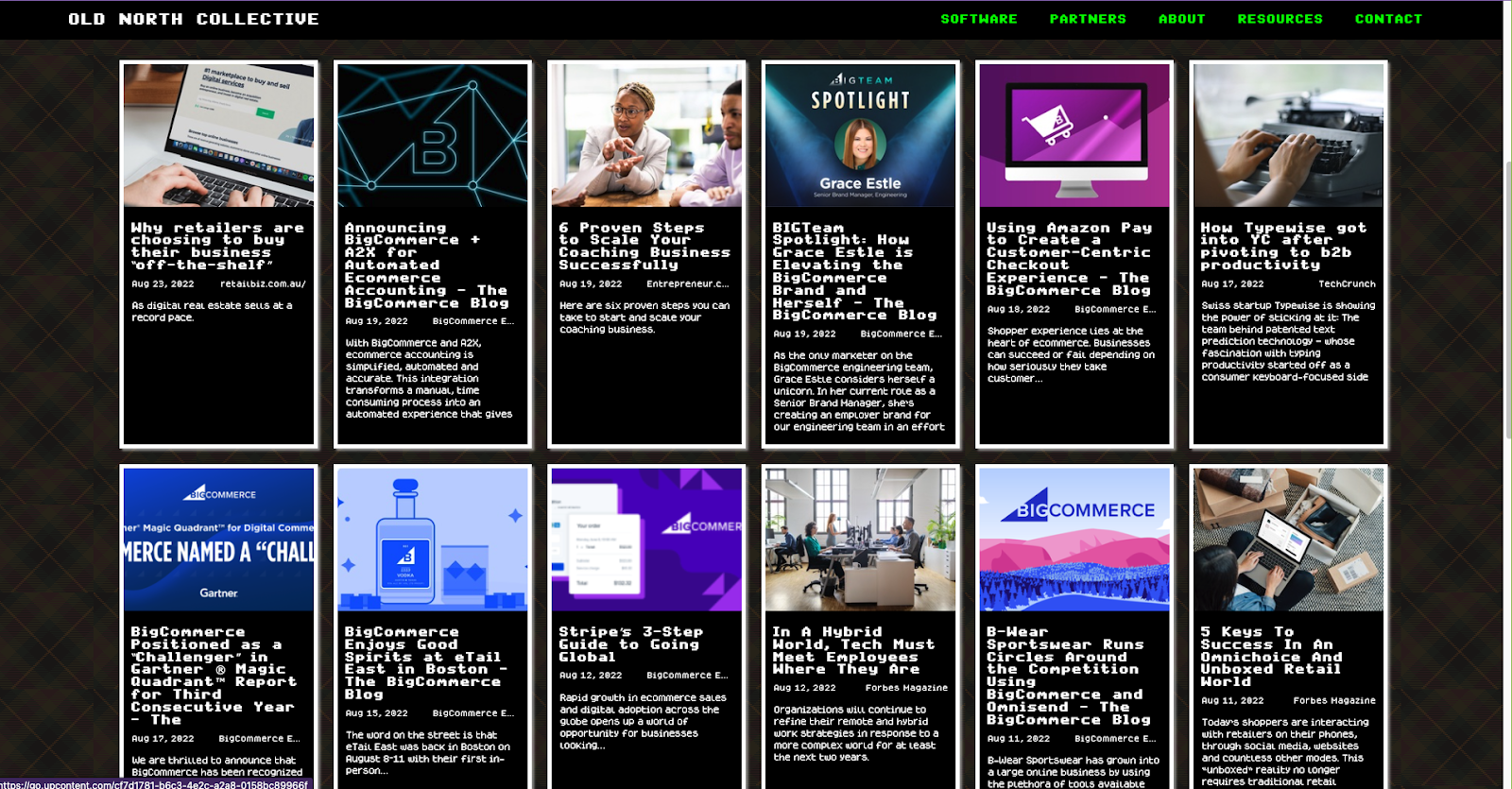 ‍*Remember, curated content is how you can showcase your expertise by sharing relevant and high-quality third-party content with your audience.
We believe in it so much that we use our own system.
Whether you want a system to completely automate content sharing, semi-automate, or combine in an online library for you to read through before you share, UpContent will fill the gap in your content curation process.
So, how do YOU choose the right UpContent plan?
‍Let's start by asking yourself these two questions:
What do you need to use the content for?
Where do you need the content?‍
Most people use curated content to share on their website, social media, email campaigns, or for sharing amongst their internal teams. This could be for education, building trust, or digital selling. Here are seven ways you can use curated content if you'd like to snag some more ideas!‍
Deciding where you need the curated content to go determines how many collections you need. ‍
A simple way of thinking about a collection is how you get a specific set of content to your audience.
You can share your curated content anywhere, but some of the most common places are on social media, your blog, an email campaign, or internal chat threads such as Slack or Teams.
If you are ONLY using the content for social media, then the Sharer plan is perfect for you!
This plan allows you to set up one collection, which you can connect to a social media management software like Hootsuite to schedule and publish for you automatically!
That's some work taken off your plate for ya. ‍
Typically, one-person companies or marketing departments use this plan when the main purpose is building their presence and brand via social media channels.
Keep in mind there isn't a way to connect UpContent with your website on this plan, but if you want to use UpContent to share content directly to your website, all of the other plans have full access to all of our integrations, including custom connections with your website.‍
Our Sharer plan starts at $15/month USD.
If you want to use UpContent just to publish content to your website, then the Curator plan is the one for you! It offers an identical feature set to the Sharer, plus the ability to easily bring content to your website (no coding required!).
‍This is perfect for one-person marketing wizards or an entrepreneur!
‍So, what if you're wanting to use UpContent for your website, social media channels, and emails?
‍Now we're talking about our most popular plans, the Engager and Orchestrator.
‍Our Curator plan starts at $49/month USD with the option to add additional collections for $30 each/month.
The Engager plan is great for companies who want to use different but similar content across multiple communication channels with their customers.
‍If you're a 2+ size marketing team with multiple content creators, the Engager plan is a great option because you start with 3 collections (rather than 1) and can add additional collections to this plan to customize it for your company!
‍It also offers a huge bump in topics (50 vs 10) so you can discover articles around nearly all of your team's interest areas.
Our Engager plan starts at $95/month USD with the option to add additional collections for $30 each/month.
Our ultimate plan, the Orchestrator, is designed for organizations with more complex curation strategies but is flexible and diverse for any company!
You'll have double the topics (100) and triple the collections (9) as the Engager plan.‍
Most of our Orchestrator companies are marketing firms that use each collection as a channel specifically tailored for each client or to support a specific campaign or content theme across their digital marketing and sales technology stack. ‍
Our Orchestrator plan starts at $265/month USD with the option to add additional collections for $10 each/month.‍
If you're looking for something unlimited, our Enterprise plan is just for you.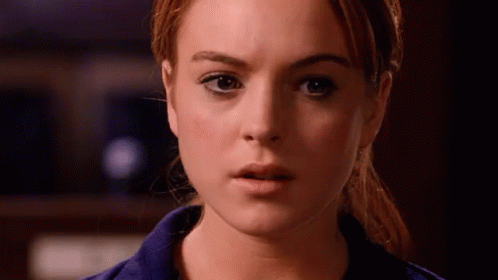 This plan includes unlimited topics and collections, plus access to all of our integrations.
No wonder it has quickly become our most popular plan. The Enterprise plan is designed for large or rapidly growing organizations looking to leverage curated content across their organization.‍
With an Enterprise subscription, you can supercharge your team's employee advocacy, business intelligence, talent branding, and digital sales efforts at the individual level.‍
Our base pricing for Enterprise plans is $5,000/year USD, but contact us to talk more specific pricing if this is something you feel would best fit your content curation needs!
Next steps in choosing the right UpContent plan for you
Once you know if you want to use UpContent as a housing system or fresh feed for your curation needs, you can choose the best UpContent plan for you!‍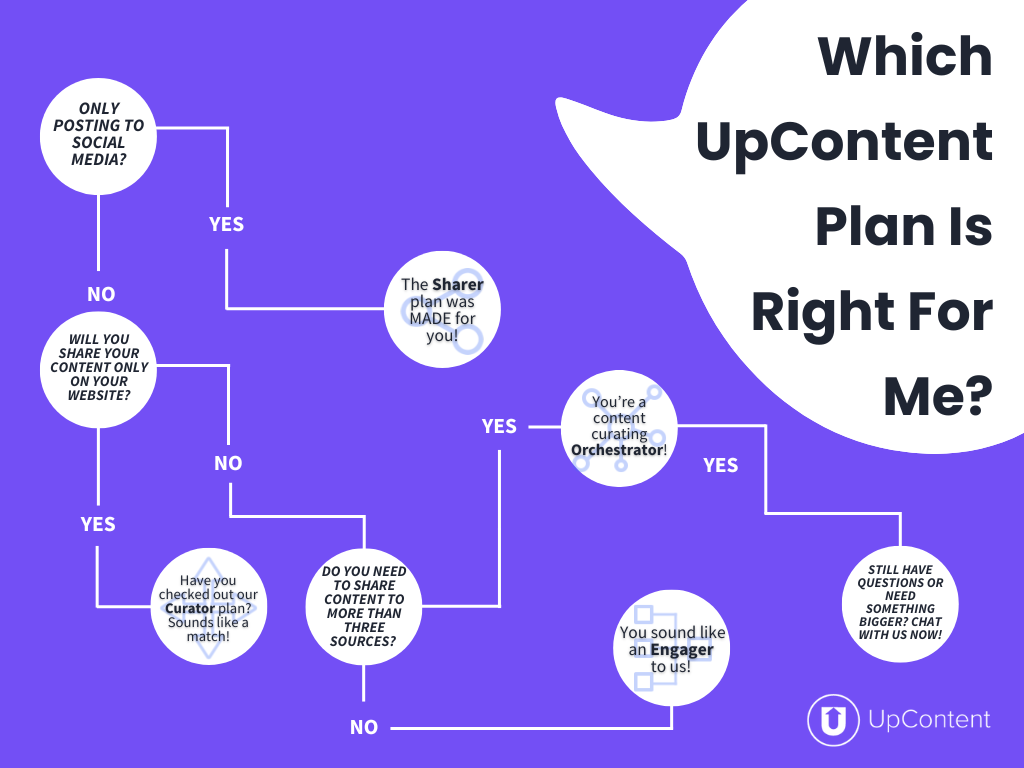 If you're only planning to use curated content on social media, the Sharer plan easily integrates with one of our social media partners like Hootsuite, Buffer, Lately, and HubSpot.
‍If the single collection is all you'd need, but the ability to easily showcase your curated perspective on your website is attractive, the Curator plan would be a great place to start.
If you're using curated content in multiple spaces, the Curator, Orchestrator, or Engager are the plans for you based on your size and needs.
No matter what plan you choose, we are here to support you and your content curating needs. And we don't just say that; it's foundational to who we are. ‍
(We've been voted #1 in customer service for years.
We can't wait to see what you curate! (Haha, get it?)
If you're ready to get started, select your UpContent plan and be immediately enrolled in a 14 day free trial, or schedule your call with one of our curating experts to learn more about how content curation can help your business.
You can also check out these articles:
‍We also offer a "Free Forever" plan designed for personal use.
It includes one topic and one collection for individuals interested in leveraging UpContent for the discovery of interesting articles to read and occasionally share on their social platforms or manually send elsewhere. And yes, it's free…forever.
‍
Back to blog