Magnify Your Internal Communications Strategy
Never face writer's block in crafting your social posts again! Ever find yourself staring at a great article (like, right on the money), but becoming frustrated when that perfect social media post just won't come to mind?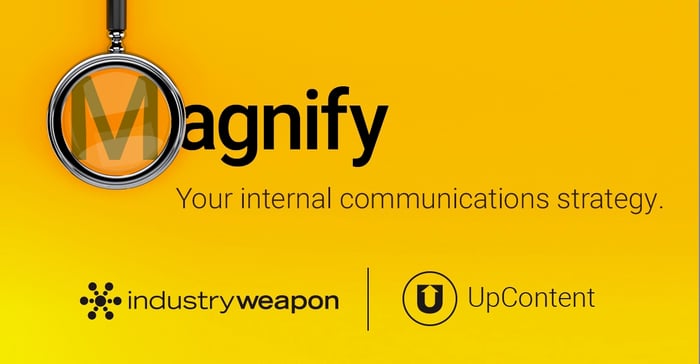 Estimates show that upwards of 90% of workplace learning takes place outside of formal programs. Your employees spend an average of 9.5 hours each week searching for great articles to read.
How do you simultaneously help those individuals find the articles that they'd be interested in reading while also driving greater attention to your own internal messaging?
With the speed in which information is created, the ability for a company to balance socially relevant content (70%) and core internal content (30%) in a way that the information on the screen can be further engaged with, and socialized by, connecting signage and other digital communication efforts is critical. Are you ready to magnify these efforts?
Maintaining consistency on your social media channels has been proven to build trust, deepen relationships, and stimulate your prospects to act - but ensuring discipline in the quality of content and frequency with which it is shared has become anxiety-inducing for many.
The team of UpContent and Lately joined up to tackle the endless challenge of (1) finding articles that matter, (2) crafting social posts that engage, and (3) scheduling them at times that will drive organic results.
Join us, along with our friends at Industry Weapon
,

for an upcoming webinar where we'll show you how you can:
Leverage socially relevant content to keep eyes on your core messaging,
Infuse your content curation strategy across the organization by crowdsourcing content updates, and
Magnify your digital communication efforts to improve workplace learning and culture