A

Content Curation Solution

That Fits You
Discover how professionals across industries are leveraging curated content for social selling, thought leadership, and conversion with UpContent's industry-leading software.
High-quality external content

Fully automated, fully manual, or hybrid workflows

Smart Sort tells you the best article to share
What You Get With
UpContent
Effortlessly streamline content curation, guaranteeing compliance and maximum efficiency.

Compliance
Easily create approval workflows that match the needs of your organization - ensuring only articles that meet proper approvals are released.


Automation
Create automated rules for "hands-free" curation whether you are automating the full flow, or a single step.


Integration
Seamless, integration-first, approach makes delivery of custom curated insights across all digital channels as easy as a single click.


Breadth
Proprietary crawler scours the web to discover articles from hundreds of thousands of publishers.

Depth
Machine learning algorithms help bring the best article for your needs to the forefront.

Collaboration
Tap into the expertise of your entire team.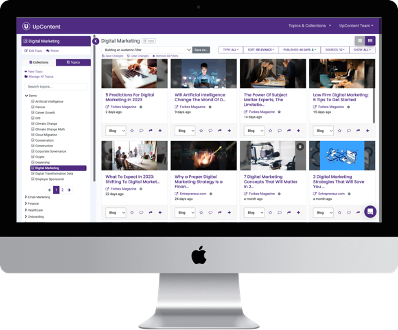 No More Googling
Our propietary AI-crawler delivers content tailored to your preferences and arranges articles in order of most likely to engage your readers into a user-friendly dashboard.