Building trust with content curation with Scott Rogerson - Agency Highway
UpContent CEO, Scott Rogerson, was a guest on Agency Highway with James Rose.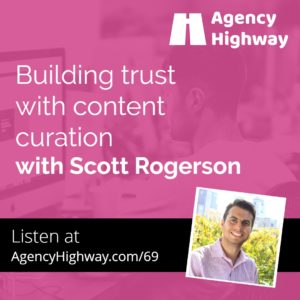 The two discussed how curation has grown in strategic importance as part of marketing, sales, and HR strategies, how agencies can bring curation into their service suite, and how to approach content curation across all digital channels in a way that creates return.
Quick takeaways:
Your ideal customers are both research-driven and lazy. Being the resource to cut through the noise can position you ahead of your competition.
Agencies can evolve their offerings to focus on topic-centric content creation - and supplement these efforts with strategic curation to deliver qualified traffic to original content asset that convert.
When you buy people a drink, you make friends!